Purdue alum takes holistic approach in NYC parks
Growing up in the heart of Bangkok, Novem Auyeung remembers a unit on environmental science in her fifth-grade year. For the first time, she learned about air and water pollution and how they affect people living in contaminated areas.
Looking out the window, Auyeung soon realized that the haze that enveloped her city wasn't normal, and that it may have something to do with the severe asthma she watched her mother suffer with for years.
"My first introduction to environmental issues was very personal," Auyeung said. "It was always in the background, but my teacher connected all the different strands together and helped me connect the dots."
During undergraduate studies at Brown University and while earning her doctorate in forestry and natural resources at Purdue, and then in her current role as a senior research scientist for the New York City Department of Parks & Recreation, Auyeung found that everything she loved about the natural world tended to connect with a particular dot — climate change.
Whether it's doing assessments of people's attitudes toward natural spaces in New York, developing a framework to monitor the city and state's shorelines, or analyzing the impacts of trees in the city, that one theme that keeps coming to the surface. Nothing Auyeung or her colleagues want to do to protect their natural spaces can be done without contemplating how a changing climate has already impacted those resources or how they will be affected by that change in the near and distant future.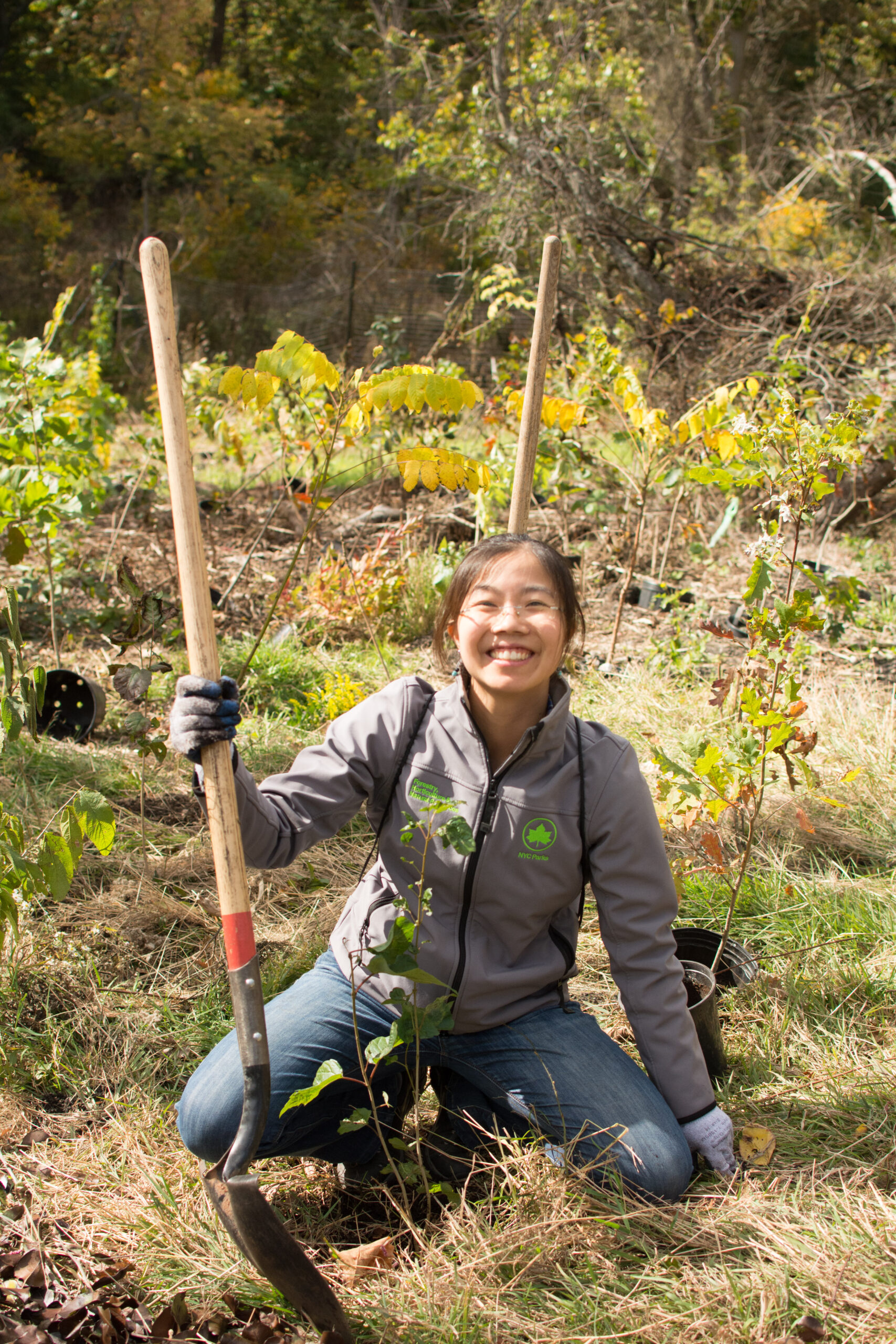 "It's a recurring theme. I didn't set out to do research on climate change. I want to do adaptive management in the city," Auyeung said. "But climate change touches upon everything. It makes every environmental issue worse. It's hard to avoid doing any work that doesn't touch on climate change."
That realization isn't true for everyone. Auyeung recalls discussions in graduate school where she found colleagues who would question the science and humanity's role in climate change. Those were good lessons even as she finds herself in a land of believers like New York.
"I feel very lucky to be working in this sort of environment where the basic assumption is that climate change is real and is accepted. I don't take that for granted," Auyeung said. "I don't have the same conversations about why climate change is real, but I still have to have those conversations about how we disagree in other ways and how can we find common ground and work together."
Auyeung and her colleagues take an interdisciplinary approach to gathering and analyzing data and applying that to the various park stakeholders to show that the ways the parks department addresses climate change will have value for them.
The Value of New York City's Urban Forests
1.2 million tons of carbon stored
$21.7 million in energy & water savings annually
The 2018 Urban Forest of New York City report of which Auyeung was a senior author, showed that the city's 7 million trees store 1.2 million tons of carbon valued at $153 million. They also reduce residential energy costs by $17.1 million per year and save $4.6 million per year by reducing runoff.
The report is a foundation upon which new tree-planting initiatives can be built, Auyeung said, because park scientists have shown the benefits and values to people with varying interests, whether they care about the environment, economics, aesthetics or recreation.
The city and state must also brace for the catastrophic effects of hurricanes and super storms that degrade shorelines and flood neighborhoods. Auyeung has been instrumental in building a framework for monitoring city and state shorelines to understand how nature-based features, such as shellfish beds and rehabilitated wetlands, compare with harder features, such as bulkheads and bioenhanced concrete units, for managing and protecting coastal areas.
Solving those flooding problems can help reverse century-old mistakes, in which wetlands were filled in to make more living area, but reducing the land's capacity to hold water. As coastal waters rise, some New York neighborhoods regularly flood even without storms.
Auyeung's work also supports programs that directly marginalized populations whose neighborhoods can benefit a great deal from climate change-mitigation strategies. NYC Parks works with the city's health department on the Cool Neighborhoods NYC program, which uses climate change-mitigation strategies — such as planting trees in heat-vulnerable neighborhoods — to improve the quality of life for residents.
"We're taking into account that some communities, often minority communities, have been disproportionately affected by climate change, and our solutions address that. Equity and inclusion are important to factor into our climate change solutions."
"We're taking into account that some communities, often minority communities, have been disproportionately affected by climate change, and our solutions address that. Equity and inclusion are important to factor into our climate change solutions," Auyeung said.
There's a certain satisfaction, Auyeung said, to knowing that her work can create buy-in and improve the lives of people throughout the city. "We try to structure our studies to show how these issues affect people on a personal level," Auyeung said. "It does feel really rewarding to be able to improve people's lives in that way."
Recently restored tidal marsh at Sunset Cove Park in Queens (with the Manhattan skyline off in the distance, restored in 2019)
Recently restored tidal marsh at Bayswater Park with goose fencing, Queens (restored in 2019)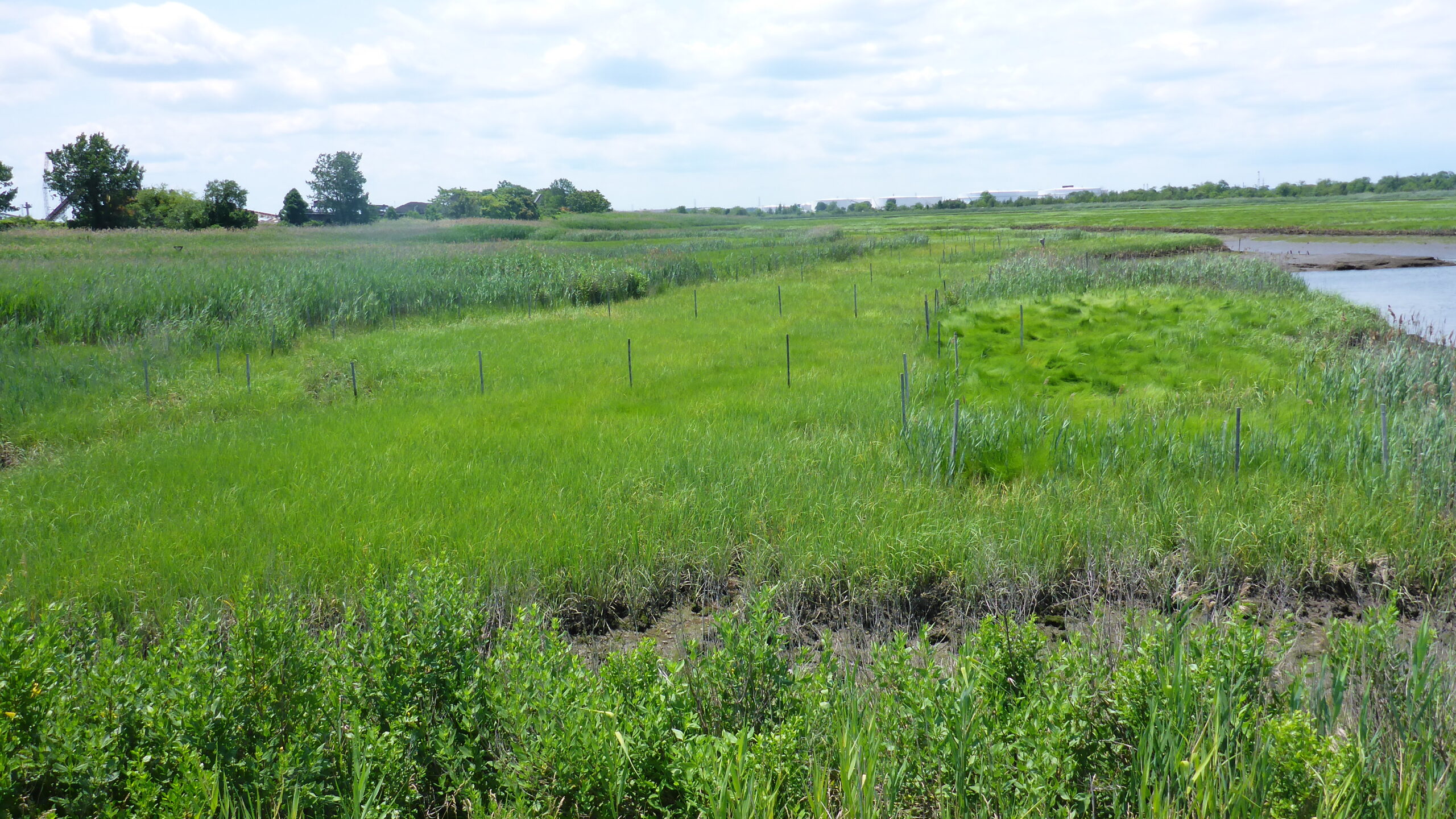 Restored tidal marsh at Saw Mill Creek, Staten Island (this portion of the marsh was restored in 2004)