Communication and Marketing Specialist, Department of Agricultural Economics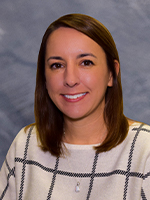 Kami joined Purdue University's Department of Agricultural Economics in October 2017 as the Communication and Marketing Specialist. In this role, she serves as the department's media contact, content manager for AgEcon News, manager of the department's website and social media (Twitter: @PurdueAgEcon; Facebook: @PurdueAgriculturalEconomics), and editor of the Purdue Agriculture Economics Report (PAER).  She joined the Purdue/CME Group Ag Economy Barometer team in April 2018 in communications and media.
Kami graduated from the University of Central Florida in 2013 with a master's degree in communication and won the department's outstanding thesis award that same year. She earned her bachelor's degree in communication from the University of Texas at Arlington in 2008.
Before joining Purdue, Kami worked in television as a technical director and promotions producer where she directed live newscasts and produced promotional television commercials for broadcast.
In her free time, Kami enjoys hiking, kayaking, camping, and doing pretty much anything that keeps her outdoors. Her boyfriend, Mike, and dog, Lola, are also outdoor enthusiasts and can be found by her side on many of these adventures.
P: (765) 494-6999     E: kami@purdue.edu