Welcome to the Purdue Entomological Research Collection (PERC)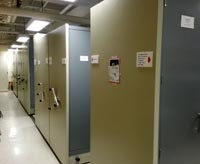 Located in the east basement of Smith Hall, the PERC is an integral part of the Department of Entomology at Purdue. Specimens housed in the collection are the basis for research in systematic entomology at Purdue and by specialists worldwide. The PERC also serves as a reference to facilitate the accurate and timely identification of insects for extension and teaching needs. Approximately 2 million specimens are held, representing more than 140,000 species. This includes mainly dry-mounted pinned material as well as many specimens stored in liquid preservative or mounted on slides.
With approximately 60% of material in the collection representing the Indiana insect fauna, the PERC is one of the most substantial resources for information pertaining to the insects of Indiana. Other notable components include the type collection comprised of more than 2,500 specimens, the Blatchley collection of Coleoptera and the Ephemeroptera collection, which is widely regarded as the largest and most comprehensive collection of mayflies in the world.
Contact Us
Chris Wirth
wirth3@purdue.edu
Smith Hall, 901 W. State St.
Room B16
West Lafayette, IN 47907
(765) 494-4599