Sculpture honors pioneering entomologists
Tuesday, May 2nd, 2017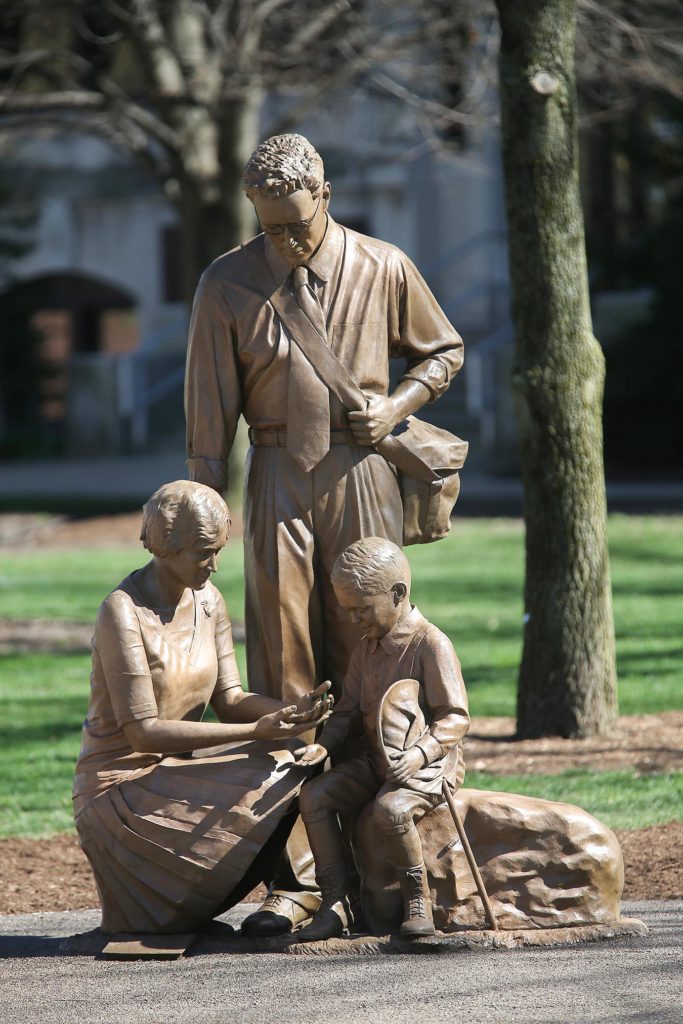 The College of Agriculture paid tribute to its entomology program, one of the oldest in the nation, by commissioning "The Entomologist," a bronze sculpture depicting three scientists who played a major role in promoting the study of insects and the environment.
Created by artist Susie Chisholm, the sculpture of three individuals observing a tiger swallowtail butterfly represents one of the primary missions of a land-grant university—providing education to the public through the Extension service.
Forty-one donors from 15 states provided funding for the statue. Leadership support was provided by: Tom (Purdue professor of entomology) and Chris Turpin; David (a 1975 entomology alumnus) and Mary Beth Mueller; Dortha Osmun and Rick Parker in honor of John Osmun; and the estate of C.W. (Bart) Bartholomai, an entomologist for the federal government who earned his bachelor's and master's degrees from Purdue in the 1940s.
The sculpture captures the individuals at the age they would have been in 1924, when the science of entomology was beginning to capture public attention. The standing figure, J.J. Davis, served as head of Purdue's Department of Entomology from 1920–1956. The young boy, John V. Osmun, became head of entomology in 1956. Rachel Carson is the woman holding the swallowtail butterfly. A marine biologist, conservationist, and pioneering nature writer in the 1950s, Carson's environmental work led to the creation of the U.S. Environmental Protection Agency.
Tom Turpin, who served on the project organizing committee, says the sculpture is meant to be an interactive display that engages viewers, "It's designed to reflect the way education works—to share when you have the opportunity, promoting a sense of wonder."
Photos provided by Tom Campbell.