SAMANTHA
(AMBROSE)
KRHOVSKY
BS AGRONOMY
SAMANTHA
(AMBROSE)
KRHOVSKY
BS AGRONOMY
By Emma Ea Ambrose
Alumnae Samantha Krhovsky and Torrie Cropps live and share online the experience and knowledge they gained at Purdue and now in their careers. They use social media to illuminate their lives and experiences in agriculture and welcome others to join the conversation.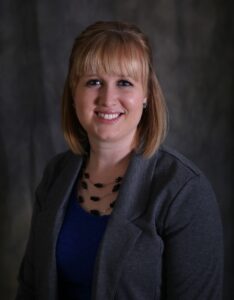 Samantha (Ambrose) Krhovsky didn't grow up on a farm or pay much attention to agriculture until a high school class and getting involved with FFA spurred her interest.
Her own lack of familiarity attracted Krhovsky to disciplines that communicate agriculture to the public. She moved between majors in agronomy and agricultural sciences education and communication, eventually graduating with a degree in agronomic business and marketing.
"I love advocating for and educating people about agriculture," Krhovsky says, which she discovered as an agronomy teaching assistant. "I wanted to be able to take the research happening in agriculture on things like GMOs and pesticides and help the general public understand it."
She now works as an area team leader at Beck's Hybrids, and has continued as an unofficial emissary for agronomy education on social media. Five years ago, Krhovsky established the @sassyagronomist Twitter and Facebook accounts, which share general knowledge about agronomy as well as experiences from working in the field or just the everyday pet peeves that come with being a woman in a traditionally male-dominated field.
She hopes her social media accounts will help anyone who wants to know more about where our food comes from. "Maybe a wife who works off the farm as a nurse wants to learn why her farmer husband is stressed out about a new disease called tar spot," Krhovsky suggests, which her post can explain in simple terms.
In another post, she shares why a bag of corn seed today can look like opening a bag of Skittles, explaining the types of seed treatments that give corn seed its bright colors and how some of them work. It's the type of information that people who grew up near farm country, but not on a farm themselves, might have always wondered about.
"Along the way, I try to throw in some humor," Krhovsky says, "because you have to laugh in life."

Tom Housley, professor emeritus of agronomy

Tom Housley, professor emeritus of agronomy
TORRIE CROPPS
PhD AGRICULTURAL SCIENCES EDUCATION & COMMUNICATION
TORRIE CROPPS
PhD AGRICULTURAL SCIENCES EDUCATION & COMMUNICATION
After working with youth interested in research and agriculture for several years, Torrie Cropps decided to pursue her doctorate in agricultural sciences education and communication to support students who are underrepresented in the field of agriculture.
At Purdue, Cropps served on the executive board for Minorities in Agriculture, Natural Resources and Related Sciences and had a graduate assistantship with the Mentoring@Purdue (M@P) program, which facilitates diverse mentoring relationships and engages minority students in agriculture. Cropps wrote her dissertation on the experiences of Black women in agriculture.
"I focused on the experience of Black women in agricultural doctoral programs," she explains. "It was hard to find participants for my study, because there aren't many of us, and some were afraid of possible repercussions. While it's true that we're underrepresented, I also found that our stories are silenced."
Cropps started the Instagram account @agincolor to underscore the experiences of Black women in the discipline. Together with a group of Purdue graduates and graduate students, she also helped organize #BlackinAg week in June 2021. That week and beyond, the group shares the experiences of Black agricultural scholars and students and facilitates networking opportunities on both Twitter and Instagram.
Highlighting these experiences is essential in changing the culture and composition of agricultural programs at institutions like Purdue and the University of Texas at Dallas, where Cropps is currently a postdoctoral researcher. Through her research and storytelling on @agincolor, Cropps challenges academic institutions and individuals to dismantle white supremacy and interrogate how race and racism are woven into the fabric of most systems of higher learning.
"Research on students in agriculture tends to focus on the needs of white students," Cropps says. "The lack of research on Black women means there are fewer opportunities for folks in agriculture to learn about our experiences, past and present. Centering Black women in research and policy can help with the development of programming and policy that enhances Black women's sense of belonging and increase retention in the field."