About PK-12 Council
Purpose & Functions
The purpose of the PK-12 Council is to optimize the College of Agriculture's capacity to leverage its strengths in youth outreach.  PK-12 efforts aim to engage youth (and teachers, youth educators, parents and grandparents) through efforts that address strategic initiatives and goals of the College. The first is to build relationships with PK-12 students and strengthen the educational pipeline and ecosystem to Purdue and higher education and the second is to increase interest in STEM education for agricultural, food and environmental careers among young generations by engaging with PK-12 populations. The following objectives will guide the overall purpose of the Council:
Advocate and market PK-12 activities and expertise in the College of Agriculture across campus and throughout Indiana.
Provide a forum to coordinate and leverage PK-12 activities across the college.
Identify new opportunities for innovations and connections to new PK-12 audiences.
Serve as a centralized location for collegiate PK-12 activities that others in the college can link to when educational activities/engagement are part of grant proposals and other collaborative and interdisciplinary efforts.
Create a forum for sharing programs, speakers, and resources that are of interest to those who want to be engaged in PK-12 activities.
Background &​ Development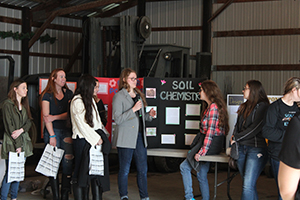 ​
Across many decades, Purdue College of Agriculture has worked to attract PK-12 teachers and students to agricultural content through enriched STEM education.
-In 2007, Dale Whittaker appointed a committee to assess the need for PK-12 engagement in the College of Agriculture. Natalie Carroll chaired the committee, which consisted of eight members: Harlan Day, Sherry Fulk-Bringman, Kevin Gibson, Becky Goetz, Neil Knobloch, Tom Turpin, & Rod Williams. The committee prepared and shared a white paper   with the Purdue Agriculture Leadership team, "Advancing the College of Agriculture's Impact on PK-12 Education" which outlined four strategies with metrics.
-In 2009, Dean Akridge unveiled the Purdue College of Agriculture Strategic Plan 2009-2014, outlining initiatives, actions, and metrics for five strategic goals. Strategic Goal #5 stated, "Expand the pool of students interested in, and prepared for, careers in food, agricultural, life, and natural resource sciences."
-Soon after in 2010, Vic Lechtenburg and Mary Ann Santos de Barona established a university-level council for K-12 engagement. Dean Akridge asked Neil Knobloch to serve as the College of Agriculture's representative on this council.
-At the start of 2011, Dean Akridge initiated the PK-12 Council via a message to the Purdue College of Agriculture Administrative Council. He clarified the purpose of the PK-12 Council and requested nominations for volunteer representatives from each department/unit in the college.
-The College of Agriculture's 2015-2020 Strategic Plan identified the need to "Inspire confidence and conviction among Indiana's youth to become tomorrow's leaders, strengthen P-12 educational programs both on and off campus."
-After a successful five years, the College of Agriculture PK-12 Council's Outreach and Engagement Awards were established in 2016. The awards recognize, reward, and celebrate faculty and staff involved in successful outreach and engagement activities and to encourage the improvement and expansion of those activities.
- The College of Agriculture's 2021-2026 Strategic Plan identified the goal to "Utilize PK-12 engagement as a pre-recruitment strategy to build relationships with students and strengthen the educational pipeline to Purdue and higher education."
PK-12 Strategic Plan
-The PK-12 Council developed the first PK-12 Strategic Plan (2021-2026), which identified five strategic goals:
Broaden access to all PK-12 students, parents and educators while integrating diversity, equity, and inclusive excellence in PK-12 engagement initiatives.
Increase communication and connection between key internal and external partners to broaden College of Agriculture pre-recruitment partnerships and exposure to PK-12 audiences.
Integrate PK-12 Engagement through Extension and Purdue Engagement capacities and efforts.
Connect PK-12 audiences to researchers in the College of Agriculture to translate new knowledge for broader impacts.
Celebrate excellence of faculty and staff and advance the knowledge base and best practices of PK-12 engagement.