Data Driven Agriculture Minor
Opportunities abound to expand the data revolution into agriculture by blending data science skills with agricultural knowledge.
Pursuing the Data Driven Agriculture Minor allows you to gain valuable skillsets to leverage the complex data sources that are becoming increasingly important in all aspects of the agriculture industry. The minor includes courses that map to these skill sets:
Foundation in mathematics and statistics
Knowledge of data origination (sensors, surveys, webscraping, etc.)
Data literacy, ethics and management
Data application in agriculture disciplines
Data architecture and organization
Data-driven decisions
Why Digital Agriculture?
The increase in intensity and volume of data collected generates the need for increased programming and data skills.
Agricultural domain expertise is needed within the coding, artificial intelligence and cloud computing communities.
Sensing and communication technologies continue to evolve and their applications in agriculture are growing.
Even with artificial intelligence and machine learning, human input will continue to be critical input to assist with decision-making and data-inference.
21 Credits
Introductory statistics – Elementary Statistical Methods (STAT 30100)
Data literacy, management & analytics – Data Science (ENTM 242)
Knowledge of how data is used in agriculture – Data Science for Agriculture (AGR 33300)
Computation – Computing Technology with Applications (ASM 10500), Introduction to Computing for Biologists (HORT 53000), or Programming with Multimedia Objects (CS 17700)
Data acquisition, architecture & decision making as noted below: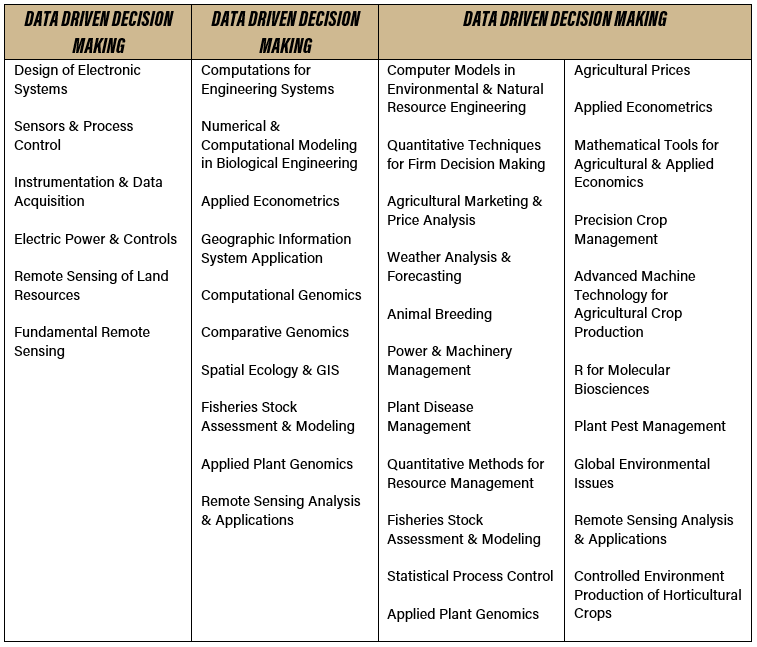 Complementary Credentials
With good planning, students obtaining this Data Driven Agriculture Minor can also receive a Certificate in Applications of Data Science.
 For a copy of the flyer, please click here.
For more information regarding the Data Driven Agriculture Minor, please contact Bruce Erickson, berickson@purdue.edu