Using the Unused
Friday, April 27th, 2018 Brian Wallheimer
Millions of dollars have been spent to stop the spread of invasive Asian carp throughout the Midwest's rivers. The fish, introduced in the Southeast to control weeds and parasites in aquaculture, escaped decades ago into the Mississippi River and have been slowly making their way to the Great Lakes, where they threaten to outcompete native species and drastically change the ecosystem.
Electric barriers and dams have been built. Scientists have worked on developing a micro particle that would target and kill only Asian carp, and have tested to see if carbon dioxide or noise could drive them away. Still, an Asian carp was found in the Calumet River last summer, just nine miles from Lake Michigan, and rivers are teeming with the unwanted species.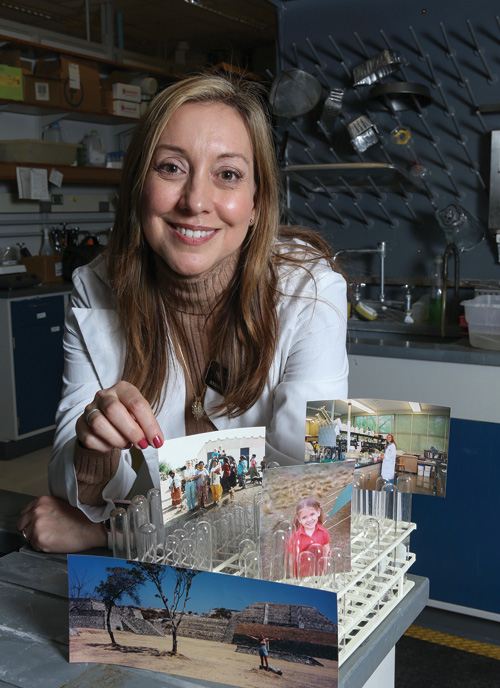 That got Andrea Liceaga thinking. If the carp are here, what good can come from them? Her answer: chorizo. "I started digging out recipes for how to make chorizo with beef and pork, and I wanted to make it with fish, just substitute the protein," says Liceaga, associate professor of food science.
Some businesses have had success making fish oil, fish meal or fertilizers from Asian carp. But the carp meat is high quality, and Liceaga found it wasteful not to use it for human consumption. Two major issues, however, have stopped people from putting Asian carp on menus across the Midwest.
First, people confuse Asian carp with the common carp, which is a bottom-feeder and can contain high levels of contaminants. The Asian carp species Liceaga works with — silver carp — is actually a filter feeder, taking in plankton that float through the water, so it doesn't amass harmful levels of mercury or other problematic materials.
Second, Asian carp meat is full of small intramuscular bones like one might find in salmon, except that these are much more difficult to remove prior to cooking. But the grinding and processing done to make the chorizo separates the bones from the meat.
Initial formulations have received positive reviews from panelists who have tasted the chorizo, but there is still work to be done. Liceaga is working with visiting scholar Marco Trindade, associate professor of food engineering from the University of São Paulo in Brazil this spring. He'll help optimize the formulation, work on food safety and preservation issues, and perfect processing techniques. Once that's complete, Liceaga hopes to find a company interested in producing Asian carp chorizo for sale to the public.
Because she comes from a high-poverty part of Mexico, Liceaga looks for opportunities to utilize resources wisely. "When you really see poverty — people who are malnourished and living in poverty you can't imagine — it leaves an impression that never goes away," she says. "I can't stand to see food being wasted."
Liceaga also extracts carp proteins and modifies them for use as functional ingredients for the food industry, studying the fortification of staple foods with these proteins. She's added Asian carp protein to corn tortillas that have gone over well in sensory tests.