The Indiana Climate Change Impacts Assessment (IN CCIA) was a statewide effort led by Purdue University that brought together the best available climate change research into a series of reports designed to help Hoosiers better understand climate change-related risks so they could prepare for challenges and capitalize on opportunities. The IN CCIA aimed to put global change into local perspective.
The IN CCIA was overseen by the Purdue Climate Change Research Center (PCCRC), which was integrated into Purdue's Institute for a Sustainable Future (ISF) in 2022. While the IN CCIA reports may refer to the PCCRC, please note that ISF now oversees the ongoing and thriving climate change research efforts happening at Purdue University.
Questions about the IN CCIA? Please contact the Indiana State Climate Office (in-sco@purdue.edu)
100+
EXPERTS CONTRIBUTING TO PURDUE-LED EFFORT
50+
PARTICIPATING ORGANIZATIONS PROVIDING INPUT, CO-AUTHORING AND SHARING RESULTS
9
TOPIC-BASED REPORTS RELEASED ON ROLLING SCHEDULE BEGINNING MARCH 2018
Creating Information That Matters
The IN CCIA was committed to connecting with stakeholders early and often throughout the assessment process to better understand what concerned people about climate change and to ensure the IN CCIA included relevant information for decision-makers. Throughout that process, IN CCIA contributors worked to increase dialogue about Indiana's changing climate among the public and decision-makers.
In 2015-16, pre-assessment feedback was gathered using formal and informal listening sessions, group discussions, and individual meetings with people interested in and/or affected by our changing climate. While the IN CCIA reports were under development in 2017-18, over 40 stakeholder reviewers were recruited to provide feedback on materials and suggest improvements. As reports were released beginning in 2018, assessment contributors worked with a large network of organizations and individuals across the state to disseminate the IN CCIA findings and embark on new projects to help integrate these data into decision-making.
The IN CCIA context and process was documented in a journal publication (Widhalm and Dukes, 2020) available at https://rdcu.be/cdhAw.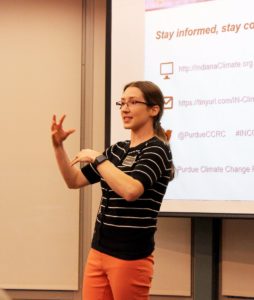 Over 100 experts from dozens of Indiana-based institutions participated in one or more IN CCIA Working Groups. These groups, under the guidance of IN CCIA leaders, developed technical reports (published in the journal Climatic Change) describing the specific ways changing conditions affect Hoosier families and communities. These technical reports were then translated into the non-technical summaries available on this website.

The IN CCIA was overseen by the PCCRC, which was integrated into Purdue's Institute for a Sustainable Future (ISF) in 2022. Former PCCRC Director Jeffrey Dukes and former PCCRC Operations Manager Melissa Widhalm coordinated the IN CCIA with input from a steering committee and lead authors of each report.
In 2008, Purdue University released the first state-level climate assessment titled Impacts of Climate Change for the State of Indiana. This report was developed at the request of Senator Richard G. Lugar as he prepared to vote on national climate change legislation.