Our climate shapes our lives. The ways we build our roads, manage our farms, move our water, and use energy are all influenced by our unique Indiana climate. But our climate has been changing, and it will continue changing in ways that affect our productivity, our safety, and our livelihoods. We need to know what climate change means for Indiana.
Coordinated by the Purdue Climate Change Research Center (PCCRC), scientists and decision makers from across the state are working together to develop a series of reports that shows how a changing climate will affect state and local interests. The Indiana Climate Change Impacts Assessment (IN CCIA) provides accessible, credible climate science to Hoosiers, allowing us to better understand climate change-related risks and build more effective plans for a more productive future.
100+
EXPERTS CONTRIBUTING TO PURDUE-LED EFFORT
50+
PARTICIPATING ORGANIZATIONS PROVIDING INPUT, CO-AUTHORING AND SHARING RESULTS
10
TOPIC-BASED REPORTS RELEASED ON ROLLING SCHEDULE BEGINNING MARCH 2018
Creating Information That Matters
We are committed to connecting with stakeholders early and often throughout the assessment process to better understand what concerns people about climate change and to ensure the IN CCIA includes relevant information for decision-makers. Throughout this process we also strive to increase dialogue about Indiana's changing climate among the public and decision makers.
In 2015-16, we gathered pre-assessment feedback using formal and informal listening sessions, group discussions, and individual meetings with people interested in and/or affected by our changing climate. While the IN CCIA reports were under development in 2017-18, we recruited over 40 stakeholder reviewers to provide feedback on our materials and suggest improvements. Now, we are working with a large network of organizations and individuals across the state to disseminate the IN CCIA findings and embark on new projects to help integrate these data into decision making.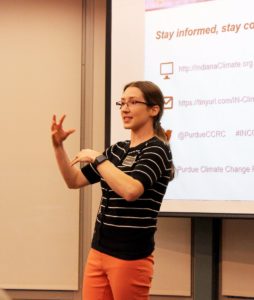 We have over 100 experts from dozens of Indiana-based institutions participating in one or more IN CCIA Working Groups. These groups, under the guidance of the PCCRC, have spent the last several years developing technical reports describing the specific ways changing conditions affect Hoosier families and communities. These technical reports were then translated into the non-technical summaries available on this website.
Throughout the IN CCIA process we are developing credible and usable climate impact reports for Hoosiers, building a network of experts and citizens working on climate change issues across Indiana, and working to increasing dialogue the about Indiana's changing climate among professionals, decision makers and the public.

In 2008, the PCCRC released the first state-level climate assessment titled Impacts of Climate Change for the State of Indiana. This report was developed at the request of Senator Richard G. Lugar as he prepared to vote on national climate change legislation.