Indiana's Past & Future Climate: A Report from the Indiana Climate Change Impacts Assessment
Indiana's climate is changing. Temperatures are rising, more precipitation is falling and the last spring frost of the year has been getting steadily earlier.
The data, going in some cases back to 1895, show clear trends, and there are no signs of them stopping or reversing. In some cases, these have been slow progressions. But the speed with which these changes occur has increased significantly in recent decades.
Projections show the pace picking up even more speed as heat-trapping gases, produced by humans burning fossil fuels, continue accumulating in the atmosphere. Indiana will continue to warm, more precipitation will fall, and extremely hot days will be common in many parts of the state. These changing climate patterns affect us individually and affect many aspects of our society, including human health, public infrastructure, water resources, agriculture, energy use, urban environments, and ecosystems.
This report from the Indiana Climate Change Impacts Assessment (IN CCIA) describes historical climate trends from more than a century of data and future projections that detail the ways in which our climate will continue to change.
Key finding: Indiana has already warmed 1.2°F since 1895. Temperatures are projected to rise about 5°F to 6°F by mid-century1, with significantly more warming by century's end.
Why it matters: A rising average temperature increases the chance of extreme heat and reduces the chance of extreme cold, and it also changes the timing and length of the frost-free season when plants grow. These shifts will impact air quality, extend the growing season and the allergy season, and create more favorable conditions for some pests and invasive species.
Key finding: The number of extremely hot days2 will rise significantly in all areas of the state. In the past³, southern Indiana averaged about seven of these days per year, but by mid-century this region is projected to experience 38 to 51 extremely hot days per year.
Why it matters: Extreme heat raises the likelihood of heat-related illnesses, such as heat exhaustion and heat stroke, which can lead to increased hospitalizations and medical costs. Children and the elderly are especially vulnerable. Extreme heat also reduces crop yields, counteracting the benefits of a longer growing season.
Key finding: Extreme cold events are declining. By mid-century, the northern third of Indiana will experience on average only six days per year below 5°F, down from 13 days in the past3.
Why it matters: Cold temperatures control populations of disease-carrying insects such as mosquitoes and ticks, as well as forest pests. Warmer winters would allow some of these species to remain active for longer periods or to expand their ranges into Indiana.
Key finding: Average annual precipitation has increased 5.6 inches since 1895, and more rain is falling in heavy downpours. Winters and springs are likely to be much wetter by mid-century, while expected changes in summer and fall precipitation are less certain.
Why it matters: Increased precipitation, especially in the form of heavy rain events, will increase flooding risks and pollute water as combined sewer systems overflow and fertilizers run off of farm fields. Warmer summers with the same or less rain would increase stress on agricultural crops and drinking water supplies.
Key finding: The frost-free season has lengthened by nine days per year statewide since 1895. This trend is projected to continue and intensify. By mid-century, central Indiana's frost-free season is projected to increase by 3.5 to 4.5 weeks compared to the past3.
Why it matters: Longer growing seasons can increase the productivity of food crops and forests, and could expand crop-production opportunities in northern latitudes or the possibility of double-cropping further south. But they also increase growth of less desirable plants like ragweed and create favorable conditions for some invasive species.
The Data
This report is based primarily on two documents developed by the IN CCIA Climate Working Group. Historical trends span the period 1895 to 2016, depending on the specific variable. See Widhalm et al. (2018) for further details on the historical analysis.
Future climate projections presented here are based on averages from 10 global climate models, which we consider to be the most likely outcomes for a given emissions scenario. The projections from those models estimate average climate patterns during three 30-year periods centered around the 2020s (2011 to 2040), 2050s (2041 to 2070) and 2080s (2071 to 2100). Throughout this report, "mid-century" refers to the 30-year period centered around 2050 and "late century" refers to the 30-year period centered around 2080.
Two future greenhouse gas emission scenarios are considered — "medium" and "high." These scenarios follow Representative Concentration Pathways (RCPs) 4.5 and 8.54, respectively, which have been used to develop many previous projections summarized by the Intergovernmental Panel on Climate Change. See Hamlet et al. (2019) and Byun and Hamlet (2018) for further details on the future climate analysis.
In interpreting the data in this report, it is important to keep in mind that a range of future climates is possible for our state, depending not only on the future rate of greenhouse gas emissions, but also on how the climate system responds to those emissions – not just in the compilations of mathematical equations known as climate models, but in reality. We describe some of the techniques and assumptions that go into this report's projections in this linked sidebar.
When using this report or any set of projections from climate models to plan for the future, the reader can place greater weight on outcomes that are projected by most or all models (like the increasing temperatures projected in this report). When different climate models give fairly different projections for a variable (such as for fall precipitation in this report), then more caution should be used. Planning now for a range of possible future climates will be much less risky than counting on one particular outcome.

Back to Top
Temperatures
Since 1895, Indiana's statewide annual average temperature has risen by 1.2°F, or about 0.1°F per decade. When talking about weather — a snapshot of conditions in a particular moment or day — a degree or two of change can happen quickly. However, with climate — the long-term average weather patterns over many decades — a few degrees of change in these averages translates into serious local impacts.
While Indiana's temperature has been rising over the last century, much of that increase has occurred since the 1960s and has already led to much earlier springs than the state experienced a century ago.
The largest temperature increase has been in spring, when the average temperature has risen 0.2°F per decade (1895 to 2016). Winter and fall have warmed about half as much. And there has been no change in the average summer temperature from 1895 to 20165.
Trends in maximum and minimum daily temperatures, averaged over the year, are similar to those of the daily average temperatures.
Why Use Average Temperature?
Scientists look at annual average temperature as an overall indicator of the state of the climate. Why? Because when you combine temperature measurements for many locations over the course of a year, the values do not fluctuate much from year to year. This makes it easy to identify extreme years and detect short- and long-term trends.
The warming trend has sped up in recent decades. Since 1960, the average annual temperature has risen 0.4°F per decade, with warming trends identified in all four seasons. This recent temperature increase has been greatest in winter, at 0.7°F per decade.
The average global temperature is undergoing similar increases. From 1945 to 1979, there were no records set for hottest global average temperature. Record setting temperatures have happened 12 times since, with 2014, 2015, and 2016 each breaking the record. The 2017 global average temperature ranked third-warmest6, and that year marked the 41st in a row with above-average temperatures. If the climate were not warming, the chance of randomly having 41 above-average years in a row would be less than one in a trillion.
The warming trends measured in recent decades across Indiana will continue and intensify in the coming decades.
Under the medium- and high-emission scenarios, relative to the recent past , Indiana's annual average temperature is projected to increase by about 3°F by the 2020s. By the mid-century, temperatures rise about 5°F under the medium scenario and about 6°F under the high scenario. By late century, the state's average annual temperature reaches about 6°F and 10°F above the historical average7, respectively, under those scenarios. This increase is projected to be similar in all seasons, although some models suggest the warming will be greatest in summer and fall by late century.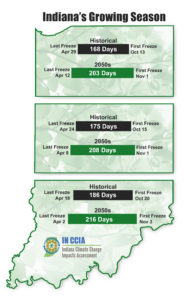 Those temperature increases would add to stress on crops such as corn, soybeans, and wheat, and could reduce crop yields. Production of ground-level ozone, a major component of smog, increases with temperature. This diminished air quality would pose a threat to those suffering from asthma or other lung-related illnesses, increasing hospital visits, medical costs and premature deaths8, as well as harming crops.
Rising temperatures have already led to a longer growing season. Indiana's frost free season — in which the temperature continuously stays above 32°F — has been extended by an average of nine days beyond what it was in 1915. Eight of those have come in the spring and one in the fall.
This trend is expected to accelerate, as warming temperatures significantly lengthen the growing season throughout the state. Central Indiana historically3 averaged 175 consecutive frost-free days per year. The region is projected to have 202 under the medium scenario and 208 under the high scenario by mid-century. It's possible that some places could double-crop or northern latitudes could grow a wider variety of crops. Additionally, more consecutive frost-free days would extend the allergy season, which closely follows the length of the growing season. Many birds that migrate according to temperature or daylight cues rely on dropped grain in agricultural fields during migrations. Those species that continue to migrate at the same time could be at a disadvantage as harvest dates move later because that food source would no longer be available to them.
Warming temperatures in the winter months also affect the types of plants that can thrive in Indiana. According to the USDA Plant Hardiness Zones, which are derived from average winter extreme minimum temperatures, the southern tip of Indiana by late century under the high emissions scenario would mimic that of today's northern Alabama plant hardiness (zone 7b).
Changes in Indiana's climate are projected to alter the amount of energy that Hoosiers will need to heat and cool their homes and businesses. Annual heating needs are typically measured in "heating degree days," while cooling demand is measured in "cooling degree days9." Historical3 data show no detectable trend in statewide average heating degree days or cooling degree days per year from the period 1950 to 2016, but as temperatures warm in all seasons by mid and late century, heating and cooling demands will change.
Under the high-emission scenario, rising temperatures will lead to about a fourfold increase in cooling degree days by the 2080s compared to the last century3. Heating degree days are projected to decline by about 30 percent. By late this century, people in northern Indiana will run their furnaces only as much as people in southern Indiana did historically. At the same time, though, these northern Hoosiers are expected to run their air conditioners far more often than those in the south did historically.