Climate Change and Indiana's Energy Sector: A Report from the Indiana Climate Change Impacts Assessment
Climate affects our energy systems
Indiana's climate and its manufacturing-heavy economy make it a prime user of energy. In fact, Indiana is the ninth-most energy-intensive state per capita in the country1.
Nearly three-quarters of Indiana's electricity comes from coal, and 5 percent is generated by renewable sources, though the wind energy sector is growing and coal use is declining2. This energy mix makes the Hoosier State the eighth-largest emitter of climate-changing gases, at 183 million metric tons of carbon dioxide (CO2) emitted per year3.
As global and local climates continue to shift, it is important to know how Indiana's future energy profile will be affected and what those changes mean for Hoosier families and businesses. This report from the Indiana Climate Change Impacts Assessment (IN CCIA) looks at projected changes to Indiana's residential and commercial energy demands as the state warms, and to Indiana's energy supply over the coming century. The findings presented here are based primarily on the IN CCIA Energy Working Group technical report (Raymond et al., 2019) and two more detailed analyses from Energy Working Group members (Nateghi and Mukherjee, 2017; Wachs and Singh, in review).
Overall residential energy consumption is expected to decline as the state's climate warms. Average residential energy use in Indiana could drop by about 3 percent by mid-century and decline as much as 3.5 percent by late-century. This is because Indiana homes use more energy for heating than cooling. Projected changes in residential energy demand are similar for moderate and high climate change scenarios. However, the projected increase in demand for cooling is likely too low because the impact of expected increases in future humidity is not included in these estimates.
Indiana's commercial buildings are expected to see increases in overall energy consumption as the state warms – increasing demand about 5 percent by mid-century and up to 5.5 percent by late-century. This is because these buildings use more energy for cooling than heating. Projected changes in commercial energy demand are similar for moderate and high climate change scenarios.
Per capita residential and commercial heating demand in Indiana's 15 largest cities is projected to decline 8 to 13 percent by mid-century, with per capita heating demand falling as much as 27 percent by late-century compared with estimated 2015 demand.
Per capita residential cooling demand in Indiana's 15 largest cities is projected to increase 23 to 28 percent by mid-century, with per capita urban cooling demand rising up to 40 percent above 2015 levels by late century. Increases in future residential cooling demand are significantly moderated when improvements in cooling technology are assumed.
Estimated changes in energy demand due to climate change have a minimal effect on predicted energy supply mix – less than a 1 percent shift across different climate scenarios by 2050, and less than a 3 percent shift by 2080. Coal use will continue to decline through midcentury in favor of natural gas and renewables, based on projected trends in fuel prices and technology change, and absent any future policy interventions. This shift away from coal is similar across all projected climate scenarios – showing the minimal influence of climate change on fuel mix relative to other factors – and is consistent across a wide range of possible fuel prices. The expected mix between natural gas and renewables, however, depends on future fuel and installation costs, which are uncertain. Based on conservative estimates for future renewables prices, about 50 percent of the state's electricity would come from renewables by 2080, with higher renewable use likely if costs continue to decline at the rate observed over the last decade.
Modest energy policies could have a large impact on Indiana's long-term electricity supply mix. Adopting a carbon tax or renewable energy investment tax credits would accelerate Indiana's energy transition, with an earlier shift to renewable sources (specifically wind energy) and a reduction in overall carbon dioxide emissions compared with no policy changes.
In addition to supply and demand impacts, warming daytime and nighttime temperatures, increased extreme heat events, and shifting precipitation patterns will have cascading effects on power plant efficiency and capacity, fuel transport, transmission lines, and bioenergy production in Indiana and surrounding states.
Indiana's Changing Energy Profile
Indiana relies heavily on fossil fuels for energy production. According to the U.S. Energy Information Administration, Indiana is third in the country for coal consumption and seventh in coal production. Despite ranking seventh in coal production, Indiana holds only about 1.5 percent of the economically recoverable coal in the U.S. It consumes about three-quarters of the coal recovered in the state, while the rest is exported to about a dozen other states by rail, barge, and trucks. Indiana has recently shifted from being a net exporter to a net importer of energy, meaning Indiana utilities sell more energy than they generate4. This shift to more out-of-state energy production, along with lower energy demand resulting from efficiency gains, are the primary reasons Indiana's (CO2) emissions have started declining over the last decade4.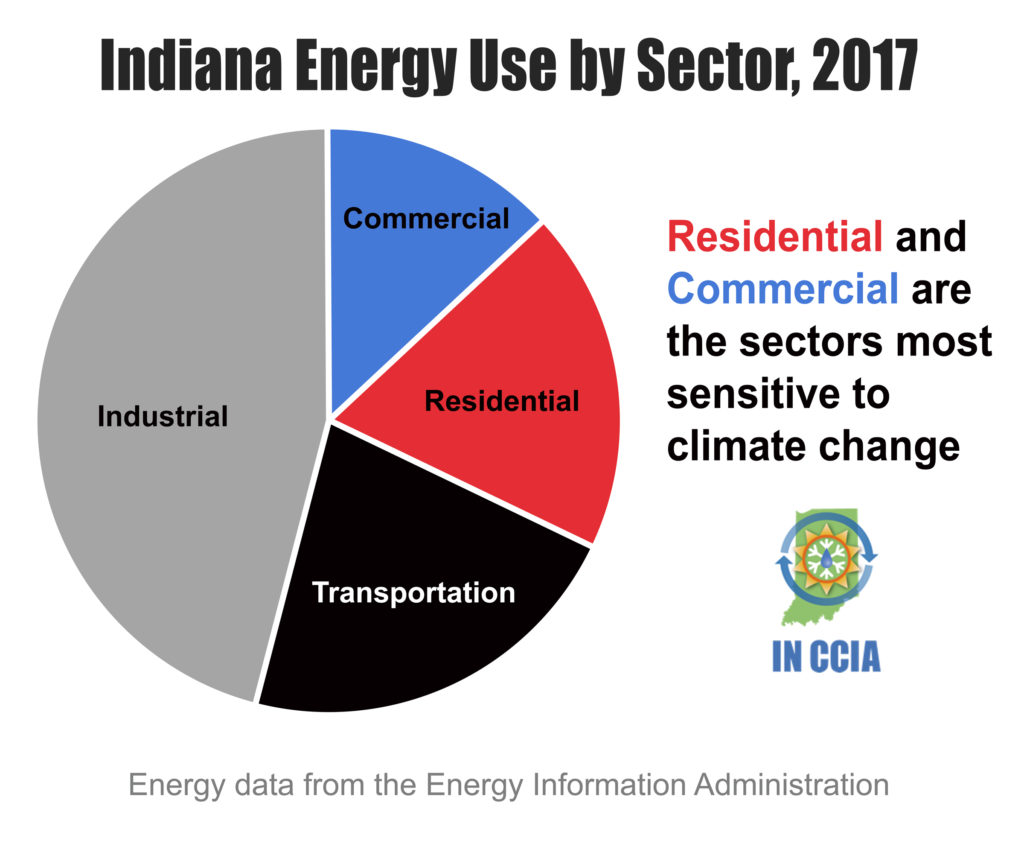 Combined, coal (73 percent) and natural gas (18 percent) made up about 91 percent of the state's electricity production in 2017. Wind, blowing strong across Indiana's wide-open agricultural landscape, generated 5 percent, with the remaining 4 percent coming from other gases, hydroelectric, solar, and biomass. Indiana's energy landscape has been shifting quickly; as recently as 2009, natural gas produced only 3 percent of Indiana's electricity, with 93 percent sourced from coal.
Indiana's industrial sector consumes about 46 percent of the state's energy, with transportation (22 percent), residential (19 percent), and commercial (13 percent) accounting for the rest. Because research has shown that industrial and transportation sectors have limited sensitivity to climate change5, we focus our attention here on the expected changes in residential and commercial demand, which together account for one-third of the state's total energy use.
In the residential sector, the highest fraction of climate-sensitive total energy demand is for space heating, followed by water heating, with space cooling having relatively little demand. The opposite is true in the commercial sector, where more energy is devoted to space cooling than space heating or water heating.
Back to Top