TINT How-to Guide
What is TINT?
TINT is the leading omni-channel User Generated Content Platform for Higher Education. We help higher education partners around the world increase student engagement, recruit prospective students, and connect with alumni.
How can I use TINT with Cascade?
Your web team has made adding a TINT feed to Cascade easy. A Social Media block can be added to any page to aggregate and display your social media feeds. A live example of this is the current Purdue.edu home page and Purdue Extension pages. Look for the grid of social media displayed on the lower portion of the pages.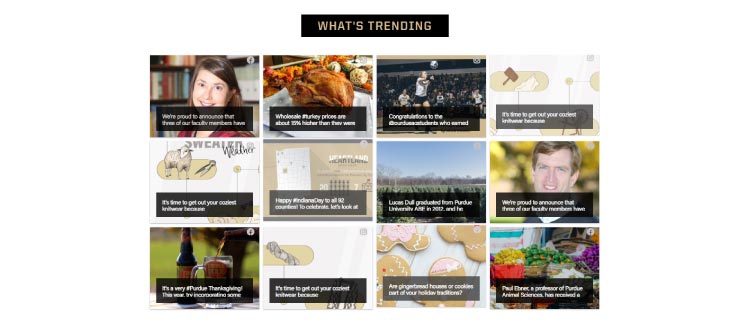 Visit the Cascade Block Guide to learn more about the Social Media block and other blocks.
What Do I Need In Order To Use TINT?
You will need your account login details for each social media account. This includes having the mobile device associated with each account for two-factor login and authentication. Learn more below.
how do i get started with TINT?
You first need access to TINT. In order to create your TINT user seat, please reach a TINT team member at success@tintup.com. Your account will be created with your required level of access, and an email with login details will be sent to you shortly. Please make sure to create your password within 24 hours of receiving this email!
email tint
FAQ
Q: Where can I get additional TINT training?
A: Once you have a TINT account visit their support site at https://support.TINTup.com/hc/en-us
Q: Is there a cost associated with using Twitter? 
A: For users of Twitter and TINT. Twitter has switched to a pay-to-use model. This means that pulling and embedding tweets on a site page has a monthly cost. The cheapest way to work around this change is to link directly to your Twitter account page. Please contact AGCOMM via this link if you have questions or need help linking to your Twitter account.
Q: Why do my re-tweets not display Images in TINT?
A: Twitter prevents TINT from displaying the original post that is being retweeted. One option is to hide these by creating a TINT filter that filters out text-only posts for the Cascade embed. Follow these filter steps:

Navigate to your desired TINT dashboard
Select the Filters option at the top right of the screen
Select all options within Media Types except for Text Only
Name and Save your filter
Go back into the Filter section and select the option to Copy Filter ID 
Insert that number into the following string and include that in the Javascript snippet on your website: data-saved-filter-id="number copied"
watch video - filter example

Q: Why is LinkedIn no longer an option in TINT? 
A: Due to recent changes to the LinkedIn API terms of service, LinkedIn no longer supports the ability for any service to ingest and display LinkedIn content. Unfortunately, this impacts functionality for all platforms that ingest content from LinkedIn, including TINT.