Web Stewardship Partnership
The web migration to Cascade provides an exciting opportunity to address the site's current disorganization and inefficiencies.

Now we have a clean start. By collaborating and following these best practices, we can keep the site optimized as it evolves.

Please join us in cultivating the best web experience possible for visitors and creators.
The web content life cycle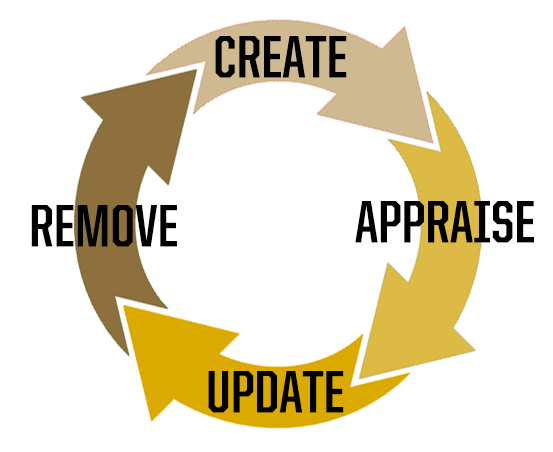 A common mistake is creating web content, publishing it, and never touching it again. Left untouched, content quickly contains inaccurate and false information, hurts Search Engine Optimization (SEO), and keep visitors from visiting "better" pages on your site.

It is critical to review and update your content and remove it when necessary
how can i get started in Cascade?
Are you ready to learn more about Cascade? Need training? Ready to request an account? The 'Getting Started' section of this guide is your next step.
get started here
Appraise 
Consistently audit the content on your sites. Creating a schedule can be useful. Update or remove any out-of-date content. Example include:


Identifying out-of-date information on pages, events, and news articles.

We've provided you with tools to monitor the effectiveness of your pages. Be sure to utilize Siteimprove, Cascade's SEO dashboard tool.


To monitor site traffic, use Cascade's Google Analytics reports.


Make sure your content is accessible and that the documents you create are Americans with Disabilities Act (ADA) compliant.


 

Do not use images or scans of documents that cannot be processed by a screen reader or filled out by users with a disability. We have made Qualtrics available to create web forms.

 
UPDATE
Sometimes updating content is the most efficient way to keep your site fresh.


Cross-referencing, linking and reusing content will cut down on redundant site content.


Using keywords, tags, and categories in Cascade will allow you and others to easily filter, share and reuse content across the sites.


Be sure to replace your images as needed to keep pages and content looking fresh.


Use Cascade's CMS Broken Link Report to find and repair broken URLs.
Remove
When content is no longer relevant, fresh, or accurate, it should be updated or removed.


A good rule of thumb is to remove content more than two years old.


If you want to remove something but think it may be needed at a later point, you can create a backup and easily restore it. For questions about creating a backup or removing content,

 

contact The Purdue Agricultural Communications Web Team

.
Our web team is excited to partner with you, if you ever have questions, comments, or concerns, please don't hesitate to contact The Purdue Agricultural Communications Web Team.
FAQ
Q: Where can I learn more about creating content on a page?
A:  Visit the Getting Started section on the User Guide's home page to learn more.
Q: How do I work with long-term page drafts?
A: Learn more here.