About Us
The Boilermaker Butcher Block is a state inspected meat plant, and all products are BOAH Inspected and Passed. Our staff is comprised of Emily Ford, manager, and Laura Kerr, assistant manager, with student employees filling our labor needs. This gives students valuable hands-on experience, which makes them very marketable in the meat industry. Our main purpose is to provide materials for education and research. Therefore, all of our products are available in limited quantities based upon the needs of education and research. 
Contact Us
Emily Ford
eford21@purdue.edu
Land O'Lakes, Inc. Center for Experiential Learning
720 Clinic Drive
West Lafayette, IN 47907
765-496-8052
Hours of Operation:
Wednesday, Thursday, & Friday 
11:00 am – 6:30 pm
Saturday
10:00 am – 2:00 pm
Featured Story
Featured Story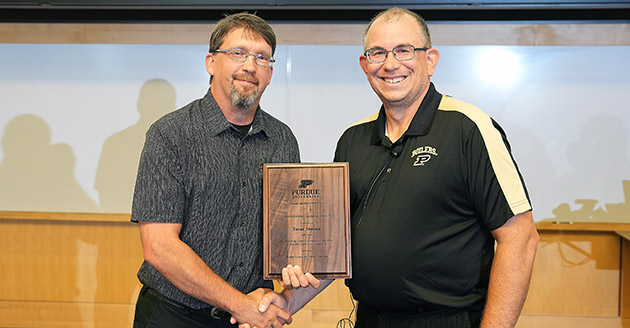 Trent Osmon Named 2023 FNR Distinguished Alumnus
Purdue Forestry and Natural Resources is proud to honor Trent Osmon with its 2023 FNR Distinguished Alumnus Award. Osmon got a head start toward his career as part of the co-op program, working in the public works division at the Naval Surface...
Read More