Italy Blog
Italy Blog Archive 2018
Tuesday, August 14th, 2018
If you would have asked me half a year ago my plans for the summer, traveling to Europe probably wouldn't have been in the schedule. It all started when Doria and I saw an email about the trip and without any question or hesitation, agreed that we were going together and only if we were together. I don't remember asking my parents or giving it a few days of thought. It was spontaneous and my heart is so content with the adventure the past 12 days has been.
As the traveled northern Italy, there was never a dull moment. I learned so much about county and its culture, but I also learned a great deal about myself and the people around me. I've grown closer to my friends, made a couple new ones, and got to experience a new part of the world with them.
However, as I write this on a plane headed for Paris and then ultimately Indy, I cannot help but the be excited and sad to go home. In some ways, I wish I could stay for a little longer. Traveling halfway around the world has created a "bubble" in which you can escape any problems and just enjoy with the people that surround you. But on the other side, I miss my "normal" and routine.
Looking back, I think I just accepted the things we did in Italy as a new normal, but in all reality, it is not my normal. I return to the states changed in my mindset and independence. I have every hope to come back (already have a bucket list of countries Doria and I have made plans to visit), but I'm ready to go home. I cannot wait to see my family, snuggle with my dogs, go back to work, eat anything but pasta, and maybe even take a nap. I'm excited to take the things I learned and apply them in school and the country.
One thing that I've added to my said bucket list, is to travel the U.S. Going to Italy and seeing how proud each tour guide and shop owner was about their country was inspiring. I want to see more of my own country and develop a similar pride. I think Americans can sometimes take the U.S. and its beauty for granted. There is so much to see, yet we hop on planes to vacation resorts and destinations. Now don't get me wrong, tropical destinations and sunny skies are enjoyable, but exploring the world is eye opening and an experience of its own. I want to see the world, and I'm going to start at home (and then maybe Greece).
Before I say goodbye, a quick review of our final day in Italy. We left early in morning and walked (more like hiked) to the train station. We hopped on the train to Venice and enjoyed a high-speed ride to the city of no vehicles. I think Venice held the most culture shock to our group. All week, we were bussed around to city centers and farms. However, to get anywhere in Venice, you must walk or board a water taxi. We visited a couple of the islands surrounding the city, one of which was the island of glass craft. After some time to explore, we ate our final dinner in country. We finished some last minute shopping and then it was off to the hotel for night.
What a bittersweet ending to an amazing 12 day adventure. Until next time Italy.
Tornare a casa ~ heading home
-Morgan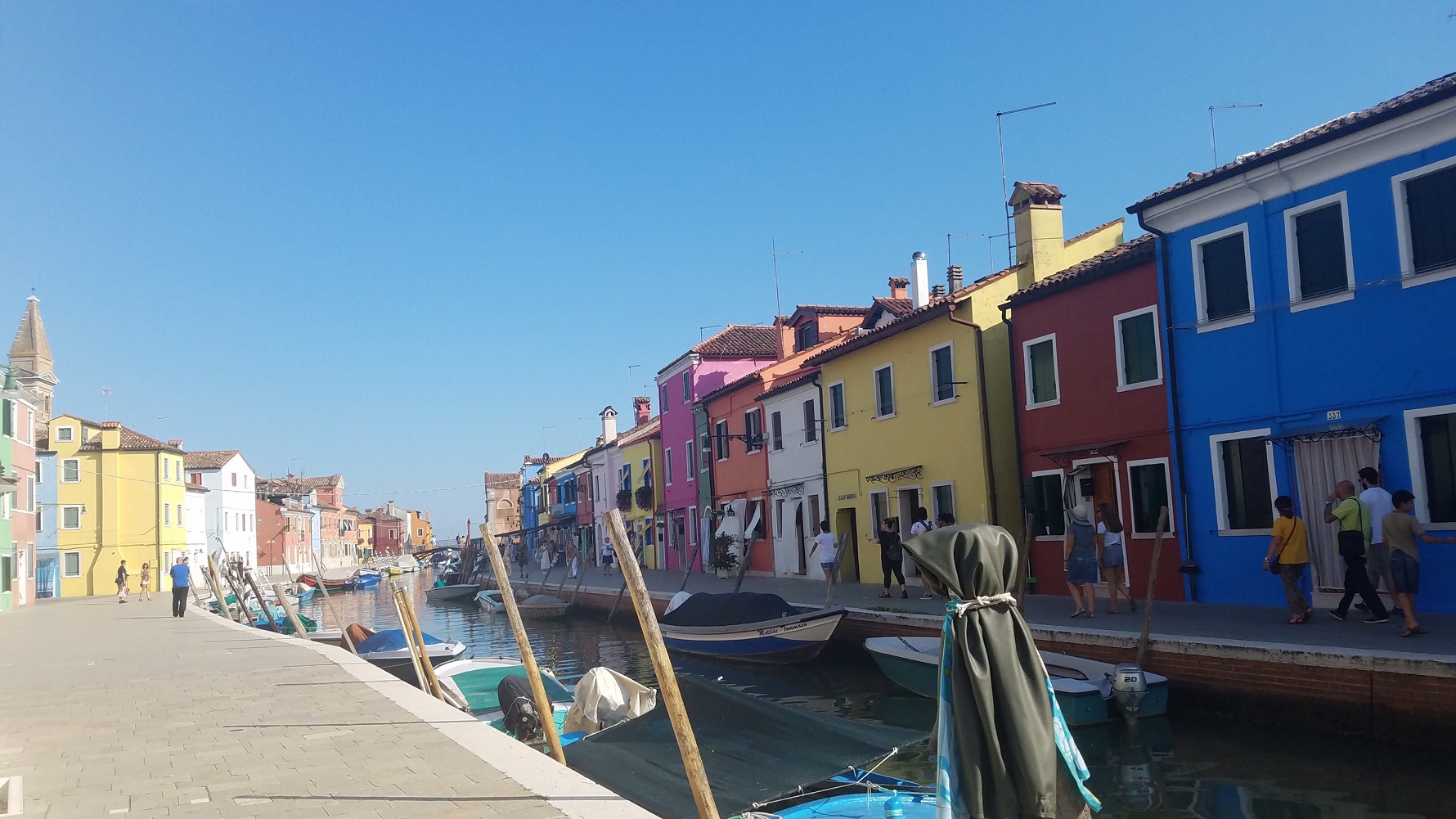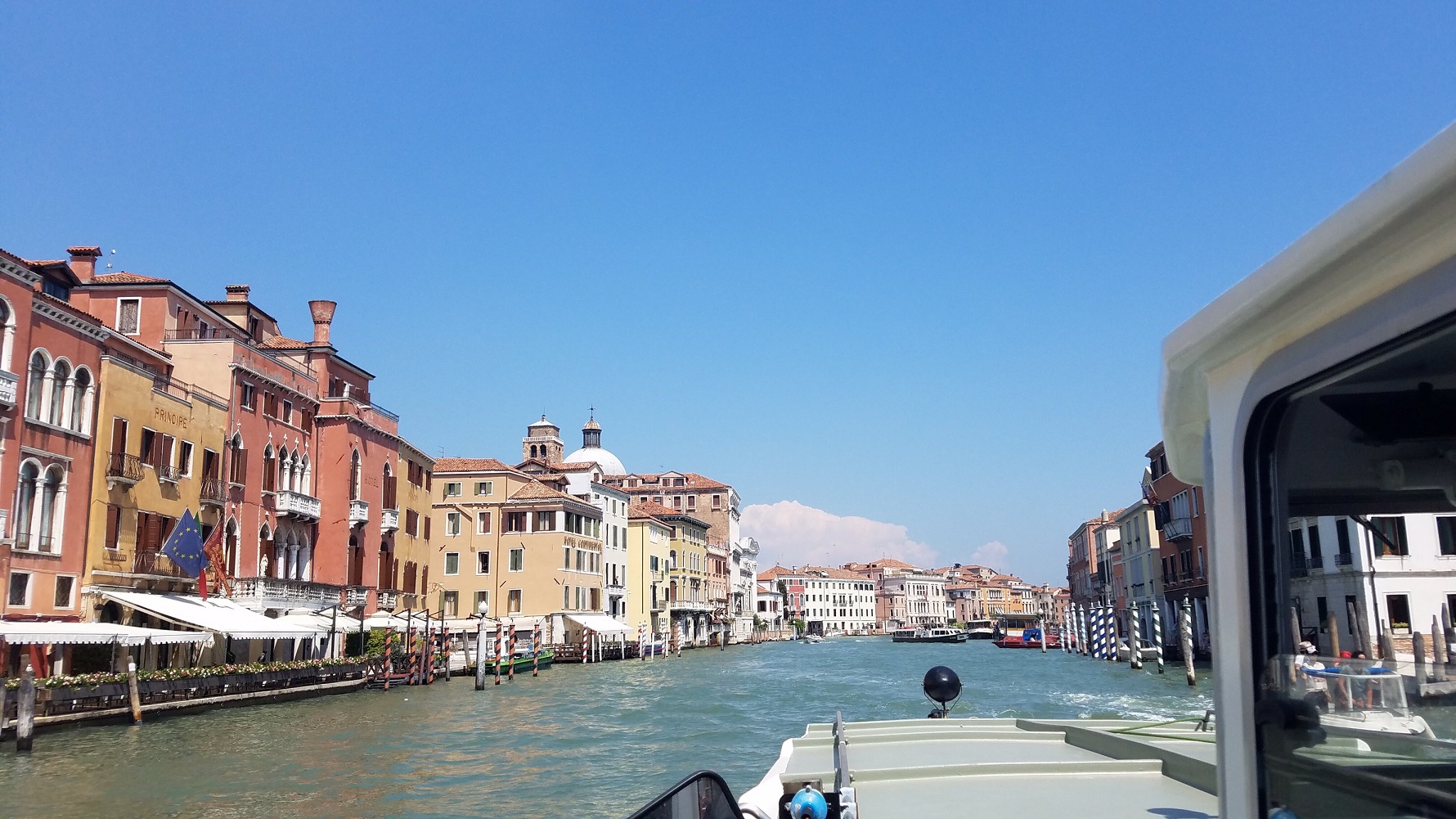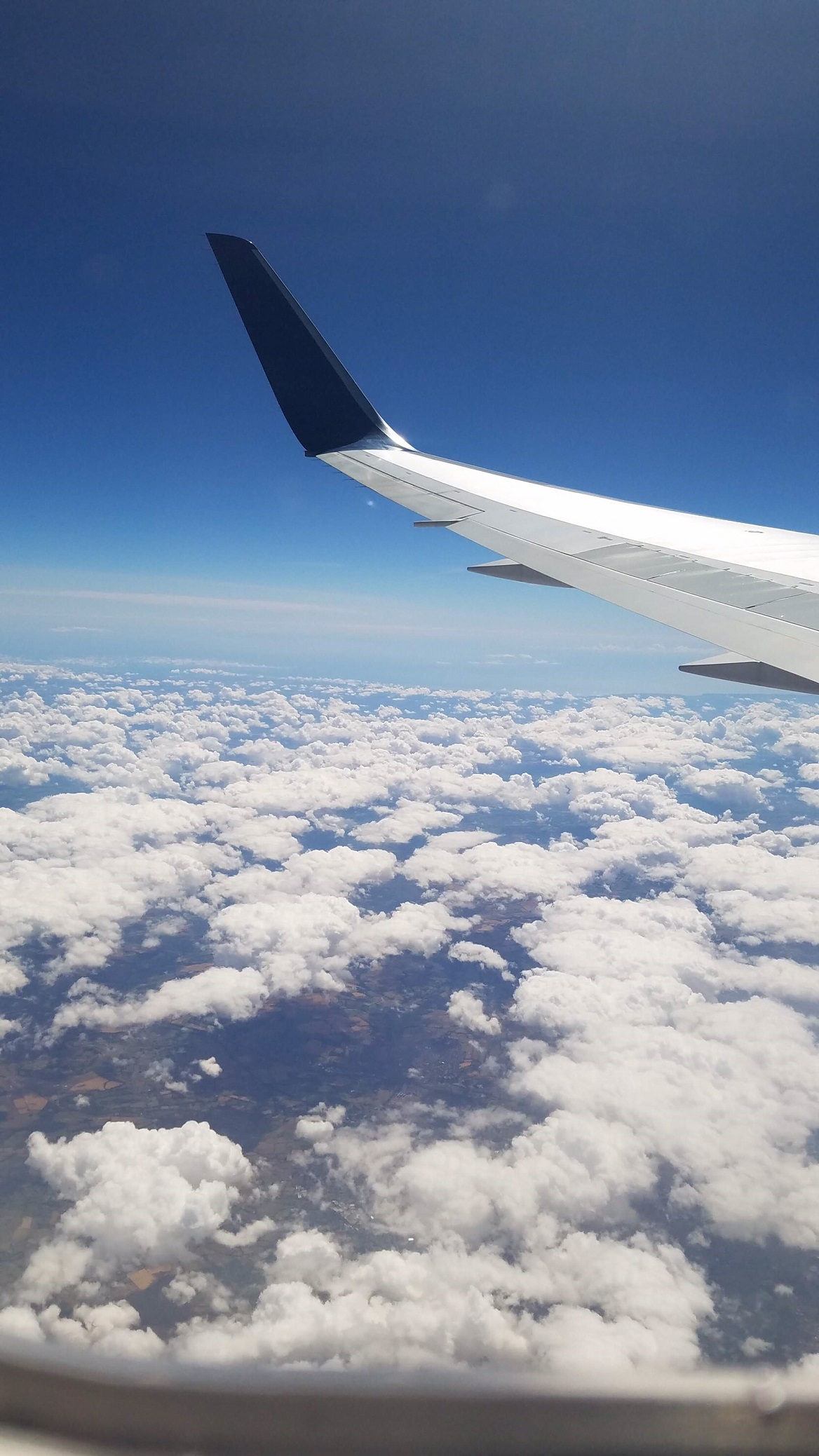 Monday, July 30th, 2018
There are 23 people on this trip. We walk around, listening to tour guides and snapping hundreds (if not thousands) of pictures. We walk into restaurants single filed and request bottle after bottle of water. We can be spotted in the crowd as a group of tourists taking in the view or aimlessly wandering. Initially, being in a group can be sheltering and securing. However, to really understand culture in other countries, you have to be open to adapting to your surroundings.
For me, the biggest adjustment I have had to make is becoming less of a tourist. Granted, I still take photos and get confused when people begin speaking Italian with me. What I can do, however, is try avoiding being obviously foreign and using my new independence to figure things out. But, this process is especially challenging on this trip most of the time. . . allow me to explain.
As we travel from city to city, Marco, our trip guide, makes sure we get to tours and meals on time (or moves times when we are always running late). He translates entire tours and explanations to English when the guides can only speak Italian. He tells us what we are having for dinner and he talks to the hotel staff when our AC doesn't work. With Marco, I don't feel that we had to adjust much. However, when Marco is not available to be a sort of security blanket, there are times we have to adapt.
For instance, Marco informed the front desk about the broken air conditioner in my room, but when we grabbed our key from the front desk, the receptionist informed us that a maintenance man would be up to check the air. The man came to the room and began speaking to us in Italian. . . That's a bit of a problem. At that point, we had to piece together his English enough to figure out what to do. In the end, it was rewarding to know that we solved the problem (both the AC and language barrier).
I think that you can best learn how to adjust when away from a whole group. It is in those times that you are faced with situations you must solve on your own and the success can be rewarding. That independence is when you can really learn to appreciate the culture of your own and a foreign country.
We got a little free time away from the group today. We stopped and spent some time at FICO Eataly World, which is a 20 acre agri-food park. They have many fresh foods and restaurants, and strive to inform visitors about Italian food production. After eating some gelato and being "blessed" by the "Pepper King" (long story short, the Pepper King worked some magic and now I apparently like peppers. . . Right.). Afterwards, we travelled to the center of Bologna and explored the historic square and its cathedrals and leaning towers. We ended the day by checking into our hotel in Florence and enjoying some Florentine steak.
Risolvere problemi – solving problems
-Morgan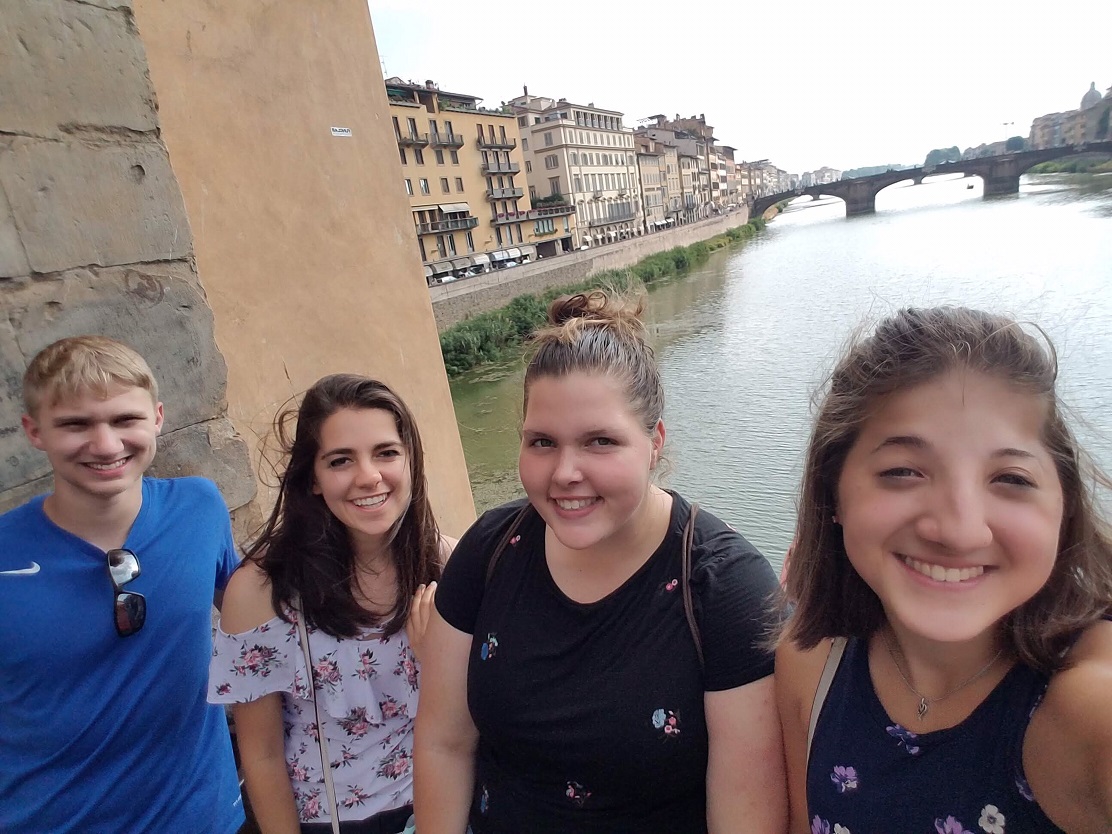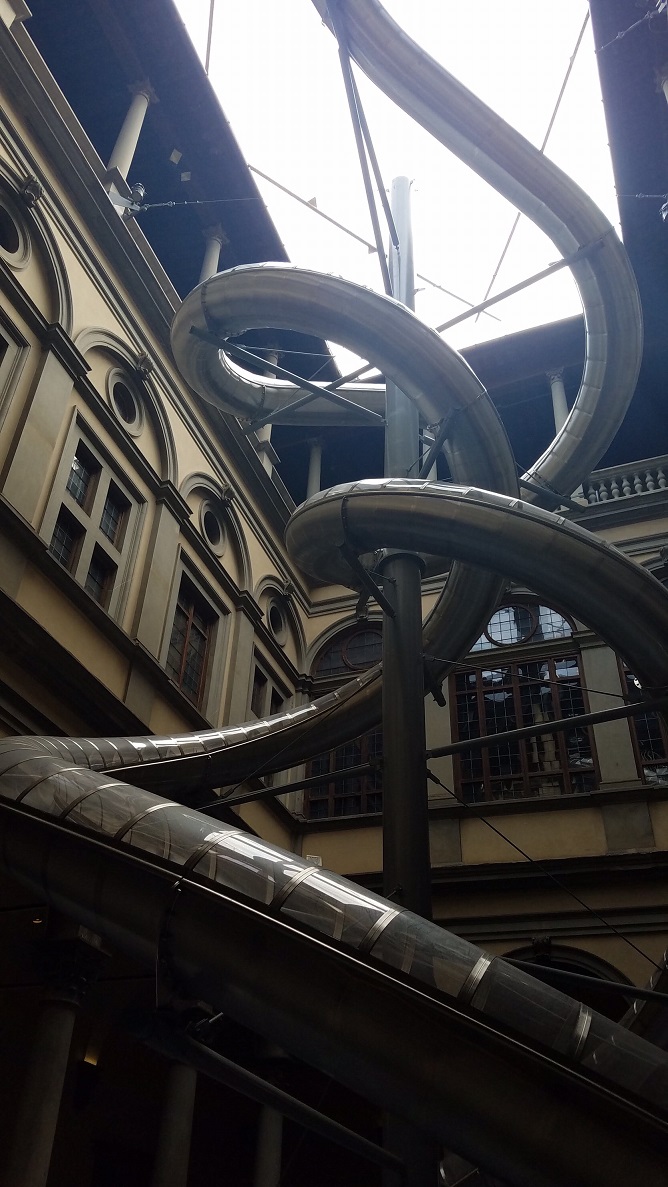 Saturday, July 28th, 2018
Sometimes your first impressions are wrong. For all of you blog junkies who have been following this trip from the beginning, I wrote about how similar the U.S. and Italy are. And in that moment, that was my perspective. However, I was sheltered. I was close-minded. Let me explain:
Imagine traveling to the United States and landing in New York City. You would have a very skewed perception of America. People in the city may come off as standoffish, but the city paints this picture. People in New York are bustling workers rushing off to work, which tourists could perceive negatively. NYC has the power to generalize all Americans due to the sheer size and reputation. In my first blog, I made the mistake of generalizing Italy.
I wrote how similar Milan (which I extrapolated as Italy) was to the U.S.. Over the last couple of days, we have been able to travel the country. I have taken a ski lift 5000 feet above sea level to visit sheep, and some people, in the Italian Alps. I have seen historical, quaint towns that are layered in history (literally). It is hard for me to grasp that below one church in Bergamo, two previous churches sit nestled on top of Roman ruins. I don't know about you guys, but when I look at a building in America, I feel no need to grab a shovel to dig for a previous cultures.
I think the entire group came in with preconceived notions and generalizations. I will admit that I still think about my stereotypes of Italians. However, this isn't the moment for me to say "Wow! Italians are very different than I thought". In reality, we have the limitations as a group. As a group of 23, we always have translators and tour guides. We have not truly been able to get a grasp of the culture. Moreover, I have already made a generalization of Italy. I simply need more experience to try and mix my concoction of Italian play-doh. I know this sounds weird, but this trip should help me discover my recipe for play-doh. With time my little pliable play-doh may be smushed or stretched, but always changing.
Spending more time in Italy will help me construct the base, but only time will foster the pliability and elasticity of my thoughts.
In the end, perception is very fluid. I was rash in describing Italy, but I was ignorant to the rest of the country. Every day my perspective is changing. As I gain more experience in traveling to foreign cities and meeting new people, my thoughts will change. The fluidity concept of perception is something that I also need to apply back home. While I am here in Italy I am more open to accepting this changes, but at home I am landlocked in my ideas. However, I think it is important to constantly change in order to better understand the world, including my own culture.
And now you guessed it…the summary of the day. Going off my theme for the day, we visited another dairy farm to not generalize the industry. Each farm is different especially depending on its purpose. This farm raised cattle to create parmigiano reggiano which comes with its own rules and regulations. For example, one regulation is that the cattle cannot eat fermented food, simply because it violates regulation to be considered true parmigiano regginano. Another rule is that the cows can only be milked two times a day, while many dairy farms do three times. PNext we traveled up to the mountains to Parma where we visited a Parma ham producer. The process has regulations yet again to have the prestigious name. The most interesting fact was they use a horse bone to touch the meat in order to make sure the scent of the ham is correct. Finally we drove to Modena, which is world famous for balsamic vinegar production. Many of us had never had balsamic vinegar before and were surprised the use ranges from a salad dressing to ice cream topper.
Sempre cambiando- Ever changing
-Doria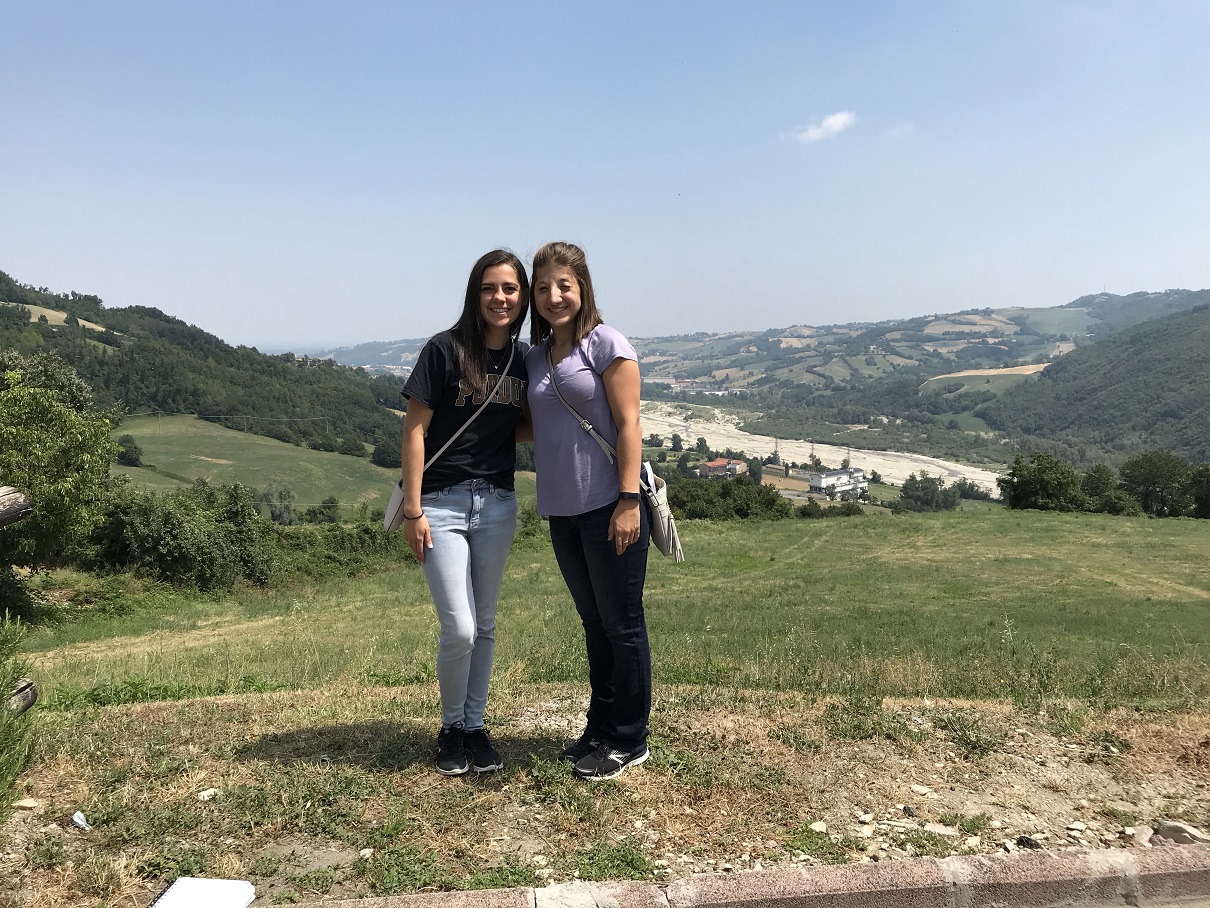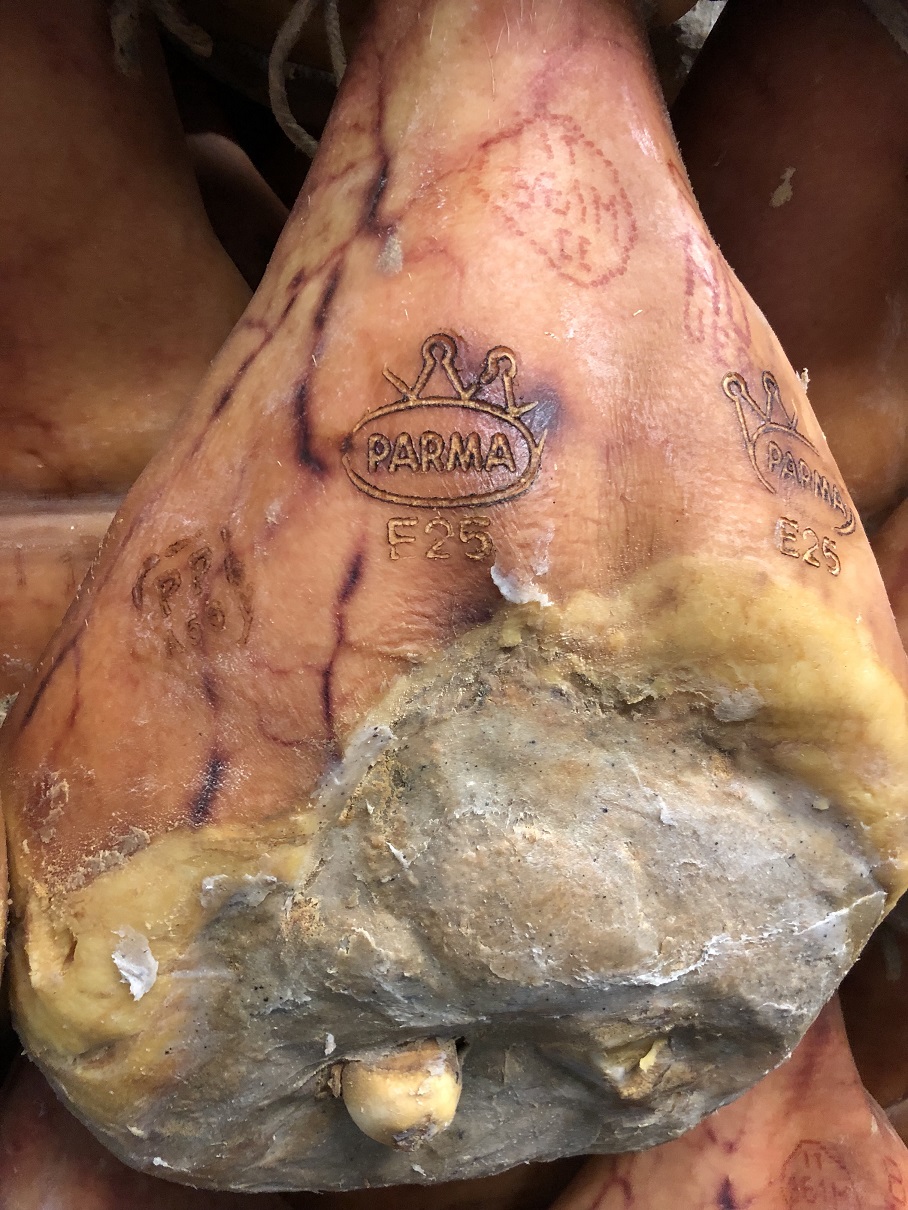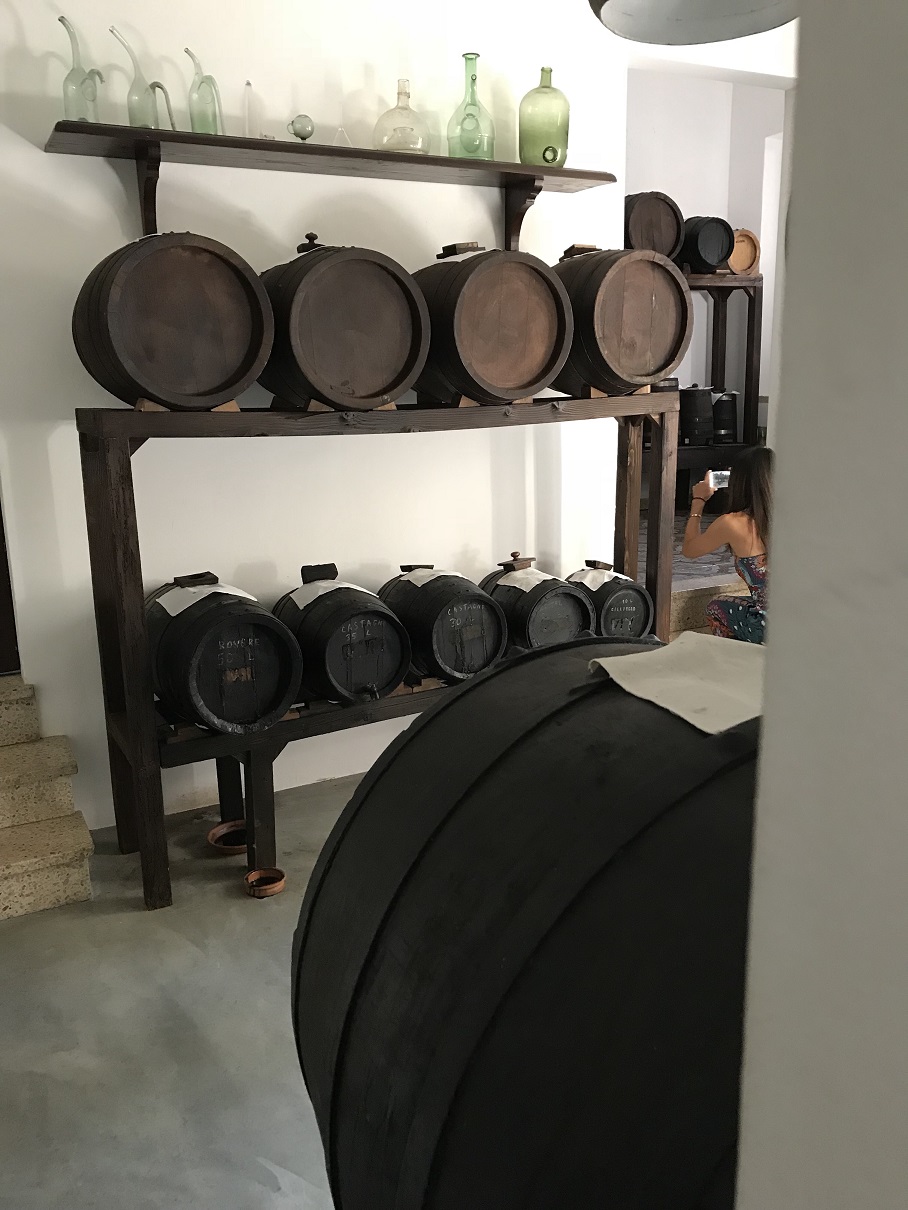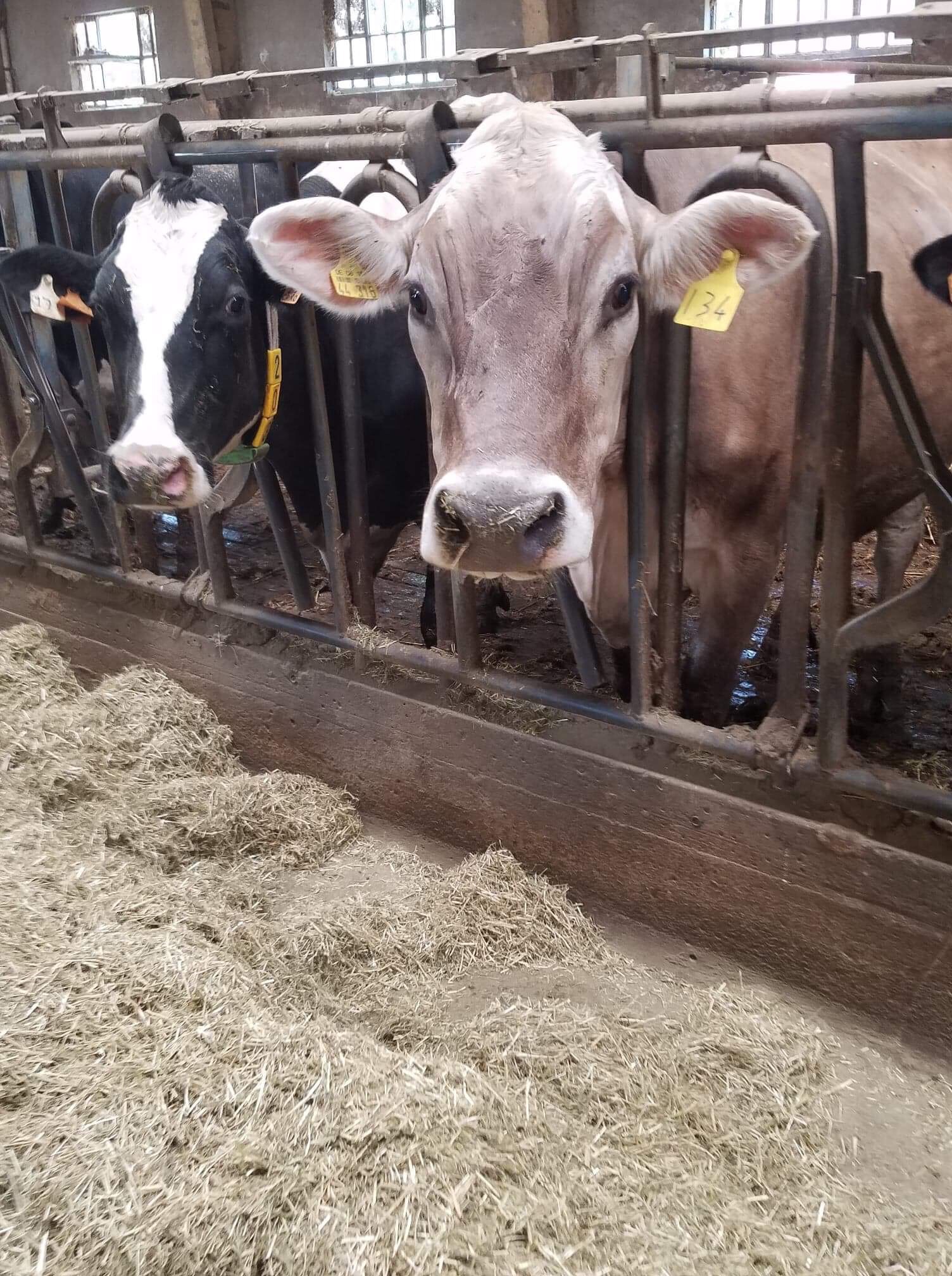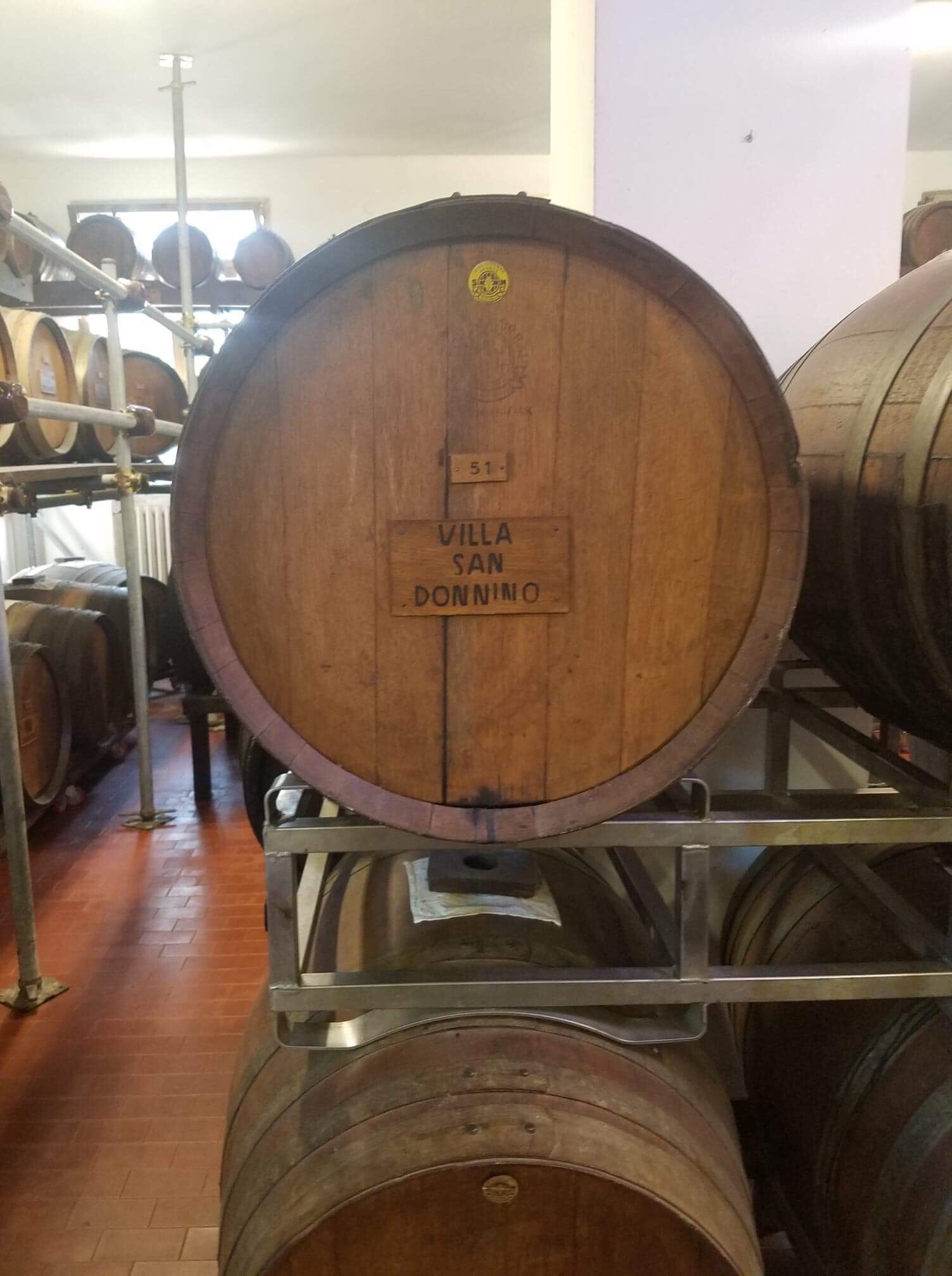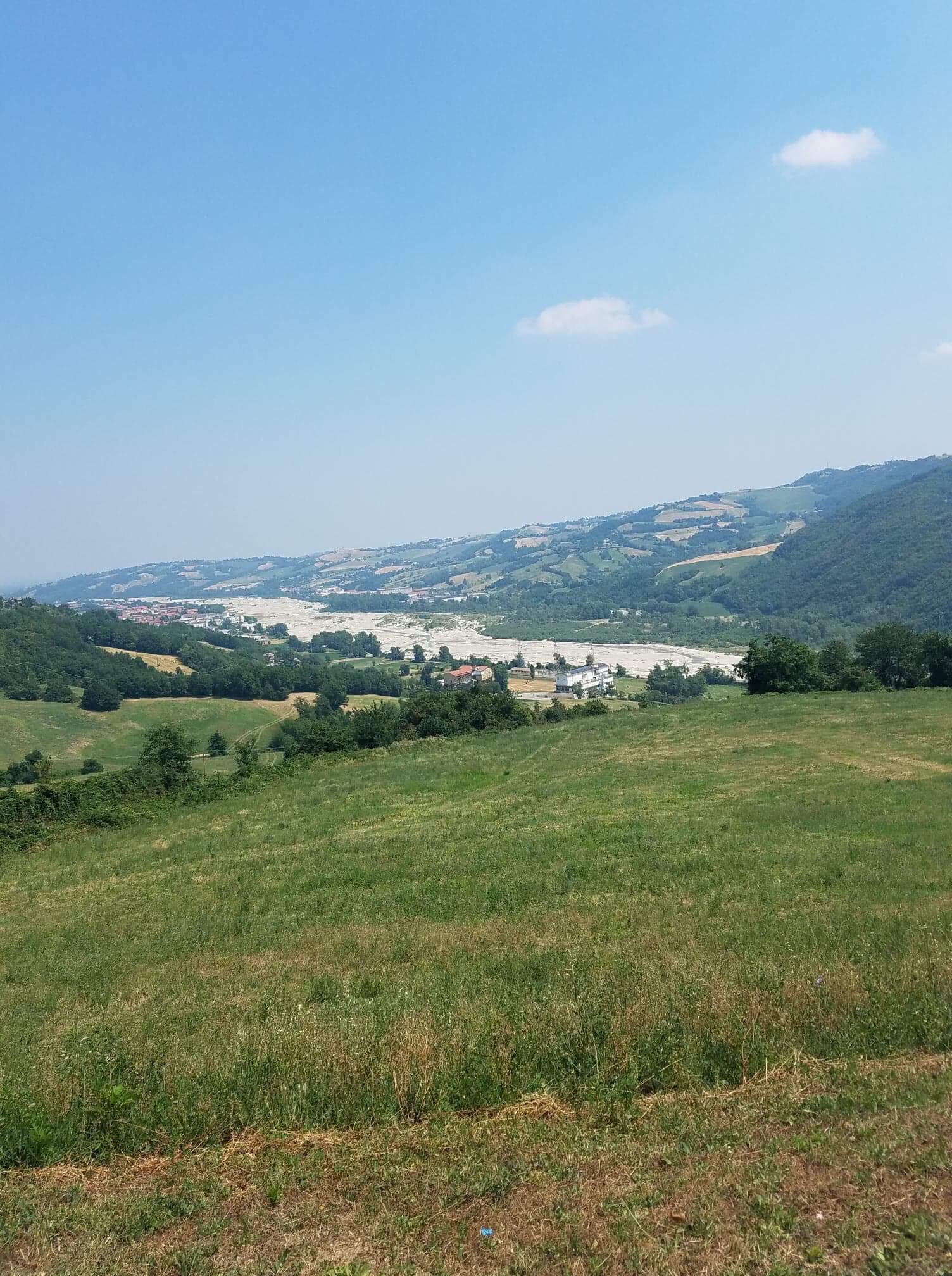 Friday, July 27th, 2018
Imagine a pointy iceberg floating in the water. The top 10% sticks out of the cold, crystal water. The other 90% hides- submerged under the surface. This picture helps put culture into perspective. Sometimes, cultural differences and similarities can be spotted on the surface of the person, but other times, you have to dive under water and see what is beneath the surface.
I've always strived to be an accepting and open person. However, this has led me to believe that I am slightly oblivious to cultural differences. I have noticed small things here in Italy, like their embracing greetings or two hour, multi-course meals. Both of these differences are "above the water" and can easily be picked up by those who are not even looking. I struggle with finding the "under the water" differences.
Discovering my personal lack of understanding about individual people's cultures has made me take a look at my own culture. To be quite honest, if you asked me about my culture, I'm not sure I'd be able to come up with one. What do I want to be above and below my water? How do I want people to see me? After all, how can I learn about others if I don't completely know myself? I think the latter question has impacted my cultural experience. It's difficult for me to dig deeper into Italian culture without having something else to base it on.
Traveling abroad can expose you to the culture around you, but more importantly, it can give you insight to your own culture. Finding similarities and differences between yourself and the people whose country you are visiting can help you discover what your morals are. Reflection on these discoveries may lead to explanations of why you possess those beliefs and help you decide how you want people to see you.
We all carry a certain amount of our culture on our shoulders, whether we are aware of it or not. Traveling to Italy has not only encouraged me to search below the water and to find out more about their culture, but it has also inspired me to search for my own culture. We are learning about animal production, but more than that, we are learning about ourselves.
The glory of it all is that you do not need need to come to Europe to begin this process of self-exploration. . . What's beneath your water?
As for the overview of the day. We got to sleep in until 8:30 time zone ? (any catch-up sleep time is much appreciated), and then we were off to Cargill in Sospiro. Sebastiano and the team guided us around the feed mill, introduced us to research equipment, and discussed Italian animal production and nutrition. After lunch, we visited a cheese factory where they make the famous Grana Podana cheese. The cheese is only made with the best milk, produced by Holstein dairy cows who are fed a very specific way. For instance, the cows can not be fed corn silage. This cheese can only be made in one region of Italy, Podana. Once we taste tested the final, aged cheese, we stopped by one of the 25 farms that are able to supply the milk for Grana Podana. We finished the night at a local restaurant near our hotel in Mantova.
Scava più a fondo ~ dig deeper
-Morgan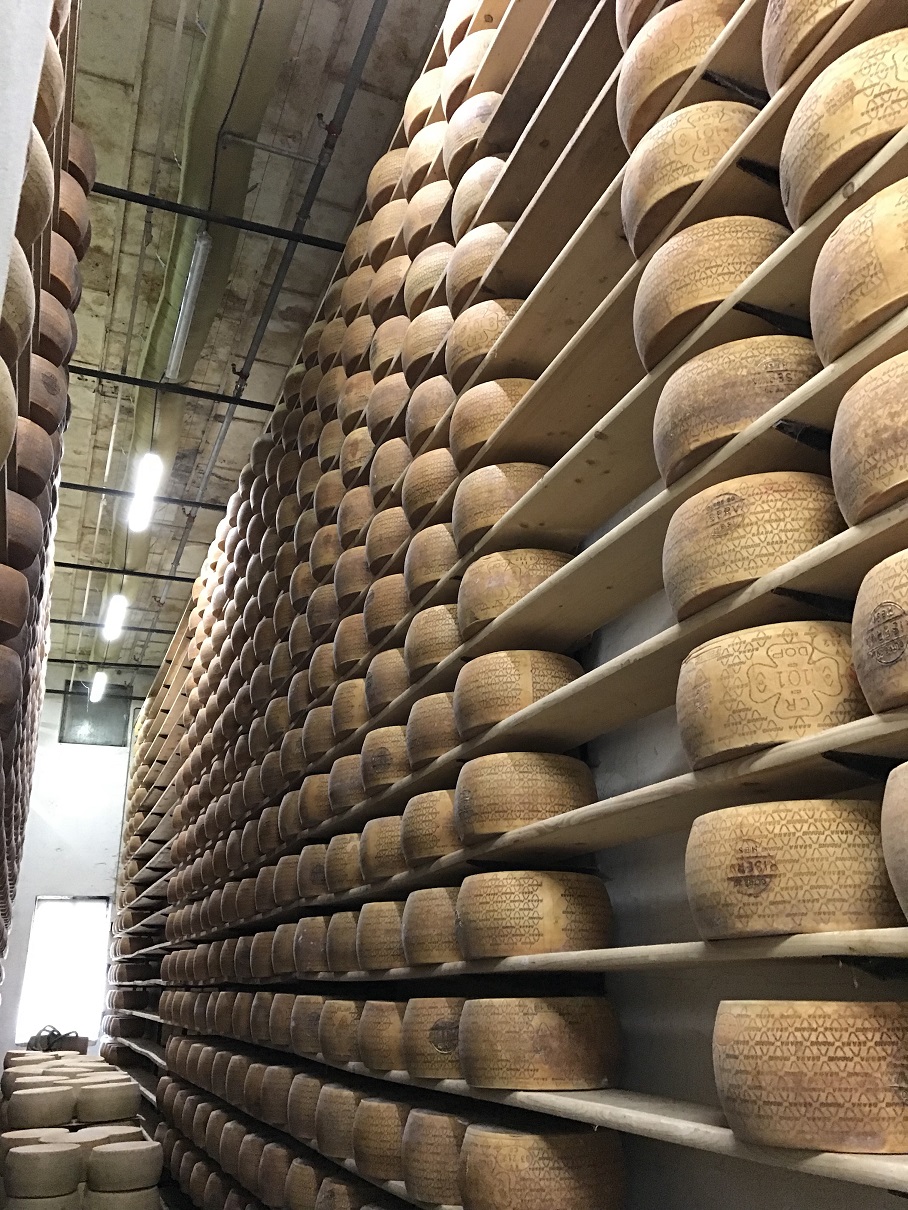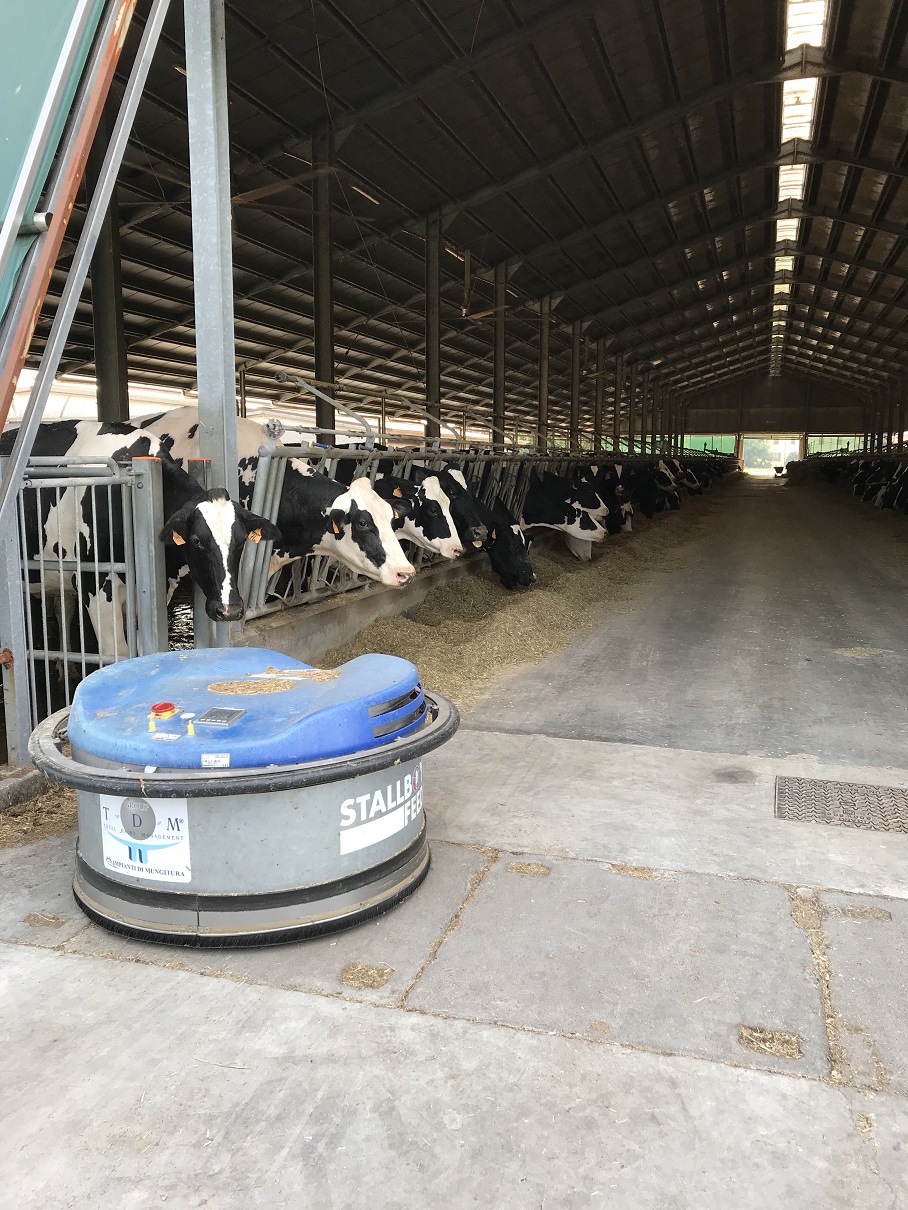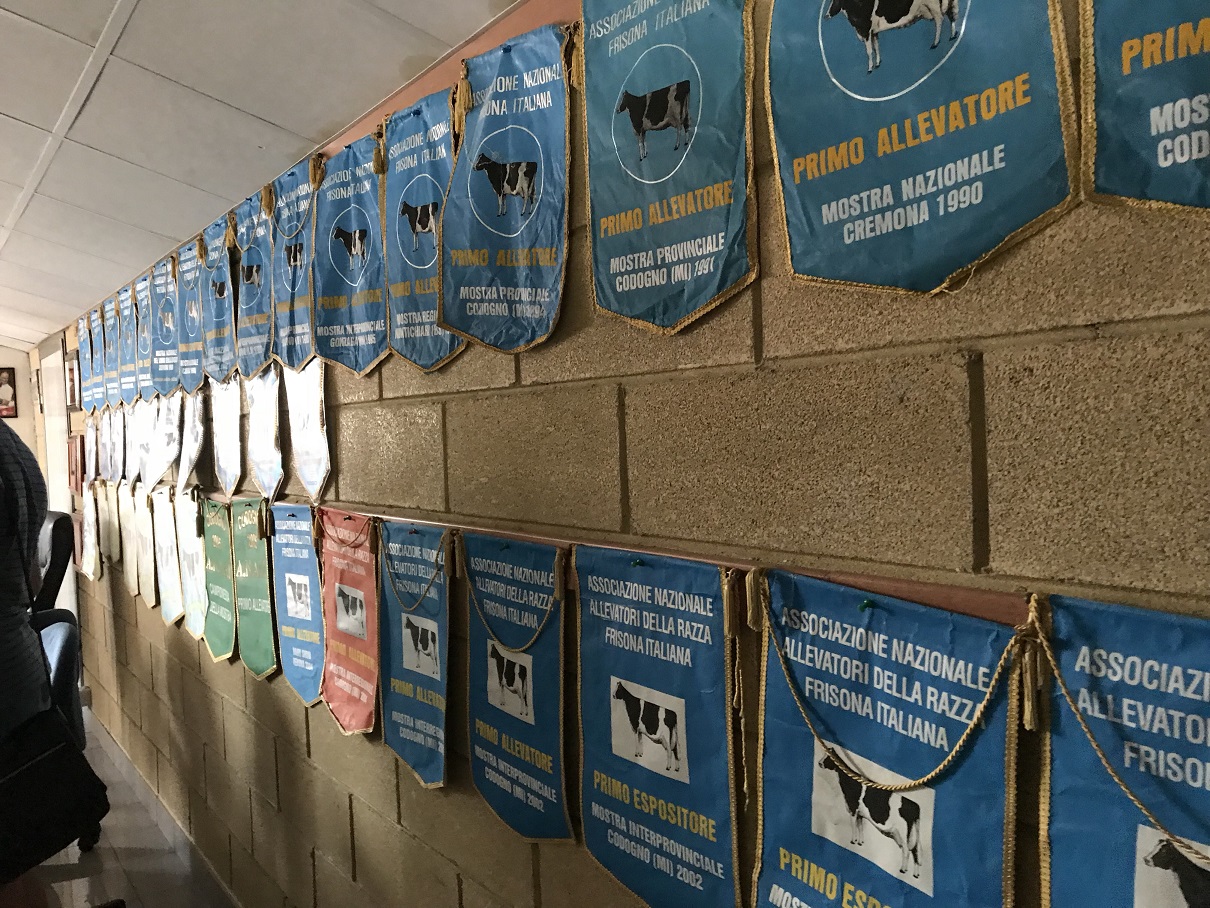 Thursday, July 26th, 2018
A little background information on me- I wrote my college essay on how I was the seventeen year old grandma. In high school, I always made sure to give mint candies to stressed students, pack extra food for the kid who forgot his lunch, and always made sure to never be mainstream. I have always rejected social media, but I will admit I might be slightly addicted to texting. What's something I have learned about this trip? I am turning more into an old lady.
In the words of my grandma, "Why do the young people always use their mobile telephones?". And while I don't agree that I should have a landline attached to the kitchen wall, I finally understand why older generations complain about phones. I panicked when I discovered that to use my phone in Italy, I would either have to wait for spotty WiFi or pay one hundred dollars. I have been brought up in a society that believes in the immediate. If I don't leave work exactly on time, a strobe light show of missed texts and calls illuminate my phone. "Have you got into an accident?" Where are you?", "DID YOU DIE???". Never quite logistically understood the last one there…. And immediately, we respond with plenty of laughing crying faces and broken heart emojis to make up for the "immense pain" I put my friends through.
I now send my mom a few texts before bed…if WiFi is even available.
Believe me, I have not simply abandoned my mother for the Italian Alps, but rather have realized how my cell phone no longer has to be my extra limb. I think that people find self-worth through a lifeless piece of plastic. People feel special and perhaps popular to have "friends" "talk" to them. I have sincerely enjoyed not having the obligation to use my phone. To reassure people out there who believe they cannot be without their phone, I used to have my friend text me every single day after school that she arrived home (I think with this entire blog, if you have any doubts about anything, if I did it, you can too).
I think that phones are like a Band-Aid that masks our unhappiness. If I cannot find joy in the moment, then I should be doing something else. If someone needs social media to get through the work day, maybe one needs to reconsider his career.
In a couple of days I will be returning home where everyone around me will be glued to their phones. I will return to where my friends will text over dinner, my coworkers watching youtube, and me- living in the moment. I am on a journey of self-discovery where independence and self-reflection are key. My phone is an influencer over my life, and this chain must be broken to truly discover Doria.
Romeo, Romeo where art thou Romeo? Today we left Milano and started our trek to Juliet's house in Verona. While traveling toward Verona, we stopped in Bussolengo, we stopped at the AI Center of Brown Swiss Genetic Center. Brown Swiss have the dual purpose of meat and dairy depending on the region in Italy. This center carefully monitors top lines of Brown Swiss to help select and generate the most profitable animal. They use equipment such as pedometers, meters for rumination, and monitors to measure methane production. Besides health tests, the center also measured the behavior of the bulls. Many of us on the trip come from farm backgrounds or with large animal veterinarians and understand Artificial Insemination. However, most have not thought about the process that occurs before AI. After lunch, we embarked on a rafting tour to start our tour of Verona, but it was a little bit more strenuous than we had thought. Our rafting guide, Timmy, explained the history of Verona and pointed out "mermaids" on the shore. The evening ended with a walking tour of the city seeing spots such as the Adige River and the Roman theater. Finally our exhausted bodies were able to rest in the city, Mantova.
Ciao telefoni- Goodbye phones
-Doria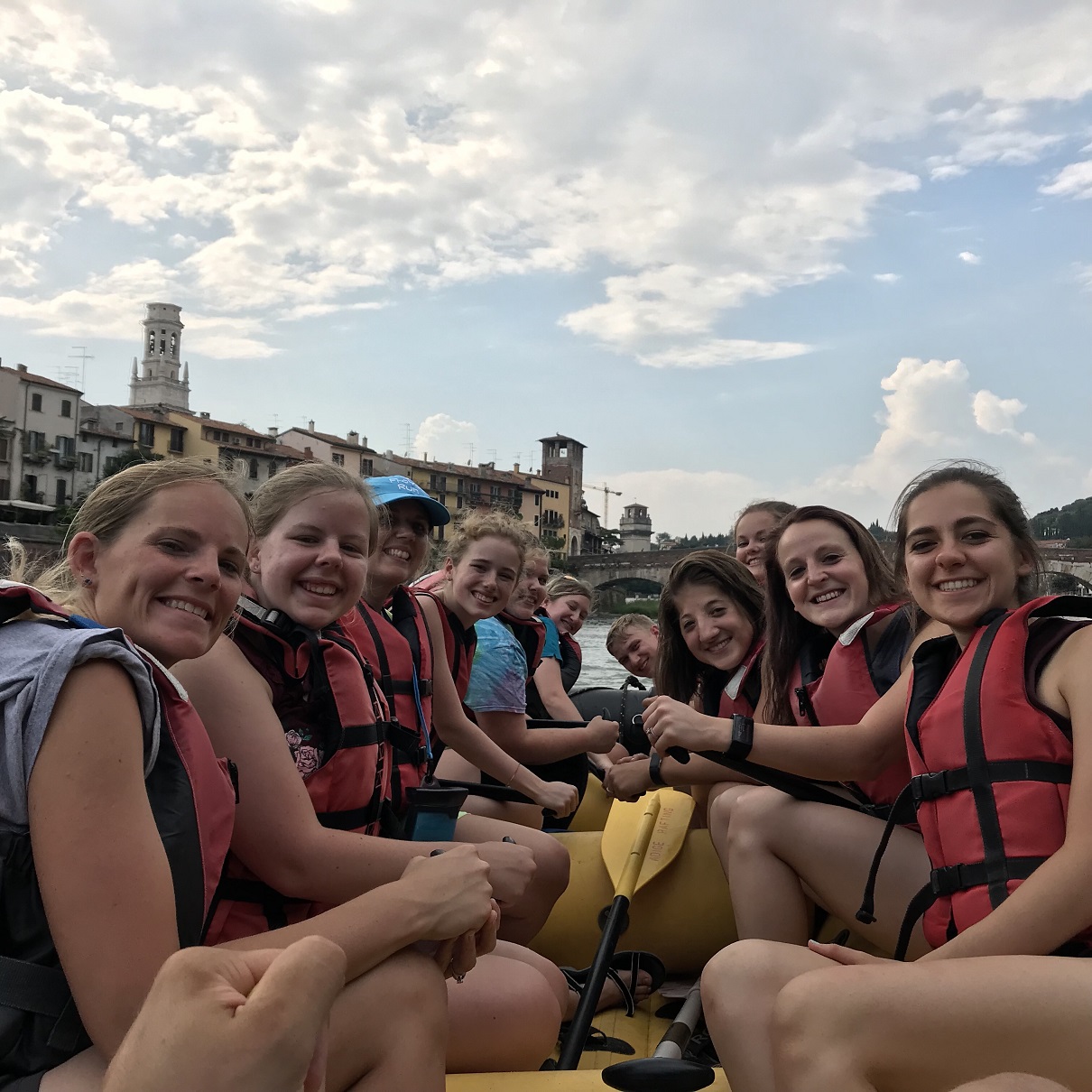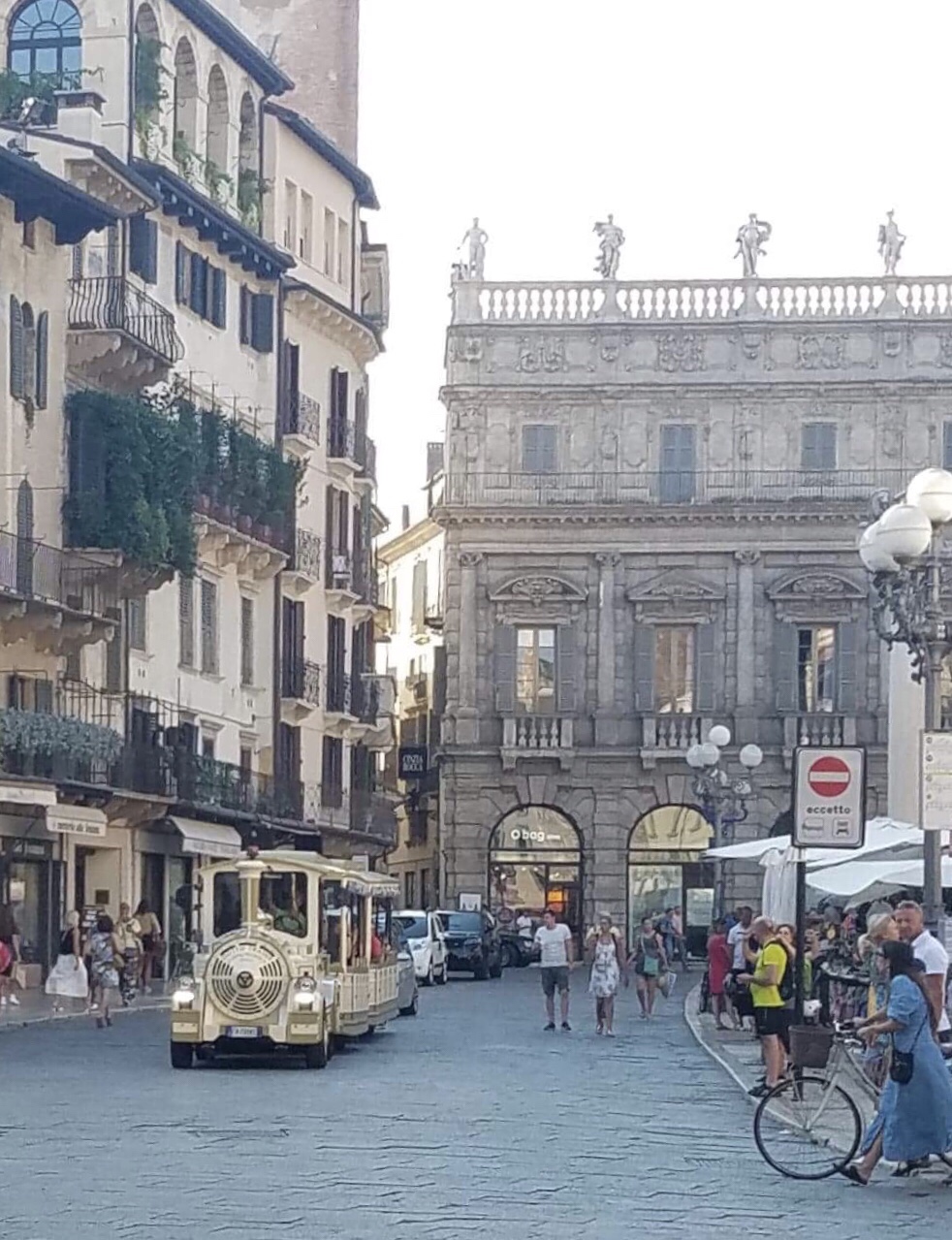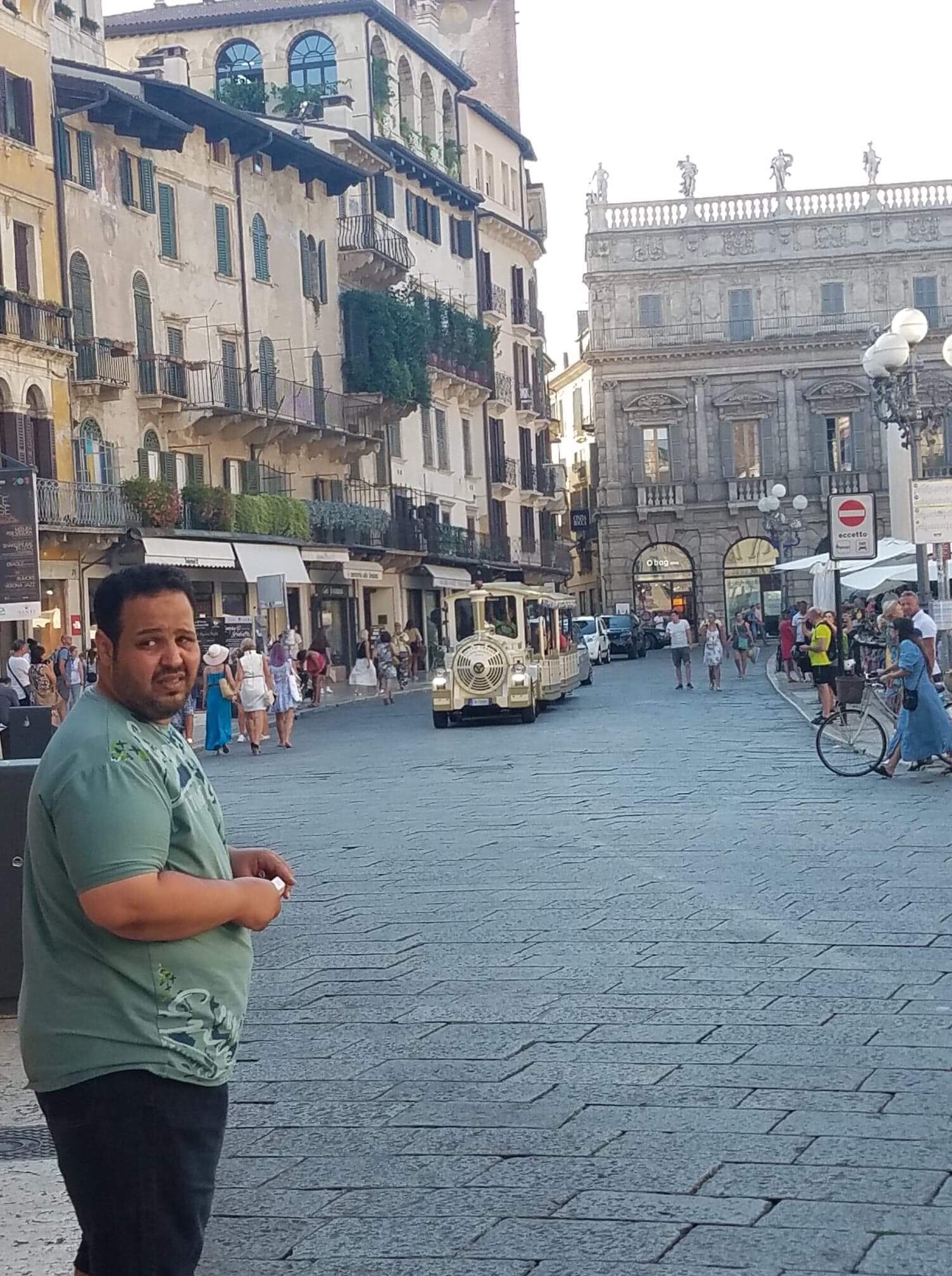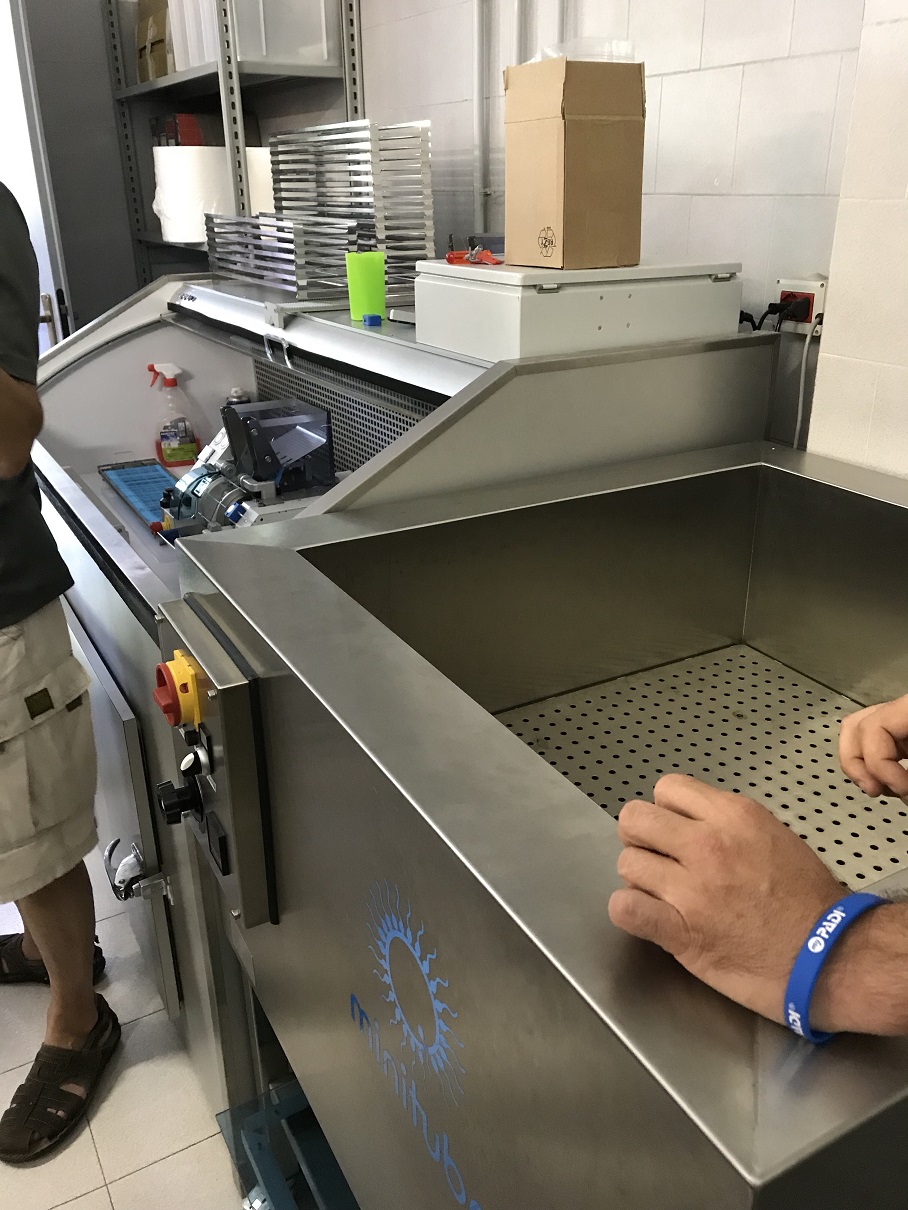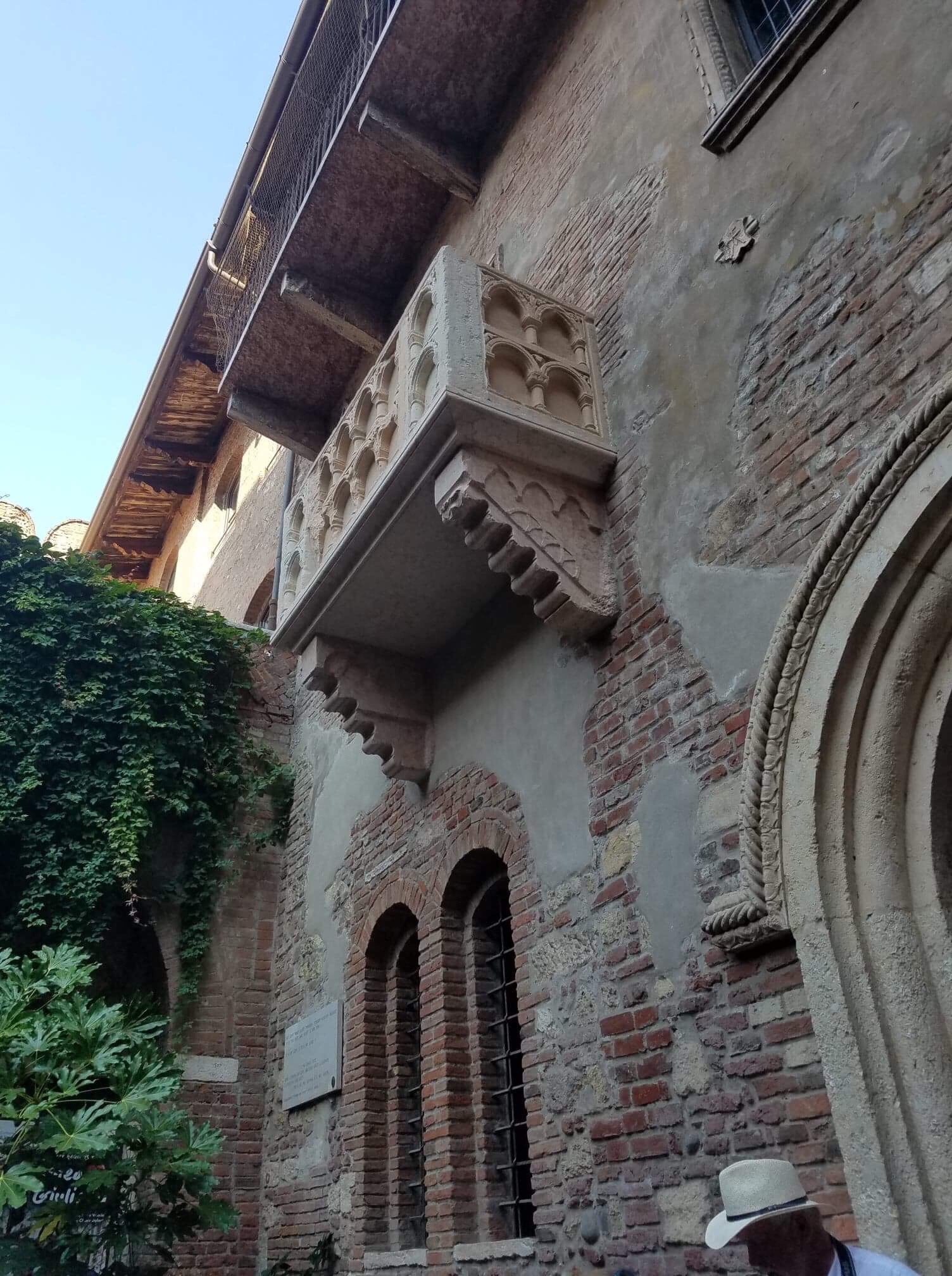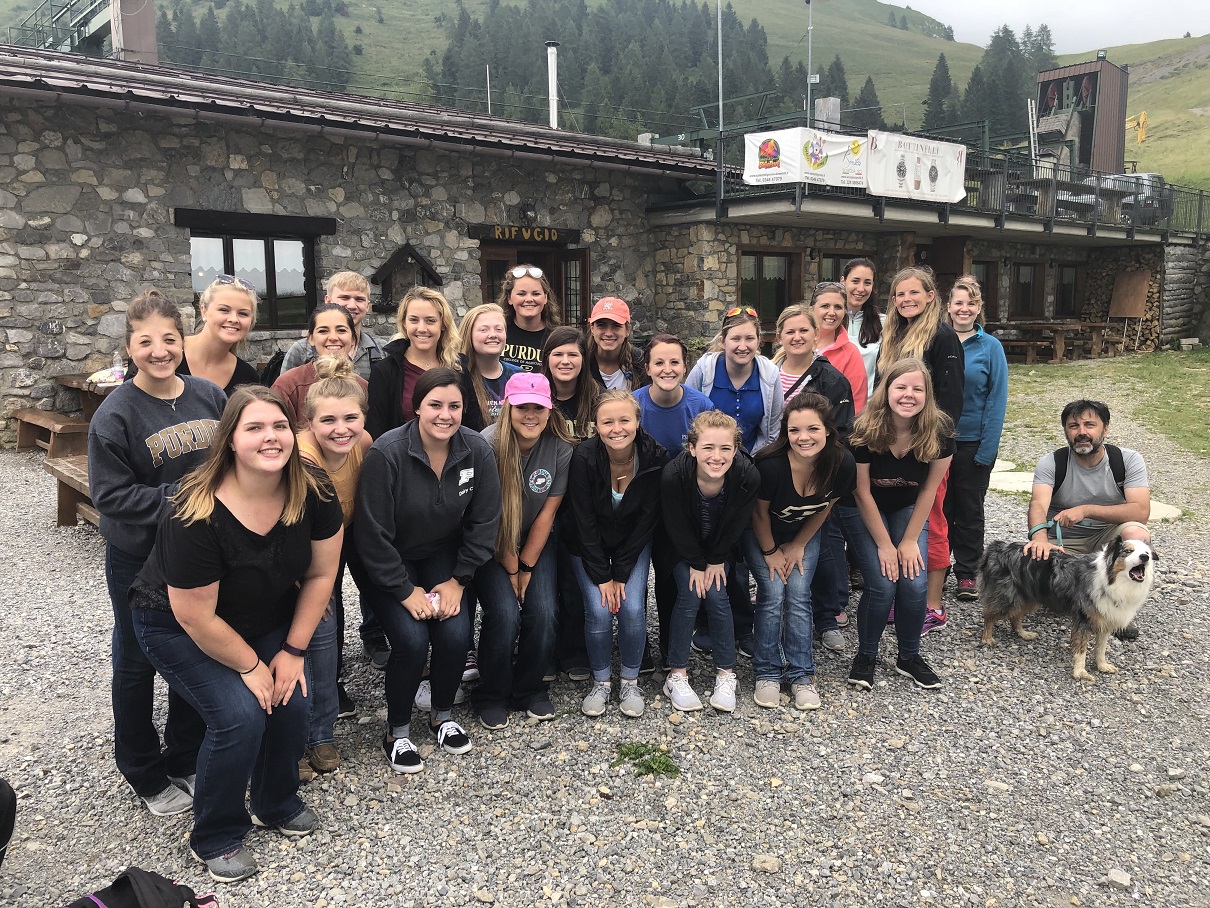 Wednesday, July 25th, 2018
Imagine sitting at your desk, working meticulously day in and day out to fulfill the requirements of your job, when you discover something about yourself that you weren't aware of- a calling. If pursuing that new-found passion meant risking it all to do it, would you?
Today's excursion led us 5000 feet up into the Alps, to Maroni Silvestro, a sheep farm near the city of Bergamo. We met the farmers and their two dogs toward the top of the mountain, and they happily guided us further up into the Alps via a 20 minute ski lift ride. The surrounding mountain range offered spectacular, breathtaking views and a safe pasture for the 900-plus sheep. But more than that, our trip to the Alps taught me the passion-seeking drive most Italian people seem to possess.
From my perspective, Americans often live in an unhappy state of mind. Often times, I feel that Americans pursue careers for money and fame rather than happiness and peace. Whether in school, career, or at home, living in this state can be detrimental to health and well-being. One difference that I've noticed between Americans and Italians lies in how we deal with this unhappiness. In my opinion, many Americans fear change and doing something out of the ordinary. They strive to stay mainstream and fit into the mold made by society. This fear and anxiety can make pursuing true passions difficult. The people in Italy seem to be more willing to take leaps of faith, something many of us can learn from.
Ten years ago, the man whose sheep farm we visited in the Alps, had a sit down, desk job in a marketing department. He went on holiday, saw a similar sheep farm, and decided he found his calling. He took the risk, quit his job, and now raises 2700+ sheep and goats for high end restaurant meat with the help of a few employees. Here in Italy, they are not hesitant about making drastic changes in their lives in order to be satisfied. They find their passions and seem to run to them- even if it means quitting your job and literally running to the hills to raise sheep.
I think we can all learn something from this portion of the Italian cultural. Pursuing individual goals instead of goals set by the social norms set by society can lead to personal satisfaction and happiness. We should not be afraid to take the risks necessary to achieve these goals. We should not be afraid to find our calling.
After our morning visit to Maroni Silvestro, learning about sheep farming practices in the upper Alps, we enjoyed a variety of sheep meats and salami prepared by the farmers. Then we traveled back down to the foothills of the Alps to the city of Bergamo, where we arrived in Citta Bassa, or the lower portions of the city. In order to reach Citta Alta, or the upper city, which is nestled in the middle of medieval stone walls, we rode one of two of the city's funicular railways. Once at the top, our knowledgeable and experienced tour guide, Lorena, pridefully told us about her city and its rich history. We visited the Gombito Tower and the Campanone, as well as the heart of the city, Piazza Vecchia. Lorena described the city as a slice of Italian lasagna. It has layers and layers of buildings and history dating back to 2000 B.C. The final building we visited before exploring on our own was the eccentric and mesmerizing Cathedral of St. Alexander. We ended our visit of Bergamo enjoying the views of the central square sampling gelato. A day full of twists and turns (literally) showed us Boilermakers awe-inspiring views, inspiring and passionate stories, and an extraordinary history.
-Morgan
Ogni grande sogno inizia con un sognatore ~ Every great dream begins with a dreamer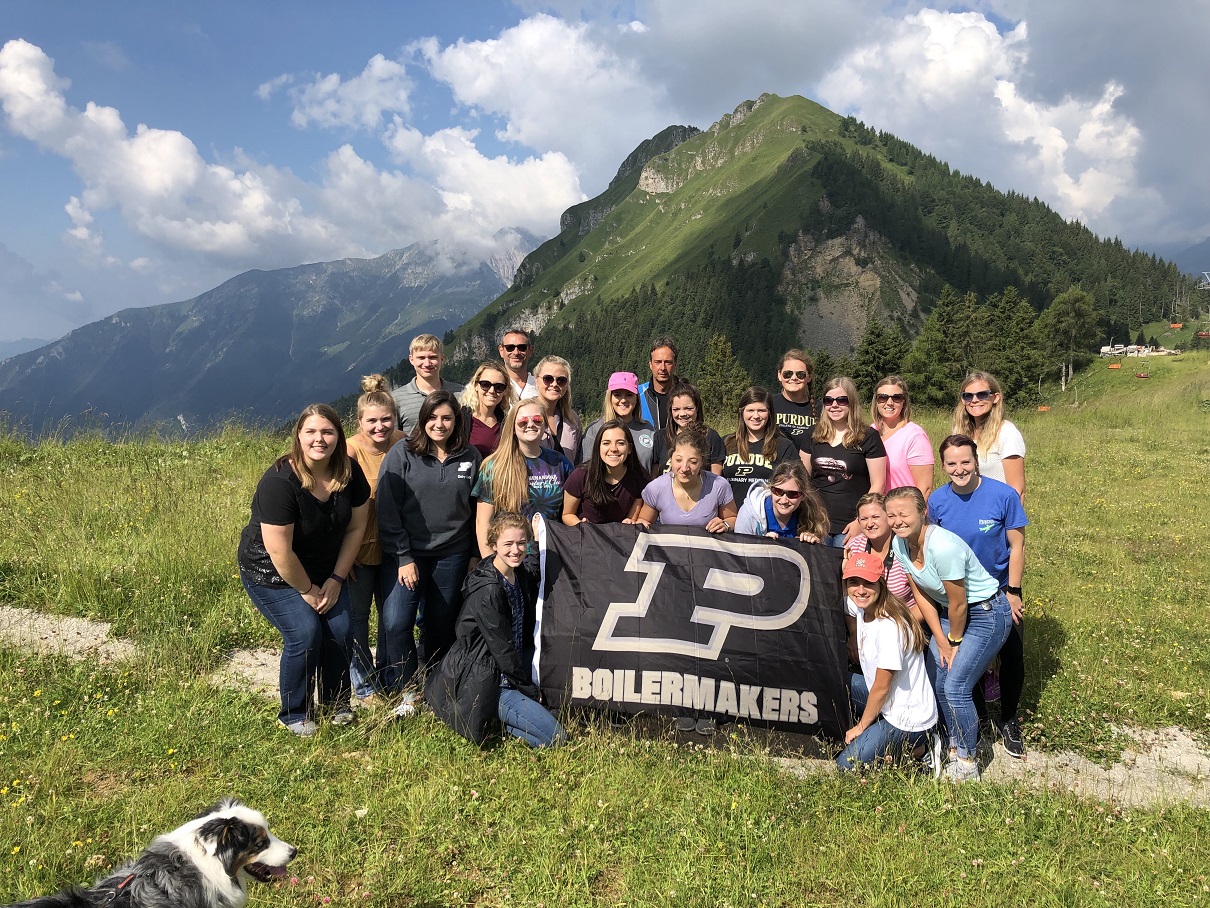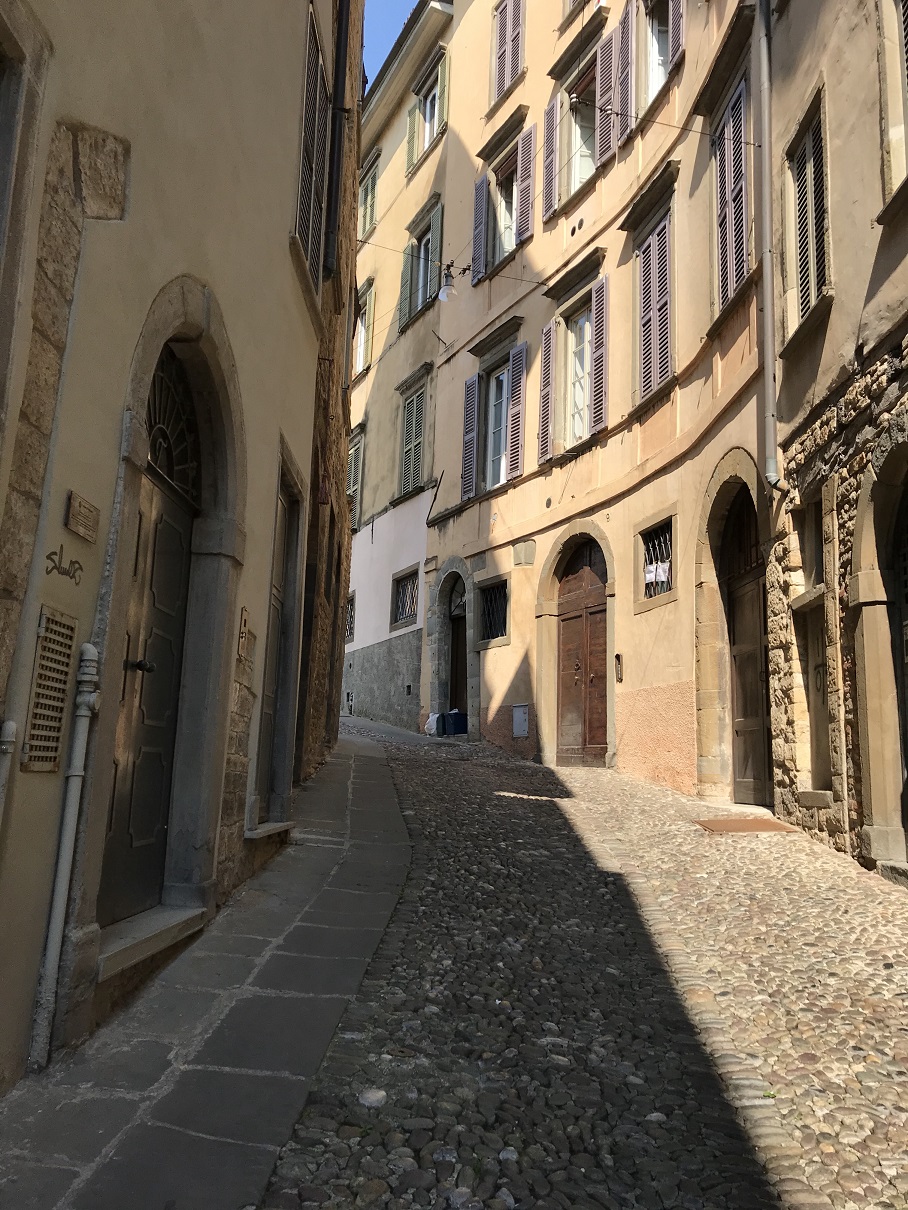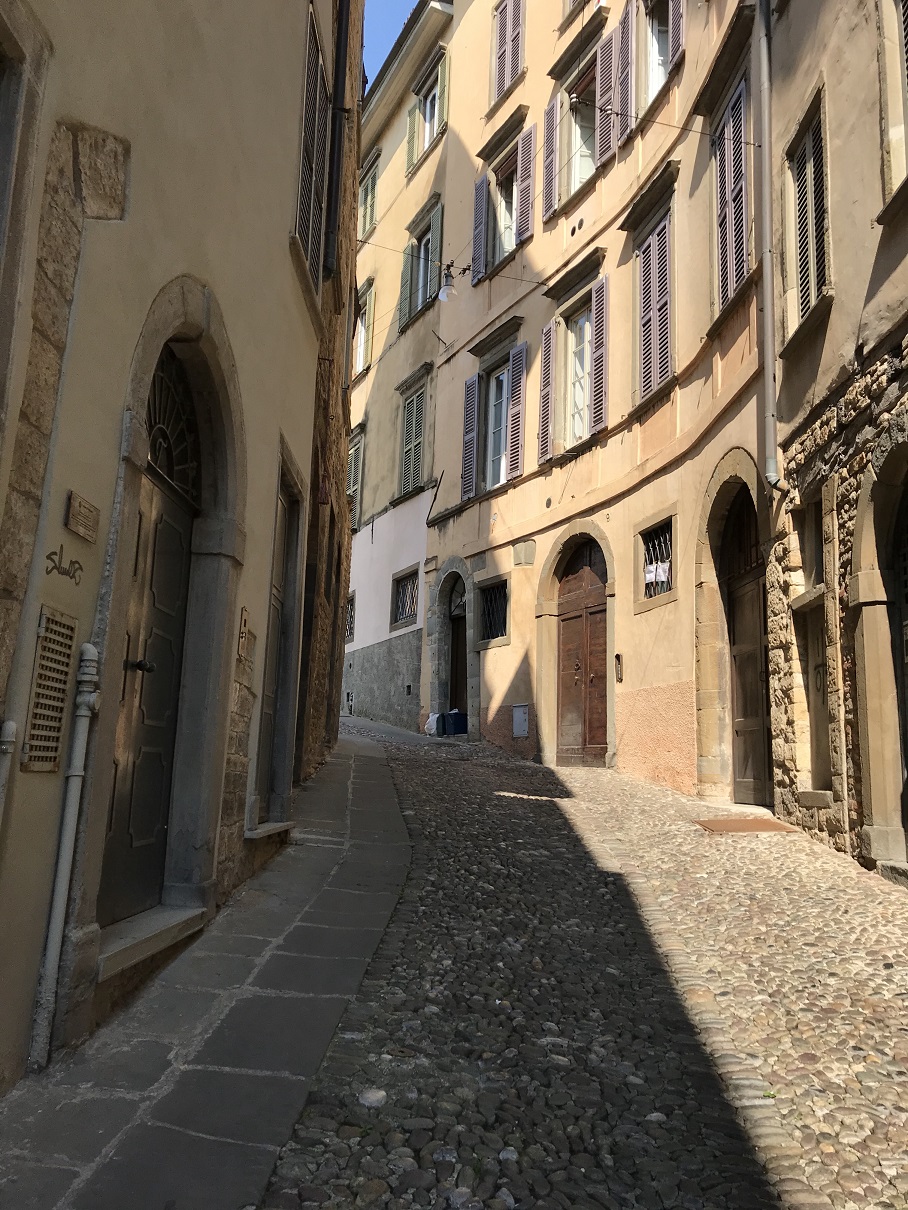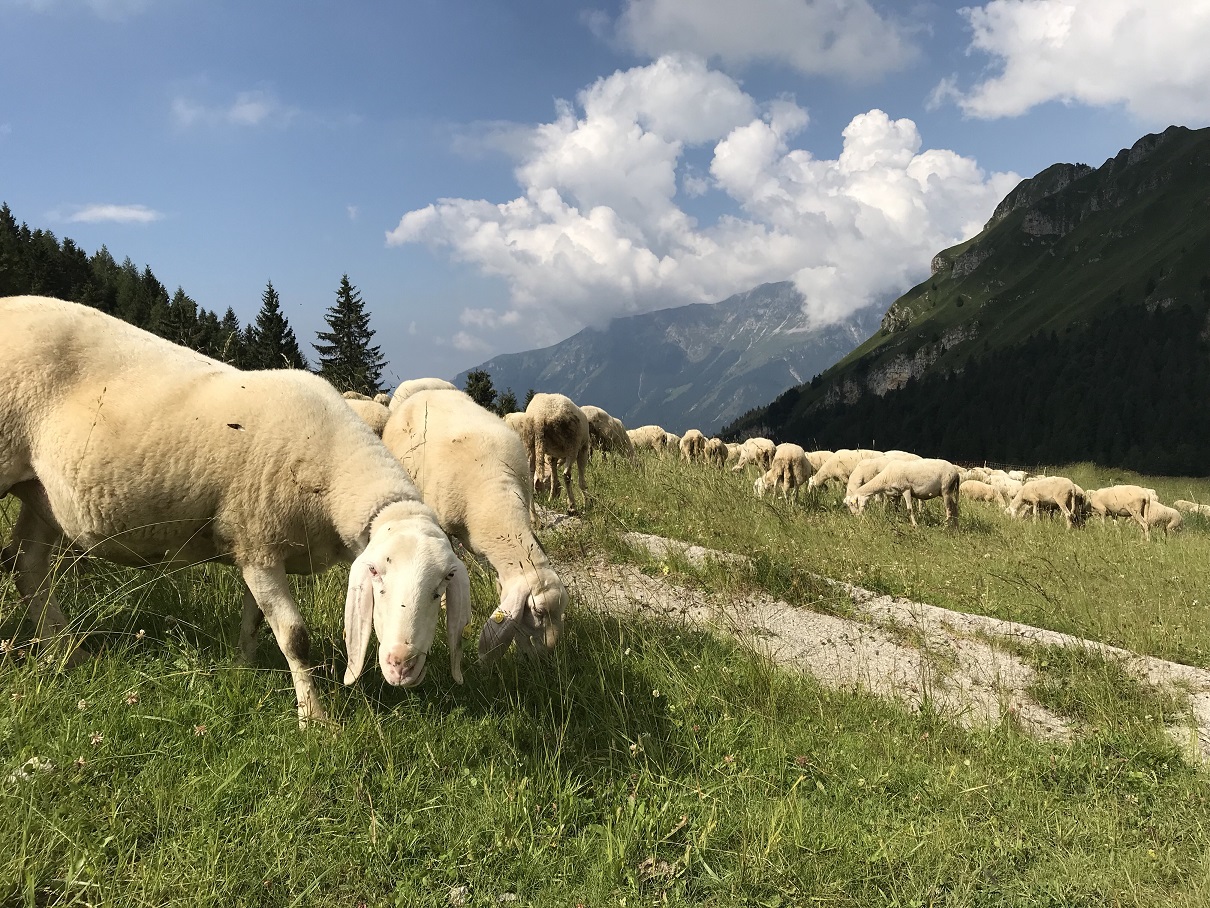 Tuesday, July 24th, 2018
I have always had a passion for the languages. In high school, I skipped a total of three levels to finish both AP Spanish and AP Latin. People have encouraged me to study abroad to fulfill my passion of language, but I never believed I could have done it. The powerful grip of self-doubt has been strangling my brain for years. While my heart has pounded to the beat of Spain's national anthem, my mind convinced me I was too mentally weak to travel. Fears of flying and being independent had engulfed me. I also worried- how could I have enough money to make these desires happen? When I told my friend Jason I was on a flight to Italy, he summed up my life, "Of all the people in the world, I never believed you would ever leave the country."
After being here for a couple of days, my past love of language has rekindled once again. The most exciting part of visiting the research farm for the University of Milan for me was, ironically, when the translator was not around. I quickly realized the farm manager wasn't understanding my questions in English, so I naturally started speaking in Spanish. For me, it was so liberating to finally be able to use my language skills while not sitting in a classroom. I then went into full-on Spanish mode (all my language junkies out there will relate). All my thoughts were in Spanish and I would light up with glee when I could understand people conversing in Italian. Unfortunately….our translator did his job, so I did not speak anymore Spanish (thanks, Marco for being on top of things).
I have found it extremely frustrating that I do not know Italian. I feel isolated and judged as a tourist. Even simple tasks like reading a menu or trying to thank someone becomes an arduous task. And for some of my classmates, the language barrier does not bother them because we are legitimately tourists. But for me, I feel as if I cannot connect with Italy.
In all honesty, fear and anxiety have limited my life. My first big step was deciding to attend a college hundreds of miles away from home. Now Purdue has challenged me more as an individual. But in the end, it has been my personal choice to try and expand my horizon, while also trying to find who I am. This trip has shown me that my entire life does not need to be consumed by Animal Sciences. My hobbies and adventures can span across many different realms. I think people need to realize that your major or career does not have to engulf your entire life.
Part of me believes it is immature and arrogant to indulge too much in life, but I truly would love to study a language and culture for a couple months. I just wanted to give a heads up to the School of Languages and Culture that they may be seeing my smiling face sometime soon. I am unsure which country it will be, but I can confidently say that studying language in another country is in my near future. I never thought in a million years I would ever be the person to admit this. And here I am, not only admitting this to myself, but letting the rest of the world know it as well.
And now for the summary of the day. We toured two different dairy farms outside of Milan and learned the differences and similarities with the U.S.. Italy, of course, is known for its food, particularly their cheese. Most think of the manufacturer and the chef…but what about the cows? Today we learned how the Italians in this region focus on cattle that can yield milk with a high protein percentage. While gelato is incredibly popular here (highly suggest the strawberry), Indiana dairy farms focus on higher fat percentage-ironic right? In order to get the milk, the farms we visited used robots. This contraption allows the cows to walk in whenever they feel the need to be milked. This method seems very efficient, and must work, because Italian cheese is delicious! After taking plenty of selfies with cows and Italian corn, we then visited a winery to understand viniculture. Today was a full day of learning about Italian Agriculture.
-Doria
Sempre prenda una possibilità~ Always take chances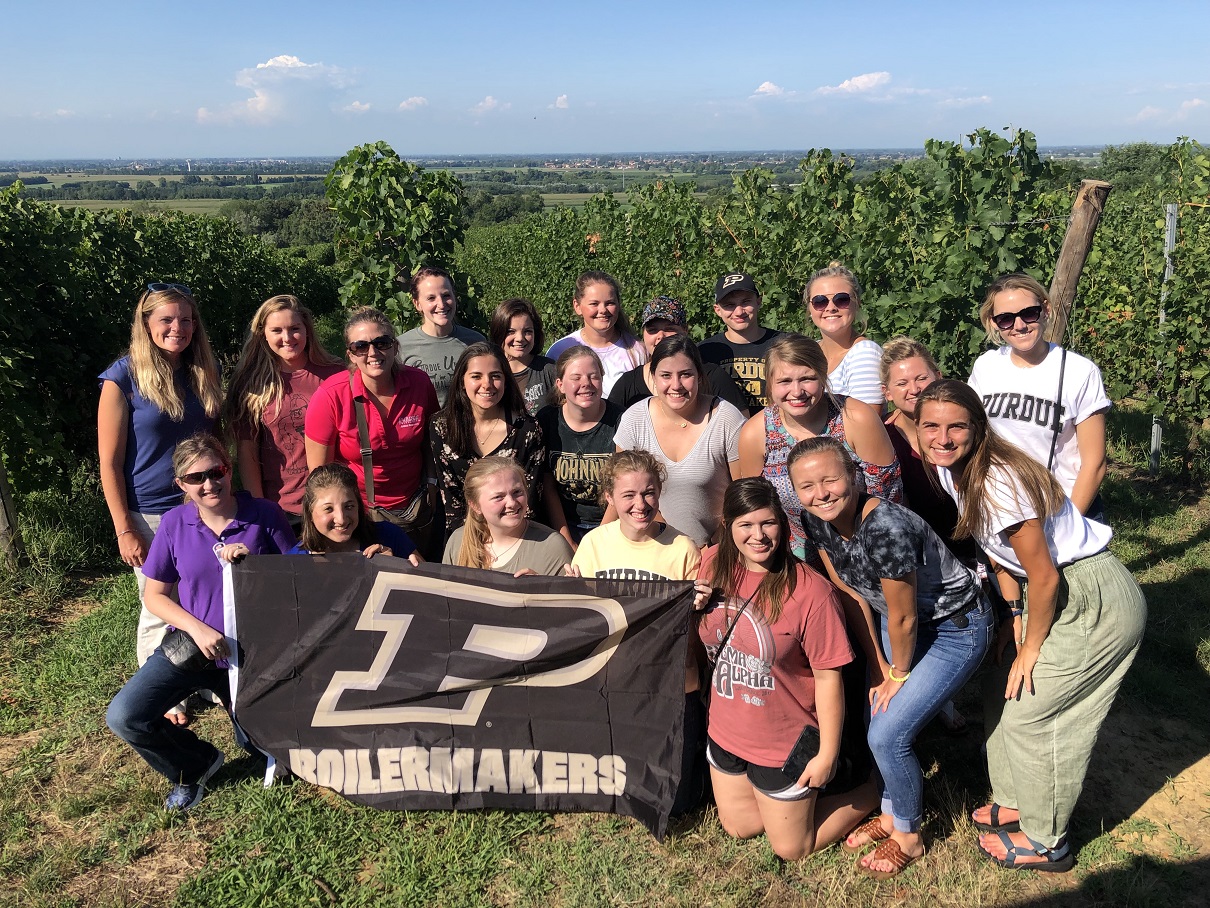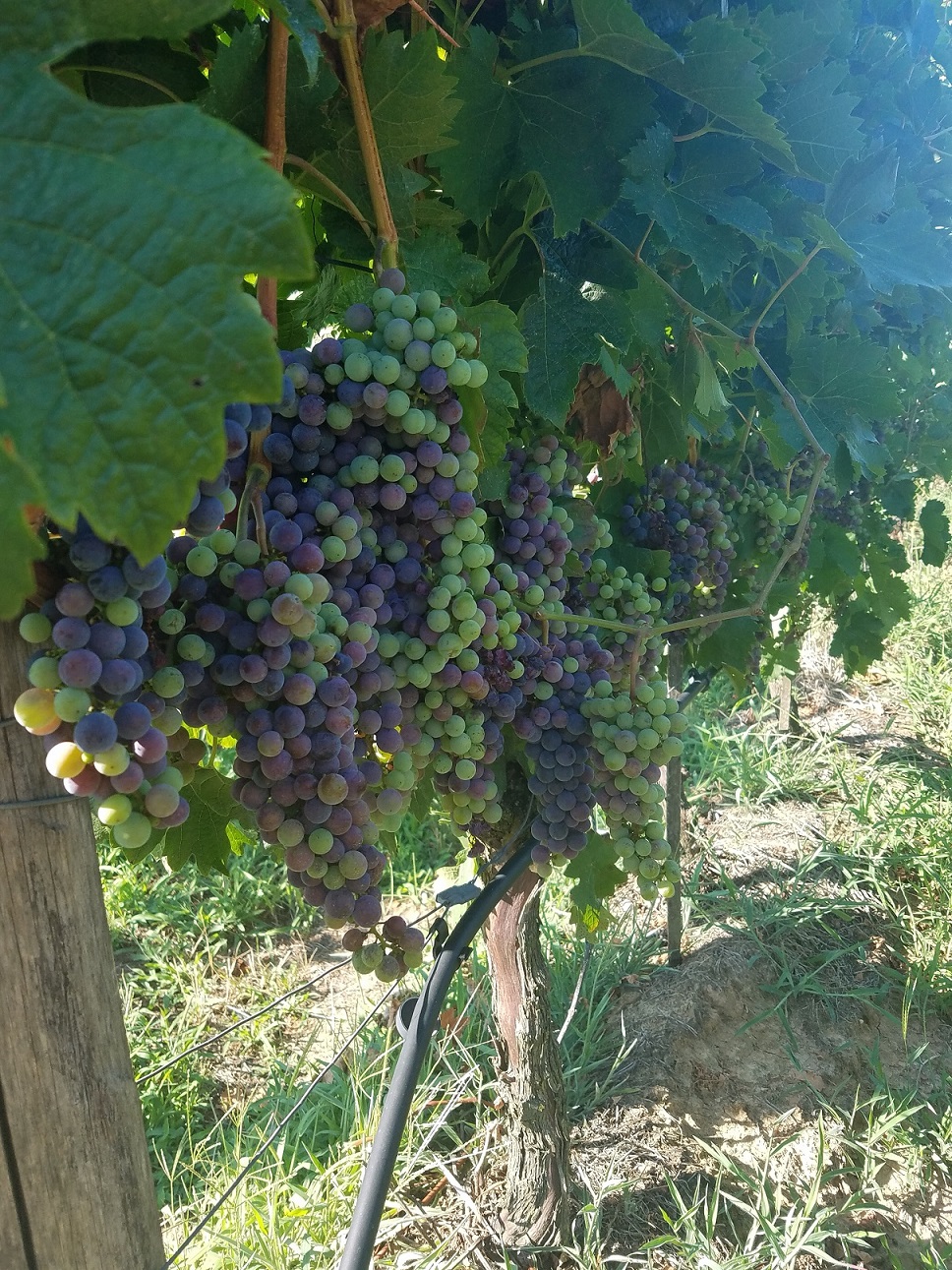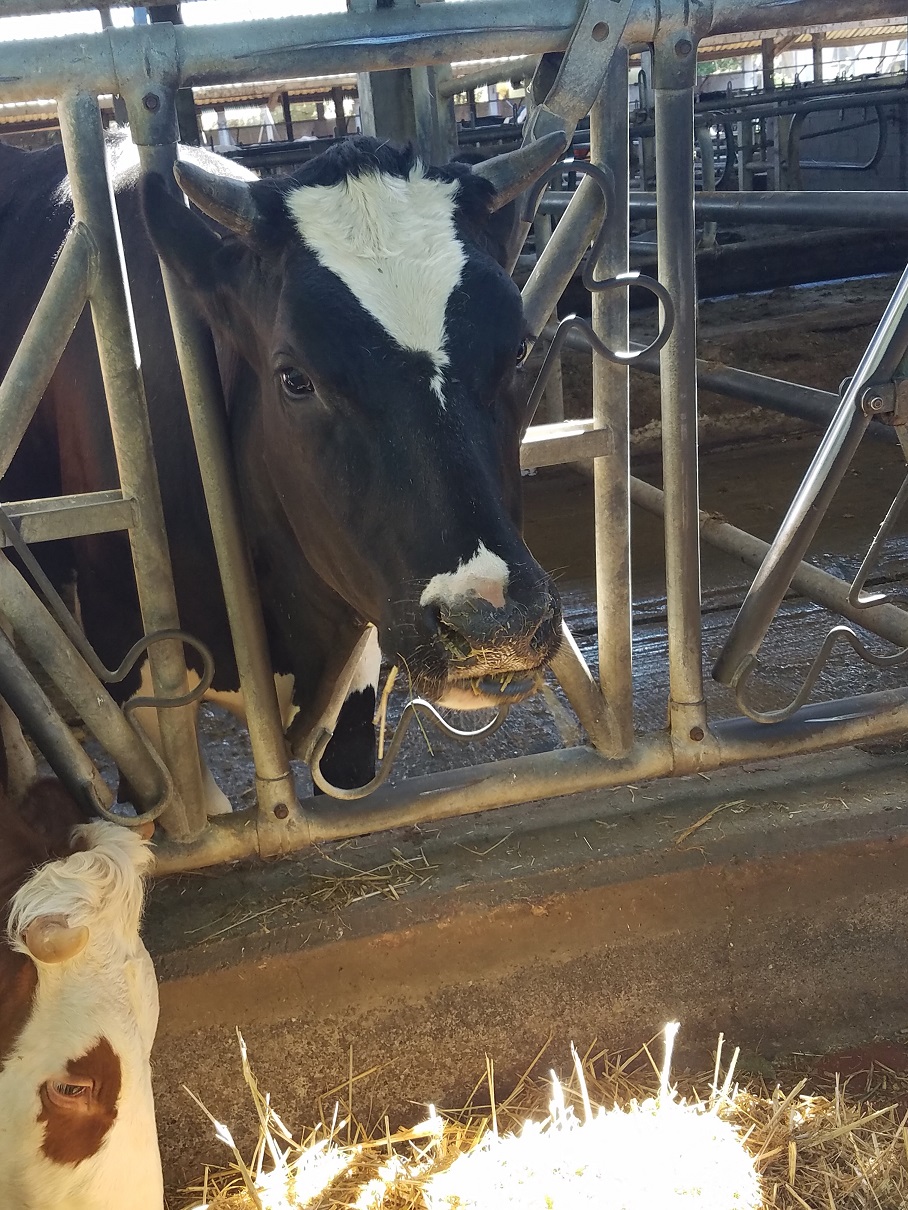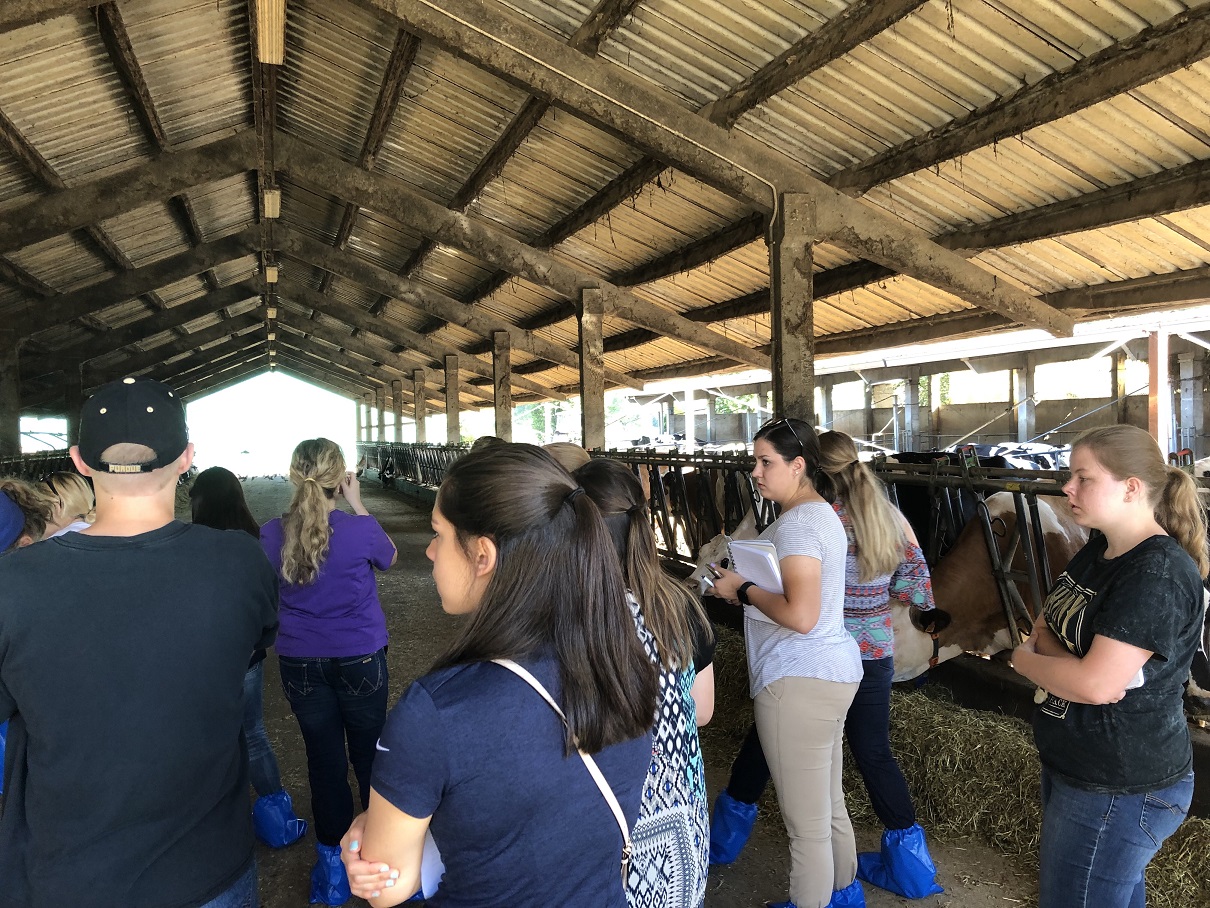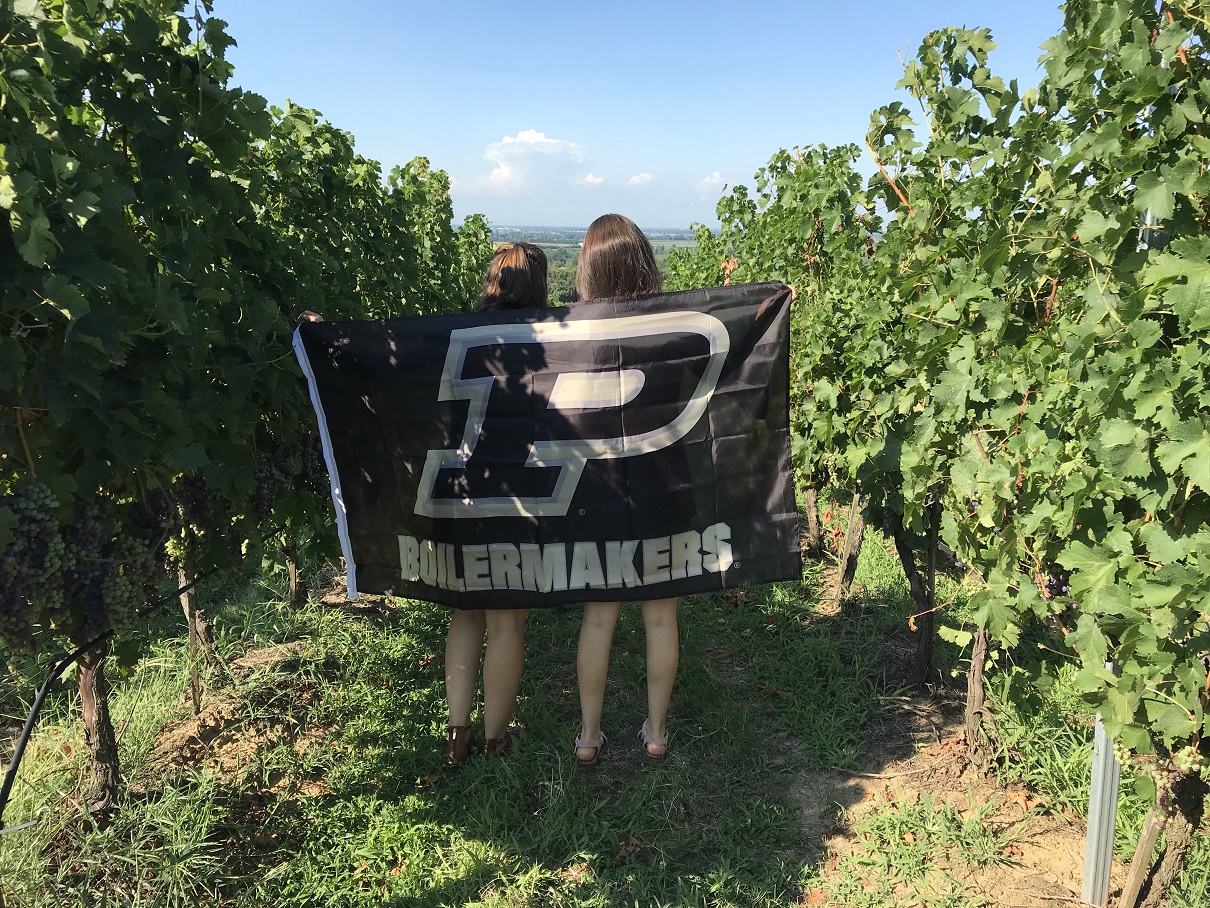 Monday, July 23rd, 2018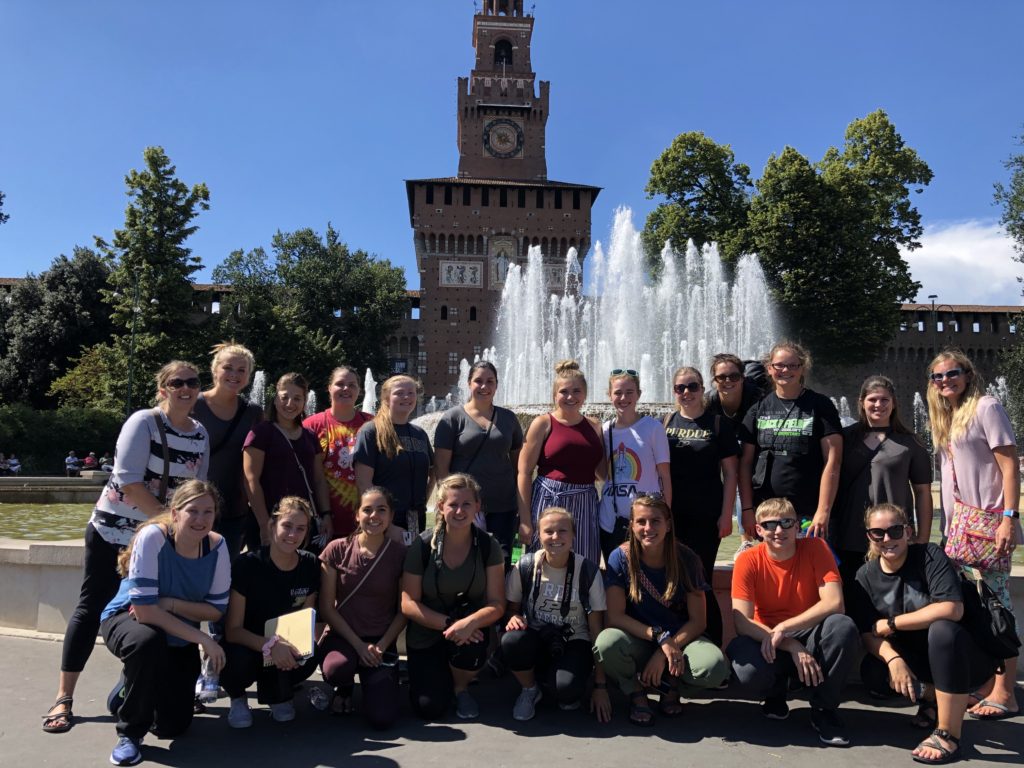 Our journey begins with two young Boilermakers with little to no international experience- one deathly afraid of flying, and the other thinking the national language is pronounced "eye-talian". Neither knew public bathrooms cost money to use or sharing a room meant two twin beds smushed together to create a "queen bed". Even though a cloud of inexperience and naivety encircled us, we decided it would be in our best interest to fly over 4,500 miles to Italy.
We both needed to do this trip for ourselves. Nobody was forcing us on the trip, but no one was holding us back either. We hoped that this journey would be another marker in our life. A physical and mental marker that proved we can be independent and take chances. College is the time to explore and mold our identities, but limitations would always hold us back. As cheesy as it may sound, we need to grow our wings and fly on the treasure hunt of self-exploration. First Purdue, now Italy, who knows what else is in store down the road.
To say the least, I was at a loss for words after arriving in Milan (and no it was not due to a lack of sleep like some of my classmates…). I was shocked how "normal" Milan seemed to me. When I use the term "normal", I am referring to what is ordinary or common in my hometown. MXP airport looked like any other airport in the United States. But it didn't stop there, the biggest surprise for me was watching all the vehicles smoothly go through the toll booths- they have their own Italian E-Z Pass (fun fact: Milan created the first toll road in the world!). I came in with the misconception that European countries would be some fairytale oasis that could not resemble the United States.
I had this preconceived notion of Europe due to the people around me. My friends would return from their wondrous adventures proclaiming nothing is like Europe. They described the crystal blue water near Nice and their heavenly-like boat tours in Amsterdam. My friends never mentioned how amazing the United States was or how they wanted to explore our own country. I had it in my head that Europe must be a whole new creature that the U.S. can never live up to.
Only minutes after arrival, I realized this fantasy neverland does not exist. While Europe may have breathtaking cathedrals and decadent cuisine, Italy does not seem so different from the U.S.. Milanese walk the city streets like us, driving home to their families like us, and brave the strong rain showers like us.I have always believed that humans are fundamentally the same in essence, but cultural and geographical barriers divided us. Being abroad for a couple of hours has shown me that while Europe may make for a wonderful trip, the world as a whole is much more similar than I thought.
With this being said, I must admit that there are clear differences between the U.S. and Italy. I don't remember the last time I have seen The Last Supper or the Duomo back home. But sometimes, the subtle cultural differences made the biggest impact… -Doria
I was preparing for a culture shock- stressing about total immersion into a country where I've never been and where the people speak a language that I don't understand. I had a list of expectations for what Europe was going to be like. I had painted a picture of an entire new world and I was nervous, but so excited to jump in.
Italy surprised me . . . but not in the way I expected. The multitude of similarities outweighs anything that is different. There are toll roads and busy highways that connect cities and towns. And in the outskirts of Milan, they plant miles of cornfields along the roads- sound familiar? The "new world" that I was expecting was not in fact a new world, but part of the world that I already knew.
Now, this does not mean that there aren't differences. It's the little things that caught me by surprise, and honestly, I'm not exactly sure why they surprised me. For example, I was not aware of how prevalent smoking is here in Europe. It is not uncommon to see people walking down the street or sitting on the park benches smoking cigarettes. For the last 30+ years, the U.S. has had a major movement against the use of tobacco. It seems such a movement has not occurred in Italy. Another thing that surprised me and my friends was the fee for using many public bathrooms. We walked into the train station in Milano, searching for a restroom. The group quickly turned around when we spotted a sign which explained that it would cost €0,50. I knew that many European countries did something similar to this, but seeing it in person made it a bit more real. The last thing that surprised me the most was the amount of people walking around and even sitting down at restaurants with their dogs. Milano is unbelievably dog friendly and it's so fun to see all of the dogs strolling down the street. It's crazy to think how simple things like restroom fees, dogs, or deciding between fizzy or flat water (warning: do not try the Frizzante water) can have such an impact on my impression of Italy. These moments give me a new perspective and a new picture to paint. For now, I'm going to keep on jumping in, exploring, and learning something new… -Morgan
To end this first post, we wanted to give a brief summary of our first day. After our jet-lagged bodies refueled on pizza, pasta, and gelato, we started our walking tour of Milan. Our first stop was the most important place in Milan, both symbolically and physically in Milan, the Duomo. And because Milan is the fashion capital of the world, we of course admired the Galleria Vittorio Emanuele II which bolsters stores such as Versace, Prada, and Gucci. Our tour guide, Lorena, told us while not the largest or most elaborate building in the square, the Piazza Della Scala is an important building in the city. It's too bad there were no shows in the restored theater this month. And finally, any art historian's dream, we visited The Last Supper in Santa Maria delle Grazie. Words can never accurately or fully describe the depth and beauty that Leonardo da Vinci was able to create. The humanesque expression of the disciples will forever be imprinted in our memories.
Tomorrow will be our first day exploring animal production in Italy- so we better get to bed!
Ci vediamo tra due settimane, Estate Unite! ~ See you in two weeks, America!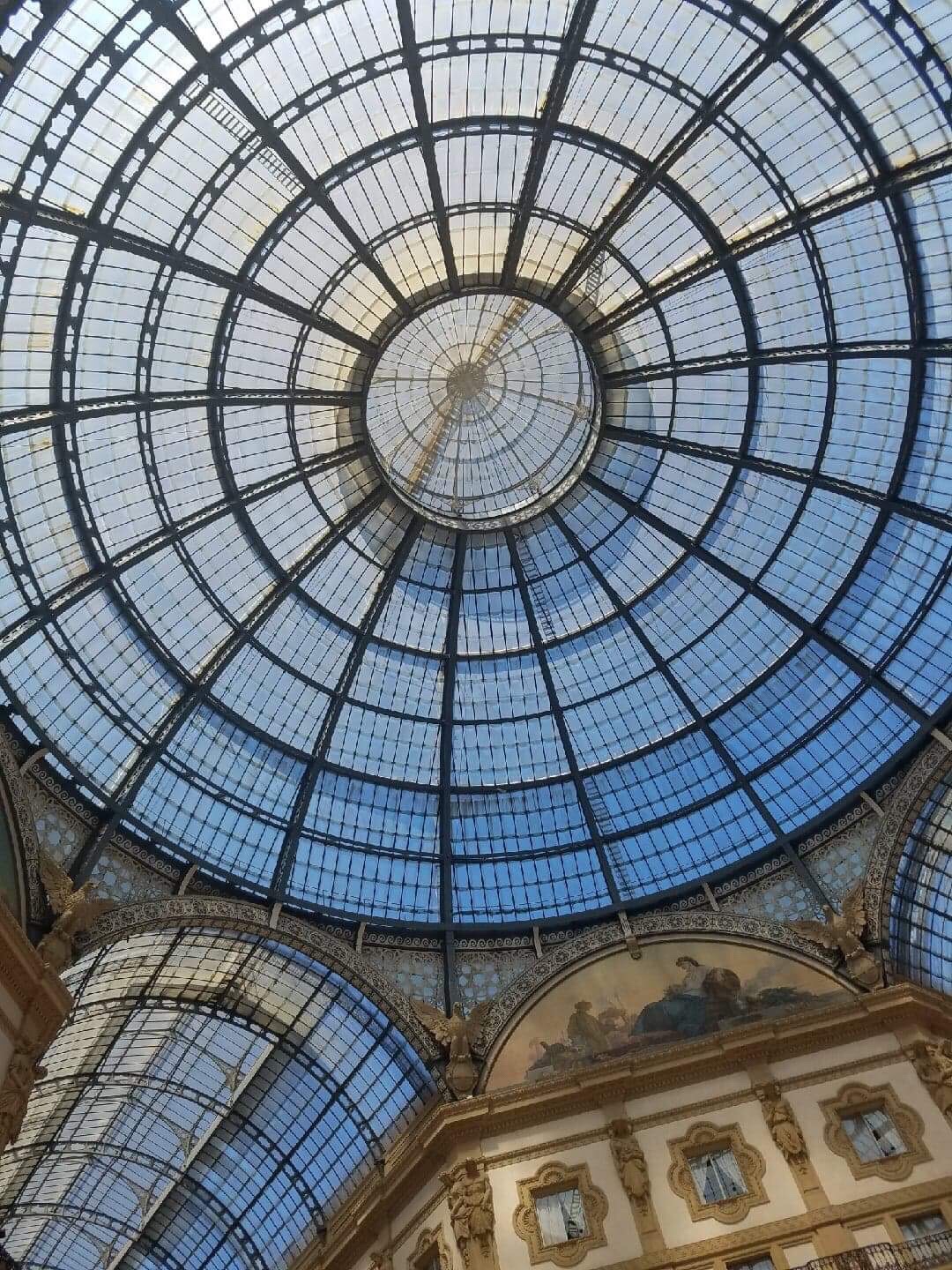 Galleria Vittorio Emanuele II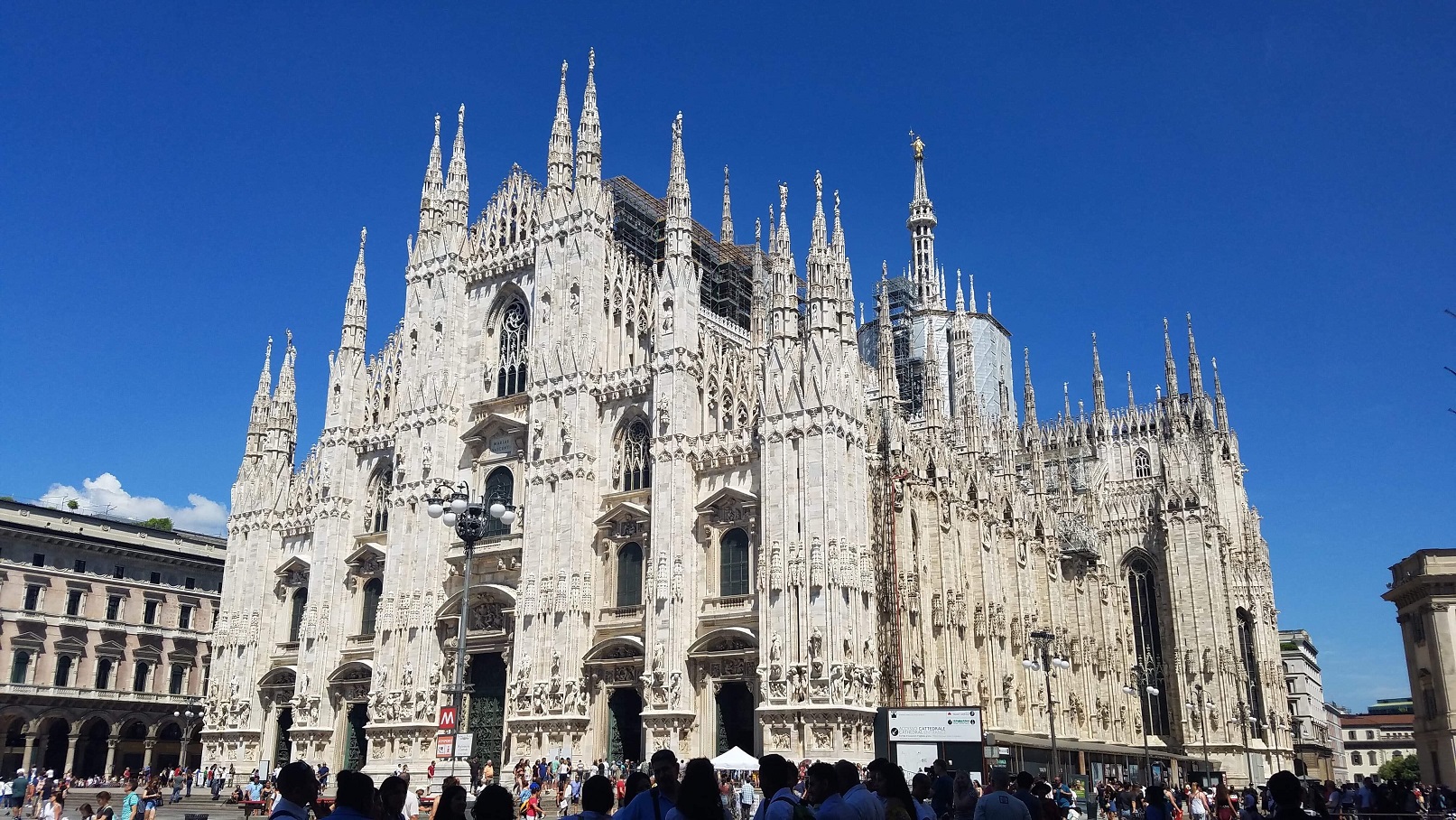 Duomo- the most important symbol in Milano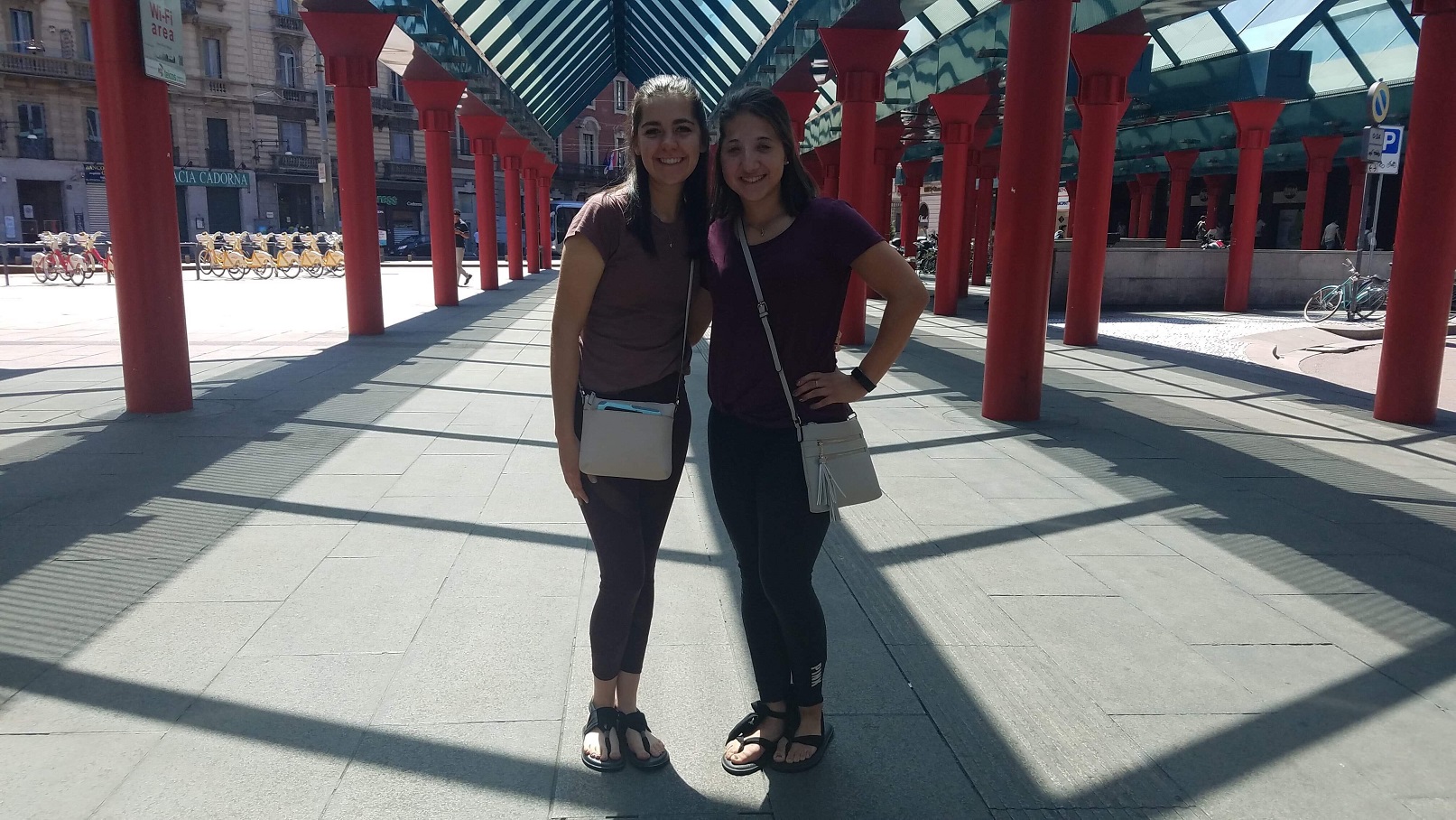 Doria and Morgan at the train station in Milano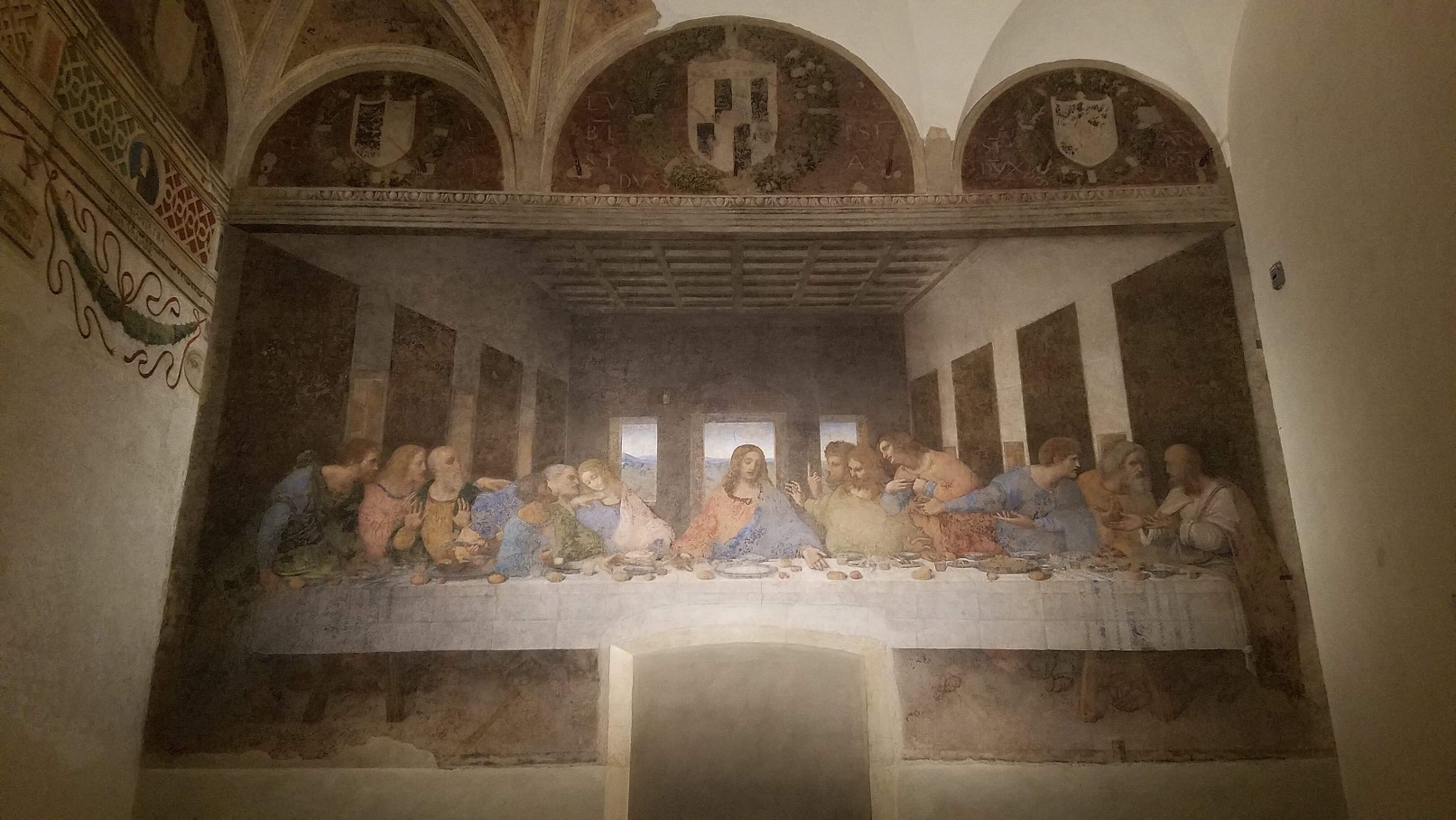 Leonardo de Vinci's "The Last Supper
Friday, July 20th, 2018
Thanks for joining us!
Good company in a journey makes the way seem shorter. — Izaak Walton