Rooms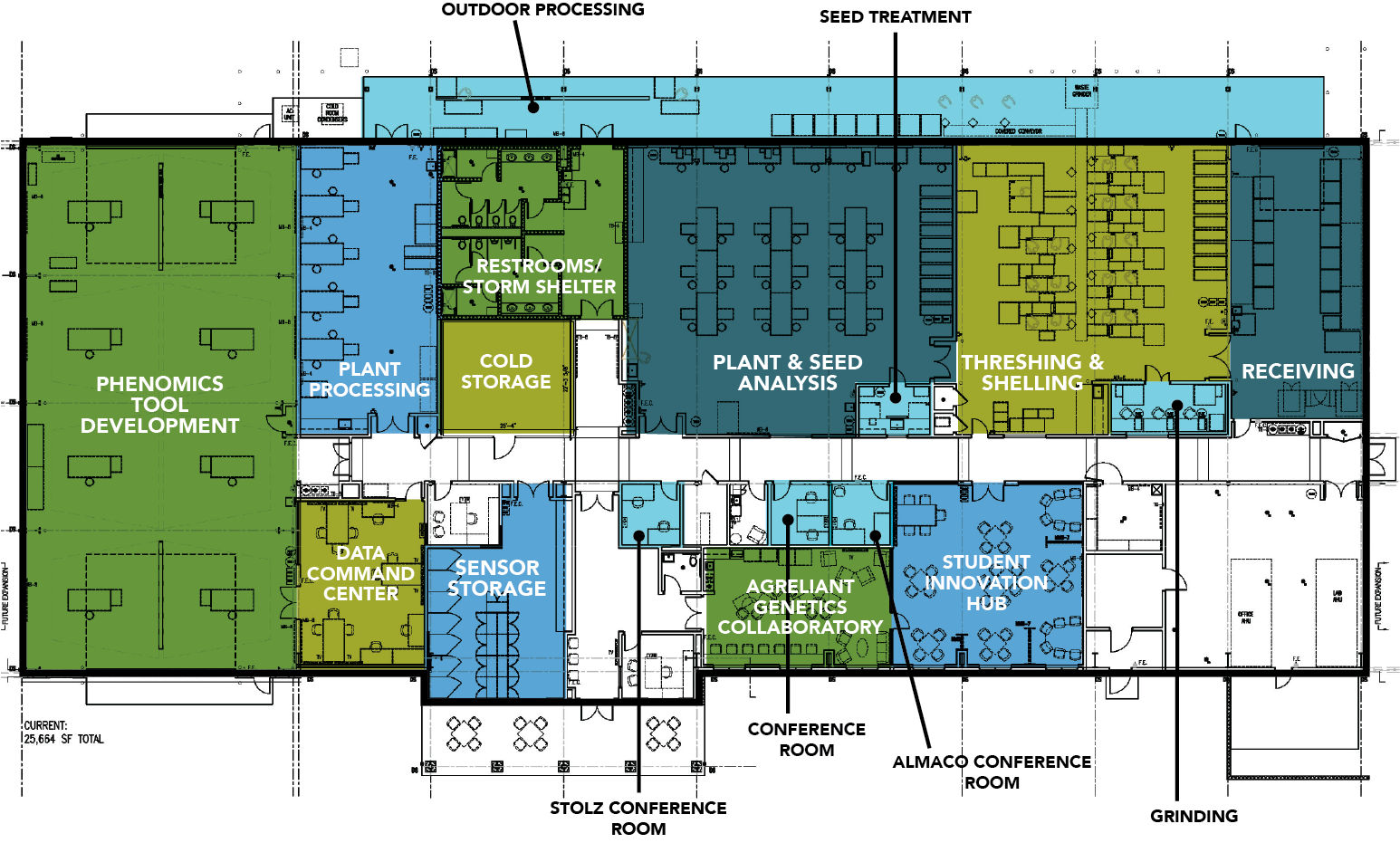 AgReliant Genetics Collaboratory
A welcoming breakroom and gathering place for field researchers and users of the Center to discuss projects, grab lunch or take a break from the heat.
A short-term cold storage room keeps dry and packaged seeds at consistent temperatures and humidity levels, which contribute to increased longevity. After processing is complete, seeds are planted or moved offsite into long-term storage.
This room is maintained at four degrees Celsius, equivalent to the average refrigerator.
The Center has three conference rooms available to users of the facility. Two conference rooms are named in gratitude to Dr. and Mrs. Thomas Stolz and ALMACO for their support of the Center.
The Stolz Conference Room has one table, four chairs, a phone, and a monitor with connection. To make a reservation through your Outlook calendar, invite ICSC1137@purdue.edu.
The ALMACO Conference Room and third conference room each have two tables, four chairs, and a phone. To make a reservation through your Outlook calendar, invite ICSC1129@purdue.edu or ICSC1131@purdue.edu.
With high-speed computing and six 4K Ultra-high-definition monitors, this room is used for analyzing remote sensing images. Individual images are stitched together to measure variation in crop performance at the plant, plot and field levels.
Plant or seed materials are ground into fine grain samples in this room, which are then analyzed in campus labs using processes such as DNA extraction or nutrient analysis.
A covered, outdoor workspace is equipped with a root washing station, three threshing and shelling stations and an area for grinding.
Phenomics Tool Development
5,000-square-foot high bay is used as a large work space for sensor and unmanned aerial vehicles (UAV) development and is home to Purdue's PhenoRover, a semi-automated mobile sensor platform that measures variation in crop performance.
This space is ideal for working on large equipment and features a 22-ft. clearance for large-scale field equipment and future expansion.
Planting preparation and postharvest handling happen here. Researchers use equipment to count, weigh and package seeds prior to planting.
After a crop is removed from the field or separated from the plant, it must be cleaned, stored and packaged. Our researchers select and save the best seeds for the next growing season in Indiana and locations across the world.
In this large workspace, plant tissues from roots and leaves are sampled and measured to quantify physical and compositional traits such as nutrient status. Understanding the nutrient status of plants helps growers apply the right nutrient to the right crop at the right time. Plant processing room also features a root washing station, a commercial floral cooler, and a research-only ice machine to keep plant samples fresh until processing.
The entry point for most plant and seed samples at the facility. The room serves as short-term storage for field researchers and facility users. Two large ovens dry plant material prior to grinding for DNA or biochemical analysis.
At the back entry of the facility is a designated storm shelter for the entire Agronomy Center for Research and Education (ACRE) research farm. The area also features restrooms, showers and lockers for researchers and students coming in from the field.
Seed treatment prior to planting helps crops reach their full potential. This room is designed for Purdue researchers to explore types of seed treatment that will produce the most promising seeds for future application.
As the seed treatment industry continues to evolve, researchers will be able to test new chemicals and biologics at this facility using the latest technology.
This room is protected with key-card access and locked cabinets to store many different types of phenotyping instruments and sensors. The room features a 3D printer as well as 3D scanners to replicate and fabricate new unmanned aerial vehicle (UAV) parts.
This large workspace features six display monitors with connection and a modular layout for classes, training and any kind of collaboration. The room has 40 chairs with tables, as well as a projector and screen.
Our facility streamlines small-plot seed processing and features state-of-the-art threshing and shelling equipment. After grain is harvested by hand from the field, 13 modular stations are available for researchers to remove individual seeds from plants for storage and further breeding or analysis. Meanwhile, crop residue and dust move outside through a conveyor system to a grinder.
This room also features technology to measure individual seeds and sort them by shape and color.