ICSC user rates effective July 1, 2020.*
*These rates are for internal usage only. At this time, facility use is only available to Purdue researchers and students.
Dial 911 for Red Light Emergency
For serious problems or non-emergency calls when Jason cannot be reached, dial Purdue Police at 765-494-8221.
Jason Adams, Facility Manager
Office: 765-494-2007
Cell: 765-491-1264
Dial Purdue Dept. of Radiological & Environmental Management, REM, for safety and spills at 765-494-6371.
Normal operating hours are Monday through Friday from 8:00 a.m. to 5:00 p.m.. The building can be used after hours with key-card access.
Phenotyping Team
Jason Adams, Facility Manager
Accountable for all ICSC activities, which include training, scheduling, instruction, developing and maintaining policies and procedures and monitoring performance.
In charge of key access space allocation.
Oversees overall maintenance and upkeep of the facility.
Provides orientation to new users.
Partners and coordinates activities with Agronomy Center for Research and Education (ACRE) superintendent and facility crew.
Yang Yang, Director of Digital Phenomics
Oversees facility operations and scientific applications related to phenotyping.
Assists with experimental design and technology use.
Connects potential collaborators across disciplines.
Liaison between College of Agriculture departments.
Rachel Stevens, ACRE Superintendent
Oversees all activities at the Agronomy Center for Research and Education (ACRE).
Responsible for allotment of land and resources for all research activity at ACRE.
User Responsibilities
Our housekeeping motto: Tour ready. Every day.
Think SAFETY. Keep in mind the public will often be touring this facility, including children.
The phenotyping facility is a working facility as well as a show place. Some amount of workspace clutter is to be expected, but orderliness is still expected of all users. The facility should be "tour ready" at any time. Failure to keep a clean, orderly working area can result in loss of phenotyping space. This includes all work space, lounge and office areas.
The "green" doors at the back entry should be used when coming in dirty from the field. Tours will be entering through the front doors and this area should be kept as clean and mud-free as possible.
Policy Violations
Users of the facility are responsible for learning and following the policies outlined below. The facility manager will communicate policies and remind users when they are in violation. The expectation is that we all work together to take care of this facility and are mindful of others. Repeated and deliberate violations of these policies may result in loss or suspension of privileges.
Safety
Fulfill appropriate safety and training requirements to gain key access.
Facility users must provide their own PPE.
While working with mechanical equipment after hours it is suggested to work in pairs.
Parking
Front parking for guests and visitors. Rear parking for facility users.
There is parking in the front and the rear of the building. The rear parking lot should be used by individuals working at the facility, leaving the front parking lot available to visitors. If the rear parking lot is full, then use the front.
Cleaning
Facility should be "tour ready" at any time.
Clean up daily or as needed during use.
Keep work areas clean and orderly.
Wash boots and shoes at washing station provided at back "green" door.
Discard plant and seed material in a timely fashion.
Labeling
All material coming into the building must be clearly marked with the owner of the project and the date it was brought into the facility, which includes all seed and plant material. This will ensure that all material is being actively used and that storage areas and cold room space are not being used for long-term use.
Resources
Plan and schedule space needs in advance.
Plan and procure supplies in advance.
Schedule equipment use in advance.
Reserve lockers for sensor storage and personal use.
Return all tools and supplies to their assigned locations.
Reporting
Report worn or broken equipment to facility manager.
Give instructions and feedback to the team.
Lost or Stolen Items
This building contains a vast amount of working space. While we would like to believe that everyone can be trusted, things can and will walk off whether intentionally stolen or unintentionally borrowed. If it's valuable to you, then take it with you or lock it up before you leave. The phenotyping staff is not liable for lost or stolen objects/material. Lockers and lockable research carts are also available.
When Things Go Wrong
Things can and will go wrong when people are involved in such a dynamic environment such as this. If you see a problem with something a facility user is doing, you may tell them directly. Users may also choose to tell the facility manager of problems they see. In either case, please don't be rude.
Questions or concerns with facility managers performance? Tell them directly or discuss with the Director of Phenomics of the Farm Superintendent.
When equipment is broken, worn or operating poorly, please notify the building manager immediately so repairs can be made. They will also be logged into the building maintenance program.
Facility Specifications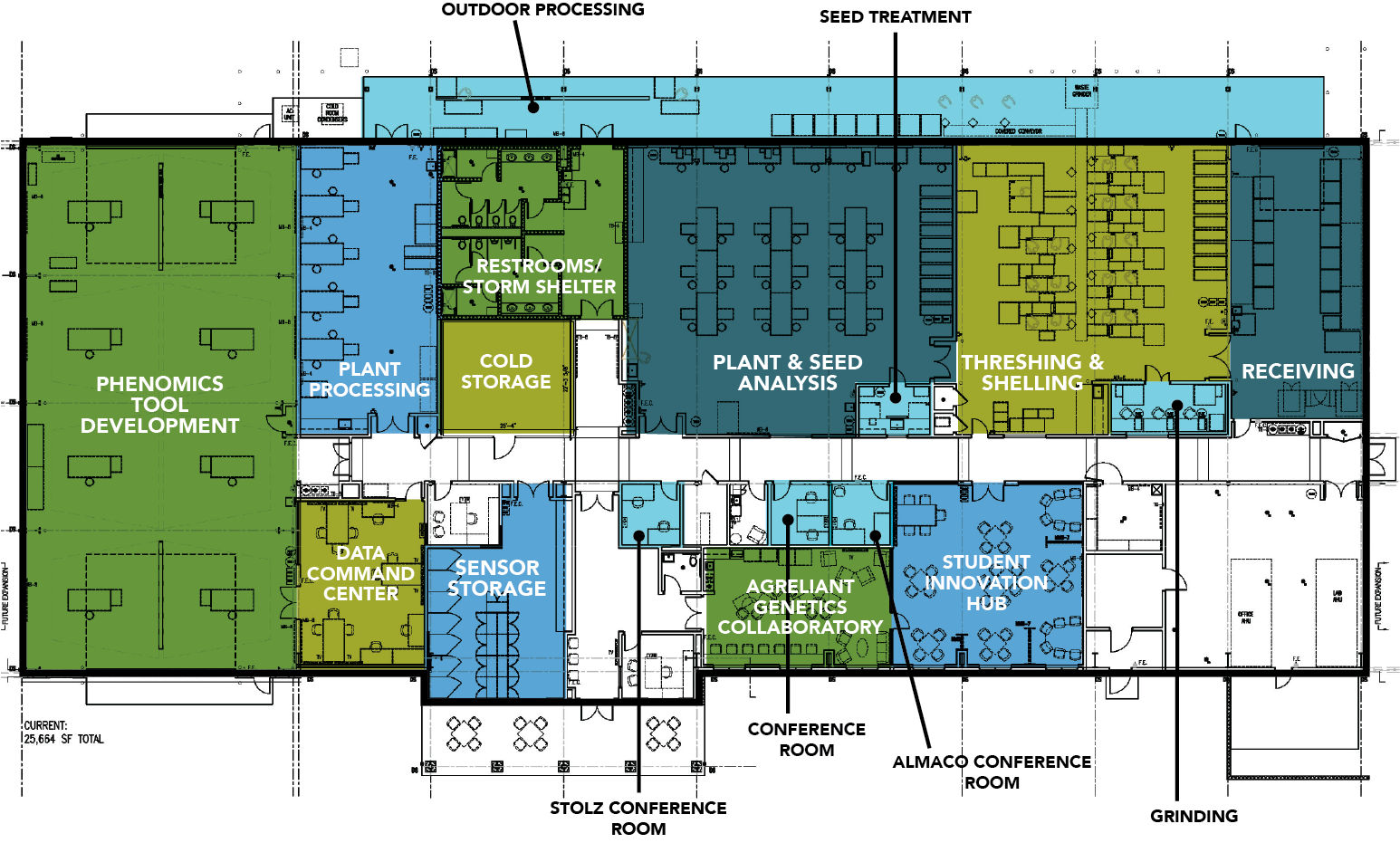 General building
25,664 square-foot facility
Safe storage for sensors and equipment
Flexible meeting space
Break-room space
Restrooms and private showers
Personal lockers available for checkout
Severe weather shelter
Boot-washing station
Phenomics
High-bay workspace for tool development
Designated workspace for downloading and analyzing data
High-speed, fiber-optic data transfer to campus
UAV storage
PhenoRover data collection
Seed and Plant Processing
Threshing and shelling equipment
Clean workspace for analysis
Workspace for plant processing
Root washing and analysis
Designated area for seed treatment
Dust-controlled room for seed and plant grinding
Transitional sample cold room
Temporary storage for post-harvest (Building 57)
Room Guidelines
Policy Violations
Users of the facility are responsible for learning and following the policies outlined below. The facility manager will communicate policies and remind users when they are in violation. The expectation is that we all work together to take care of this facility and are mindful of others. Repeated and deliberate violations of these policies may result in loss or suspension of privileges.
Pet Projects
Space in the facility is reserved for active teaching and research only. Personal "pet projects" will not be allowed.
Orphan Projects
An attempt will be made to locate the owners of unlabeled or abandoned projects and materials. if the owners cannot be found, then projects and or materials will be discarded.
AgReliant Genetics Collaboratory
This space is equipped with a refrigerator, freezer, microwaves, vending machines and single service Keurig coffee maker. Please feel free to bring your own coffee. Ample seating is provided for taking breaks. This room, like the rest of the facility, should be tour ready at all times. Cleaning staff does not clean appliances, tables or counter tops. Any spills in or on appliances, countertops, tabletops, furniture and floors should be cleaned immediately. Any items placed in the refrigerator should be clearly marked with your name and date. Anything that looks abandoned will be discarded. Refrigerators in the lounge are for food items only, no chemical or plant storage. The refrigerator will be emptied weekly prior to building trash pickup.
Student Innovation Hub
This room is designed as a gathering space for anyone using the phenotyping facility or ACRE. As with all other rooms, the Innovation Hub should be tour ready at all times. Please clean up all messes. This space may be utilized as a tour gathering spot. Please see the facility manager if this room needs to be reserved.
Data Command Room
This room provides users to aggregate and begin processing data. Three data visualization stations with large double monitors are available to researchers. The Data Command Room is equipped with a high-speed 10Gb network for rapid data transfer to Purdue's main campus.
Material Receiving Room
This room is located on the east end of the building and is a temporary receiving room designed to store 48" x 45" storage bins or any other forklift-friendly containers. No loose material or  piles of bags are allowed. Please only bring in enough bins worth a day or two of immediate processing. Seasonal storage of these bins will be in building 57 next to the dryers.
The "Walkie-Stacker" walk-behind lift and farm forklift can only be operated by certified individuals. The "Walkie-Stacker" is only permitted in the receiving room and on hard surfaces behind the facility.
The Wisconsin ovens are located in this room and may be sued for drying down plant material.
Threshing and Shelling Rooms
Eye and ear protection are required while equipment is in use in this room.
These rooms are used to thresh and shell corn, sorghum, soybeans and small grains. The main room is equipped with Almaco soybean single plant threshers, Almaco sorghum single head threshers, Almaco Corn Maizer, Seed Boss seed cleaner and Agriculex single ear corn shellers.
Please only use the hand pallet jacks or carts to move bins or pallets around the threshing and shelling room. Threshing and shelling equipment shall be checked out after proper equipment training has been obtained. The equipment MUST be docked to the trunk line when in use.
There are three dust collectors that serve this space. The conveyor and three outside ports are on dust collector "C" and run at any time the conveyor is turned on. There are two additional dust collectors that are used when threshing and shelling take place. Threshing and shelling may also be performed on the trunk line outside of the building and under the canopy. The outside line has all the same capabilities as the inside line. All the same procedural and clean up rules apply to the outside of the building. Clean up all workspace at the end of the day or task.
Grinding Room
Eye and ear protection are required while equipment is in use in this room.
This room may be utilized to grind seed or plant samples. Grinding equipment maybe used after proper training has been completed. The dust collection system minimizes the amount of dust in this room. These grinders are not to be used for food processing.
Plant and Seed Analysis Room
This room is a clean-seed processing room for seed cleaning, packaging, counting and seed and plant analysis. Printers are provided for printing packets, labels and field stakes; users supply their own consumables.
Equipment available in this room include:
Seed Processing
Seed Counters
Seed Cleaners
Packet/Stake printer
Label/Barcode printer
Table top workspace
Seed Treatment
Scales
Moisture reader
Imaging
Table top workspace
Photo backdrops
Seed Treatment Room
This is the only room in the building where seed treating shall take place. Personal Protective Equipment (PPE) must be worn in accordance to seed treatment label direction. All spills and messes must be cleaned up. The red dust collection system must be turned on when seed treating is taking place. There are shelves for storing small quantities of chemicals. All containers must be properly labeled and manufacturing labels are preferred with the seed treatment name, as well as the name of the PI and the date the chemical entered the facility. If a secondary container is used, then a HazCom label or something similar will need to be adhered to the container with all information filled in. These labels may be obtained from the facility manager. A copy of the SDS sheet will need to be provided to the facility manager. Periodic inventory of the contents of the cabinets will take place, and any chemicals not properly labeled or abandoned, will be discarded through proper REM channels.
Plant Processing Room
This room should be used for processing plant and root material. Like the threshing and shelling room, it consists of both inside and outside work spaces that must be kept clean and organized. There are two root washing stations outside, as well as movable worktables. Any root washing that involves heavy metals or other environmental hazards must go through REM before processing. The inside work area also consists of five work stations for plant processing. Large bins are available for waste plant material.
Floral coolers are also provided to help keep plants from wilting while taking samples. The coolers are intended for short-term storage while sampling plant or seed material. Please label your samples with the name of the PI and the date it was brought in.
Phenomics Tool Development Room
This room can be utilized for UAV, robotics and PhenoRover development. Adjustable height tables are on wheels and available as work stations. Lockable research carts for storing tools and supplies are also available. UAVs may be stored on cables or storage racks when not in use. Please be mindful of keeping the two large overhead doors closed to minimize the wind, trash and critter infiltration.
DO NOT PARK UNDER THE OVERHEAD DOORS WHILE THEY ARE OPEN.
Safety
Regulated transgenic material or diseased material require special clearance.
USDA and Purdue Facility Management clearance are required for handling, storage or processing of transgenic, regulated, stewarded or excessively diseased seed and plant material.
The facility is not to be used for food processing.
All Purdue, REM, ACRE and building specific safety guidelines are to be followed. Specific areas of emphasis include:
Eye and ear protection are required in the Threshing and Shelling Room and Grinding Room while equipment is running.
Posted Lock out Tag Out (LOTO) procedures must be followed while performing adjustments or maintenance on equipment.
UAV batteries must be charged in accordance to safety rules and in designated areas.
While treating seed, all PPE must be worn according to pesticide label direction. If you are not able to determine what PPE is required, contact the facility manager to look up the proper Safety Data Sheet (SDS).
"Horse Play" will not be tolerated. Any gross negligence in terms of safety will be reported to the research team leader and use of the facility may be revoked.
The severe weather shelter is in the men's and women's restroom and locker bay. This is also the severe weather shelter for the entire ACRE campus.
The Phenomics Facility Safety Committee will review all safety-related issues.
Additional safety resources:
Building Access Pass
The facility manager will give key-card access to the building, cold storage and sensor storage after all training procedures have been completed. These include WPS training, orientation videos and review of the phenotyping guidelines.
Workspace and Equipment Reservations
Equipment in the threshing and shelling room will need to be signed out when in use. This will be done by checking out building resources in iLab. All equipment will need to be cleaned and put away properly at the end of the task.
There are three small office/conference rooms that can be used for short-term use. Labs need to coordinate among their members to only use the minimum space needed. This will ensure the best use of the limited space in our facility. Some additional space may be temporarily reserved, depending on availability and only upon faculty request. Conference rooms may be reserved by contacting the facility manager or using Microsoft Outlook calendar.
Storage
This facility is equipped for short-term storage only. Project-specific supplies brought in will need to be removed at the completion of the project. Users should only bring in enough plant and seed material to process and analyze that day.
No items may be stored in building hallways.
Locking Storage
Access to the sensor storage will be assigned on an as needed basis at the facility manager's consent. Cabinet locks will be assigned in the sensor storage area. Lockers in the back foyer may be requested from the facility manager and a combination will be provided.
UAV Storage
UAVs may be stored in lockers or placed on storage racks in the Phenomics development bay.
Chemical Storage
All liquid and dry chemical containers should be labeled, regardless of whether they are chemicals or any other liquid. Original packaging is preferred on all chemicals. All chemicals brought into the facility should also have an accompanying SDS sheet (Safety Data Sheet) that should be given to the facility manager. Users may also email facility manager an electronic copy of the SDS prior to bringing in any chemicals. The facility manager will maintain a record of current SDS sheets.
Only chemicals used for seed treating and preparation may be stored in the seed treating room.
Cold Room/Receiving Room Storage
Cold room storage is for short-term use only. No long-term storage will be allowed. All material in the cold room must be kept on facility-supplied wire carts and labeled with the PIs name and date of entry. Users should only bring enough seed or plant material for one or two days' worth of work.
Unmanned Aerial Vehicle (UAV) Guidelines for ICSC
Aircraft users must complete FAA certification and checkin with ICSC facility manager prior to flying.
To conduct any time of UAV activities, the following operating documents, checklists and display markings must be available for review and up to date.
Aircraft registration form FAA 8060-3.
N number displayed on aircraft.
Current Aircraft systems logbook, Operators logbook.
WPS training current for all team members.
Private Pilot written test results, or license (copy), operator and observer.
Aircraft operating checklist specific to aircraft being operated.