Pioneer Village
Located at the Indiana State Fairgrounds, Pioneer Village is a permanent featured attraction that draws thousands of visitors annually during the Indiana State Fair. On the northside of the fairgrounds nestled between the Machinery Field and the Frito-Lay Family Fun Park, Pioneer Village takes you back in time and tells the story and progression of Indiana agriculture.
Hands-on learning

Antique tractor exhibition

Antique agricultural tools and treasures

Reenactment of skilled trades and professions
Volunteers in costumes portraying the era 
The 2022 Indiana State Fair will take place July 29 - August 21, 2022. 
Pioneer Village Annual Auction
On the last Saturday of the Indiana State Fair each year, Purdue Ag Alumni Association hosts an auction to support the restoration of Pioneer Village items.  The auction features Indiana State Fair memorabilia, items created by the artisans of the village, tools, machinery, and collectibles.  The auction begins at 10:00 a.m. in the Opry House in the Pioneer Village.  Buyer registration begins at 9:00 a.m.

The 2022 Pioneer Village Auction will be on Saturday, August 20, 2022. The auction begins at 10:00 a.m. in the Opry House in the Pioneer Village, buyer registration begins at 9:00 a.m. Cash or check preferred but credit card payments will be accepted. 
Donations to the Pioneer Village
The Pioneer Village is always looking to add to or improve their collection of farm, school, and homestead items from the 1900s – 1930s.  If you have items you think might be a good fit, please reach out to us at agalumni@purdue.edu.  We will share your request with the curator of our collection.  Monetary gifts are also accepted.
Pioneer Village Volunteers
Are you interested in demonstrating your pioneer craft or skill?  Curious about the pioneer arts and want to learn how to do something you saw at Pioneer Village?  We are always looking for new volunteers and helpers of any age at the Pioneer Village.  Contact us at agalumni@purdue.edu and we will connect you with someone who can help.
Next Generation of Pioneer Village
The Homesteaders Association of Purdue University was relaunched to build interest in the pioneer arts and trades.  For more information about this group, visit their Homesteaders Boilerlink site. 
Pioneer Village Founder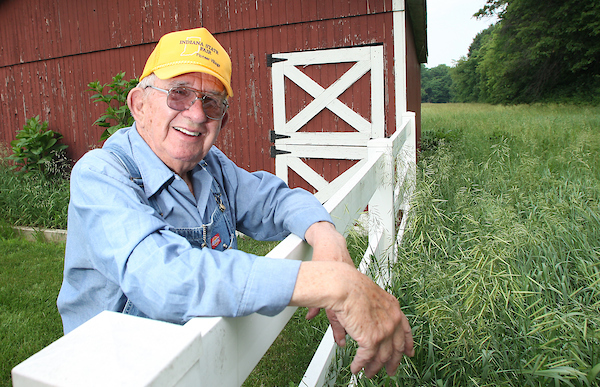 Mauri Williamson – Agricultural Preservationist, Storyteller, Visionary
Mauri Williamson was born on a livestock farm just outside of Economy, Indiana in Wayne County. He spent his youth milking cows, shooting baskets and suffering through the hard times of the 1930s. He was active in 4-H, and was probably the only person chosen to attend the National 4-H Club Congress who had never won a blue ribbon.His wife is June — they married in August 1948, so their anniversary falls during the State Fair each year. Mauri and June are parents to David, who farms on the Williamson home farm in Wayne County, and Marsha, a retired nurse who shares her dad's love of rural heritage that she showcases in her professional photography and in numerous books, some of which she coauthored with her dad.
After an inglorious hitch in the Navy during World War II, he entered the Purdue University School of Agriculture to become a farmer. In 1950, he graduated with highest distinction.
For several years after graduating, Mauri went back to his family's cattle farm. He soon recognized he was too much of a social being to enjoy hauling manure, planting corn and milking cows. At that point, he returned to Purdue in 1953 to take the position of Executive Secretary of the Purdue Agricultural Alumni Association. During his tenure, the Association has grown to the point that it is now considered the model in alumni relations throughout the country. He is a founding member and past president of the National Agricultural Alumni and Development Association and is a member of the Board of Directors for the National Agricultural Hall of Fame.
With 37 years of service, Mauri retired from Purdue University in 1990. He has dedicated his entire life to the improvement and appreciation of American agriculture. His country wit and tales taller than a silo have captivated audiences across the state, and his innovation has led him to become one of the best-known agriculturalists across the nation.
After retirement from Purdue, Mauri continued to work at Pioneer Village, coauthored books about barns and covered bridges. He also helped establish the Indiana Barn Foundation, which lobbies for the successful passage of legislation that gives tax incentives that encourage the preservation of Indiana's historic barns. Mauri passed away at the age of 91 in 2017 but his legacy lives on.