How can Anglers Help?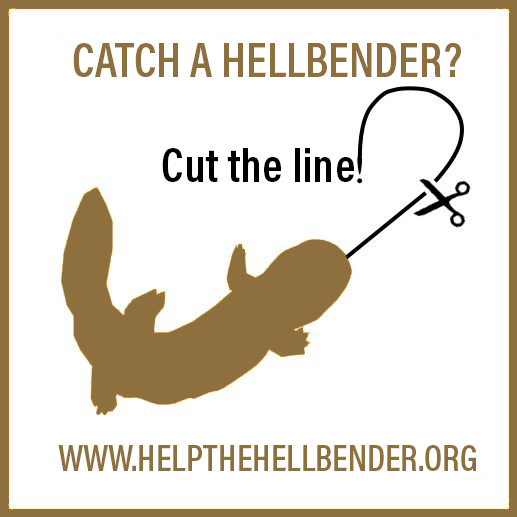 People who go fishing represent the group most likely to encounter a hellbender salamander in the wild. Though hellbenders are unlikely to chase artificial lures, they may occasionally take live bait such as minnows or crayfish. In the event that you catch a hellbender while fishing, it is extremely important that you do two things: release the animal by cutting the line and report the sighting to a natural resource professional.
#1. Cut the line to release the animal.
Hellbenders are fragile creatures that can be difficult to unhook safely. The best way to minimize damage to the animal is to simply cut the line and release it back into the water as close as possible to where it was caught. If you do this, the hook will naturally dissolve over time. Please do not take the animal home, kill it, or throw it on the bank.
#2. Report the experience to a natural resource professional
Researchers and resource managers are closely monitoring the local hellbender population. You can help the hellbender by letting us know when and where you caught one. You can also help confirm the identity of the animal by taking a picture with your camera or cell phone. Please use the link on this webpage to report your sighting/capture to your
local Hellbender partner
or call your local conservation officer.
Helpful Tips
Please help us spread the word about cutting the line, releasing the hellbender, and reporting your encounters to a natural resource professional. To report an encounter for the state of Indiana contact the  Indiana Department of Natural Resources - Wildlife Biologists.
If you are planning to practice catch and release while fishing, please consider using a barbless hook in order to minimize damage to both fish and hellbenders.
If you use trotlines on the Blue River, make sure you check them on a regular basis. Indiana fishing regulations require anglers inspect their trot lines at least once every 24 hours.