NRES Student Announcements
NRES Office Hours: Monday - Friday, 8:30am - 4:30pm when classes are in session
Dr. Bowling's Student Office Hours: Wednesdays 1:30 - 3:30pm
Academic Advisor: Mandy Chalk Marquardt - Schedule an appointment through Boiler Connect (link below) or email chalkm@purdue.edu. 
Make an appointment with your advisor 
Meet the NRES Staff
The NRES staff is here to help plan your courses for a successful journey at Purdue.
NRES Staff
Current Students
Climate and energy solutions
Evaluation of climate impacts, adaptation and mitigation and alternative energy solutions.
Environmental quality and restoration
Evaluation, remediation, restoration and preservation of air, water and soil resources.
Environmental policy and analysis
Focus on policy, management and economics to address environmental challenges through regulations, compliance and sustainability.
Sustainability science
Approaches to minimize the depletion of natural resources in agriculture, industry and other sectors in order to balance environmental, social and economic considerations.
Watershed management
Engage and educate stakeholders to implement land use and water management practices to protect and improve water quality and natural resources within a watershed in a holistic manner.
Emerging environmental challenges
Flexible option to customize your major to address a new interdisciplinary environmental issue that is not addressed by existing majors on campus.
In addition to the College of Agriculture requirements, students must complete the NRES core (28-29 credits). https://ag.purdue.edu/department/oap/corereqpages/core-requirements1.html
The NRES core lays a foundation for further study by including courses on wide-ranging topics such as organic chemistry, ecology, soil science, meteorology, environmental economics, and environmental policy, to name just a few.
All NRES students will have hands-on education in environmental field skills including GIS.
Additional science selectives (7-10 credits)
Your NRES concentration (21 credits)
You choose one of the six concentrations at the heart of the NRES curriculum and work with an academic advisor to add the upper-level courses that fit your area of specialization after your first two years of study. NRES majors have many choices!
Unrestricted electives (12-16 credits)
The unrestricted electives allow you to add a second major or minor, take more courses in your NRES concentration, or complete certification courses or additional environmental science courses. They also give you the flexibility to participate in activities like Band or ROTC or in study abroad.
NRES is unique, exciting, and interdisciplinary. With guidance from the NRES academic advisor, staff, and faculty, you will be able to customize your own degree program to fit your interests and career goals. NRES students learn about the latest research and ideas, earn prestigious awards and recognition, and pursue careers in a diversity of settings.
Gain marketable skills through coursework, research, and internships
Emphasis on critical, real-world tools like GIS
Hands-on fieldwork
Student collaborative space
Close-knit program with faculty who are involved in your success and committed to mentoring you
40-hour Hazardous Waste Operator/Emergency Response Technician certification training
Friendly and welcoming student community
Student-led Environmental Science Club
Optional speakers, tours, and field trips
Study abroad
Research and internships
During the spring semester, NRES offers 40-hour Hazardous Waste Operator/Emergency Response Technician Certification Training and HAZWOPER Renewal Certification Training for graduating and undergraduate students.
NRES Provides Abundant Career Choices and Opportunities 
We are in an era of major concern for our environment with 'going green' movements, sustainability, alternative energy research, and the growth of environmental policy in the United States. As concern for our environment grows, opportunities for NRES graduates increase in state and federal agencies and private businesses involved in control technology, environmental compliance, waste minimization, environmental health and safety, remediation of contaminated sites, environmental law, and reclamation and remediation of disturbed lands.
Areas of Employment
Business and Industry
Non-Profits
Governmental Agencies
Career Opportunities
USAJOBs.gov
Possible Career Choices
Environmental Consultant
Wetland Scientist
Field Chemist
Hydrologist
Resource Economist
Industrial Compliance Specialist
Urban Project Coordinator
Species Conservationist
Wildlife Biologist
Environmental Planner
Radiation Safety Manager
Soil Conservationist
Continued Education
Environmental Law
Graduate degrees in focused environmental specialty
Education / Outreach
Research
​
NRES-Ambassador Page
NRESsays A glimpse into the daily life of NRES students at Purdue University
NRES Ambassador Blog
Featured Story
Featured Story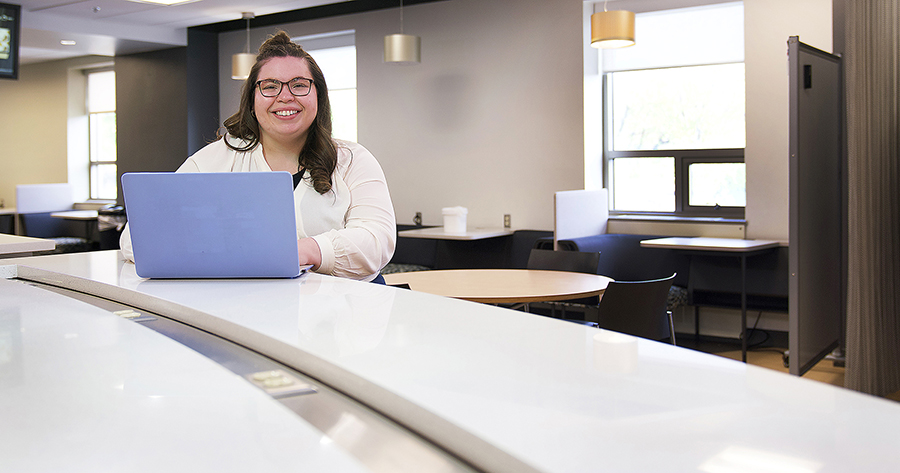 Emily Forsythe - Graduate Ag Research Spotlight
Growing up in the small town of Livingston, Montana, Emily Forsythe knew she wanted to go to college; she just wasn't sure what her academic focus might be. Then a high school economics class and field trip to the Federal Reserve Bank in...
Read More