Meet The Staff
Meet the NRES Staff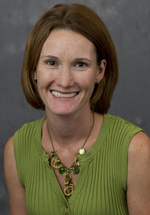 Dr. Laura Bowling
NRES & Agronomy
NRES Director & Professor of Agronomy
765.494.8051
765.496.2926 (fax)
Laura earned her bachelor's degree in civil engineering and water resources from Princeton University, and her master's and doctorate from the Department of Civil and Environmental Engineering at the University of Washington, Seattle. Laura is a Full Professor with research and teaching responsibilities in the Department of Agronomy at Purdue University and has a courtesy appointment in the Department of Agricultural and Biological Engineering. 
Laura teaches an undergraduate course in Environmental Hydrology and Hydrologic Field Skills and serves as an undergraduate advisor.  She also mentors several graduate students and teaches a graduate-level course in Statistical Hydrology. 
Her research interests include quantifying the hydrologic and water quality impacts of agricultural drainage practices, investigation of edge-of-field and watershed-scale conservation measures to mitigate the impacts, and evaluation of water resources sustainability, with emphasis on agricultural water use.  Laura serves as a member of the Executive Committee of both the Purdue Climate Change Research Center and the Purdue Water Community, and as one of the Purdue representatives to the Consortium of Universities for the Advancement of Hydrologic Science, Inc. (CUAHSI). She also serves on the University Library Committee.​
Dr. Bijoychandra S. Takhellambam
NRES
Post-Doctoral Research Associate
Dr. Takhellambam, our esteemed Post-Doctoral Research Associate, will take on the role of Co-Instructor for NRES 497 (Senior Capstone) and NRES 338 (Environmental Field Skills).
A fascinating tidbit about Dr. Takhellambam: "Proficient in three languages and currently mastering Spanish, I also have an immense passion for sports. I'm particularly excited about experiencing a Knockout match in the upcoming FIFA World Cup."
Mandy Chalk Marquardt
NRES
Senior Academic Advisor
765.496.9024
Mandy has been advising at Purdue University for over six years. Prior to joining the NRES staff, Mandy has advised in Purdue's Exploratory Studies program and Daniels School of Business (formerly Krannert School of Management). She earned her Bachelor's degree in history and political science from Valparaiso University, and she earned her Master's in Public Affairs from Indiana University South Bend. A native of Indiana, Mandy enjoys traveling, reading, ballroom dancing, and playing board games. She looks forward to helping students who are passionate about making the Earth a better place!
Cora Chavez
NRES
Administrative Assistant
765.496.0376
Cora Chavez, Administrative Assistant at NRES & OAP, brings valuable expertise in Business Administration to the team. Her primary goal is to contribute to the success of students through her dedication and support. With a passion for helping others, Cora is excited to make a positive impact and assist in any way possible. 
In addition to her professional pursuits, Cora enjoys pursuing her hobbies during her free time. She cherishes moments spent with her family, appreciating the bonds they share. Exploring nature through trail walks is another activity that brings her joy and rejuvenation.