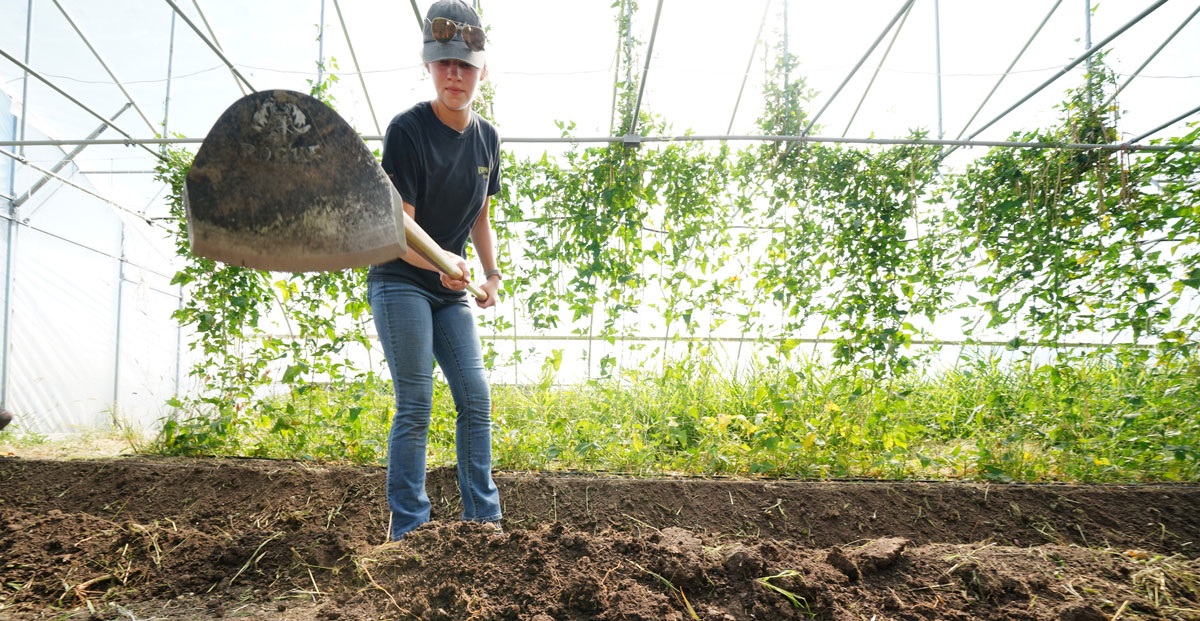 IN THE LAND-GRANT MISSION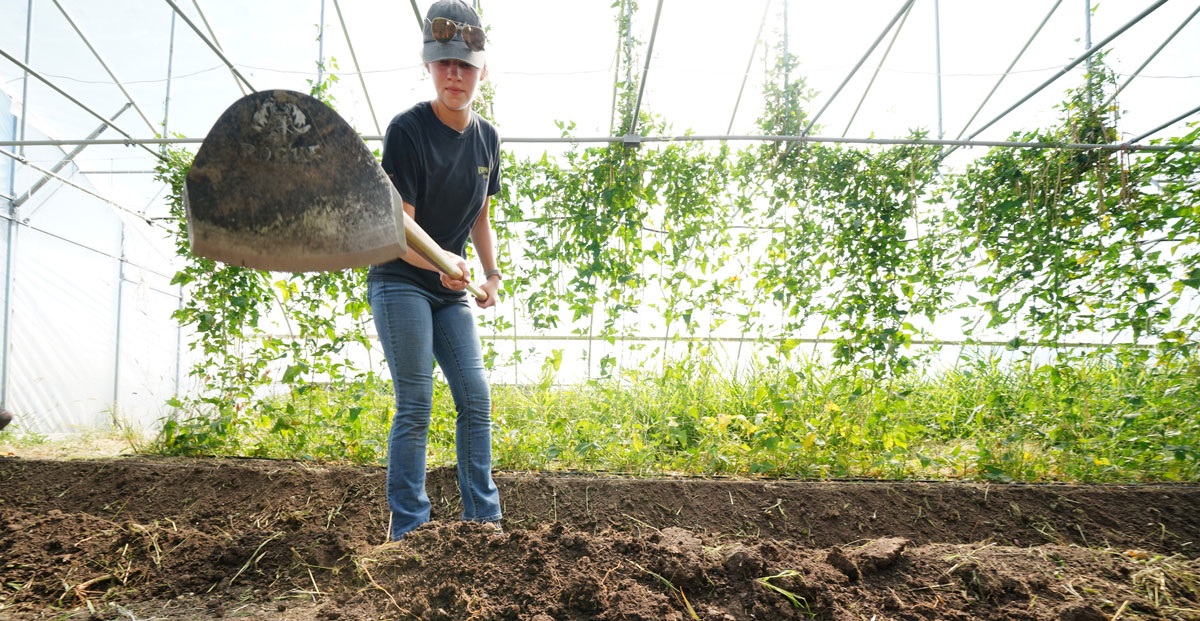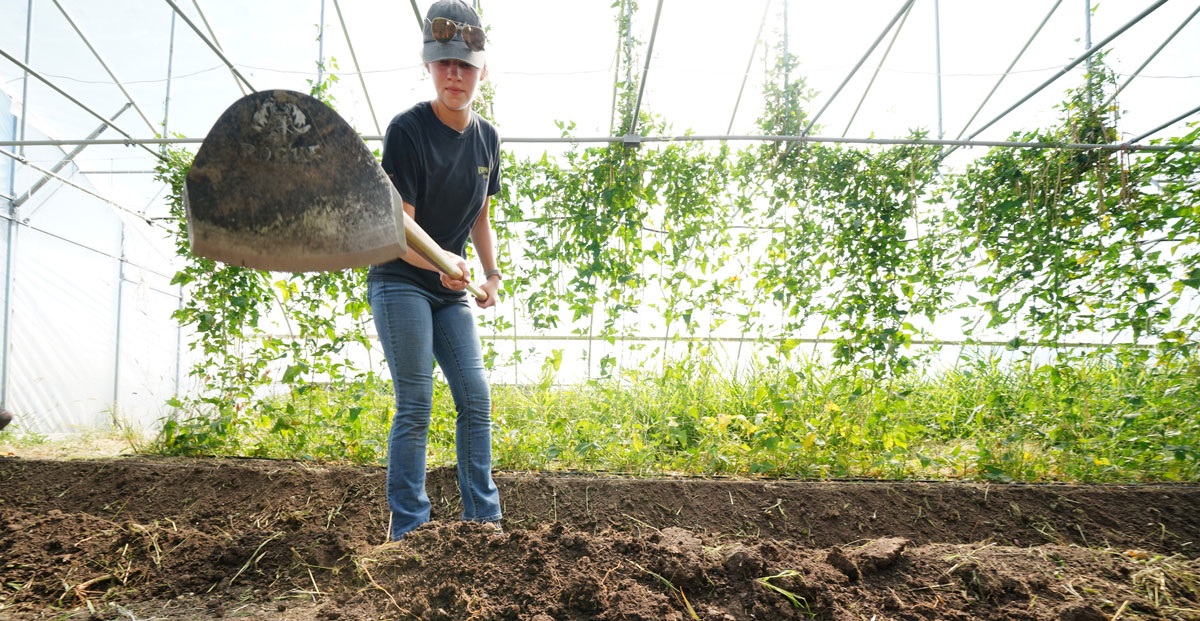 IN THE LAND-GRANT MISSION
A student prepares raised beds for salad greens.
In 2010, an idea spurred Steve Hallett out of his office and into his car to cruise Purdue University in search of land.
Hallett, a professor of horticulture, had been mulling over the fact that the College of Agriculture owns some 15,000 acres of farmland — far from campus and inaccessible to most undergraduate students. A "city kid with muddy knees," Hallett spent his youth helping his father cultivate an allotment behind a mill house in Manchester, England, that provided the family with fresh vegetables. He felt compelled to give Purdue students a similar chance to get their hands dirty.
His vision was a modest campus farm, student-led and sustainably managed, where aspiring and experienced farmers alike could learn how to grow a cornucopia of produce in Indiana's rich soils.
Hallett recruited a band of undergraduates to wrangle weeds and evict the resident raccoons from a plot across from Horticulture Park known as the Maxwell Tract, one of the first pieces of land granted to the university upon its founding. As the novice growers cleared the land, an old irrigation system revealed itself, and they used a small grant to buy a tractor. They had no blueprint for how the farm would take shape. They simply dug in.
"We just farmed — quite badly at first," Hallett says.
He created a course on how to build a farm from scratch, which became the foundation for a new degree program: Sustainable Food and Farming Systems, or SFS.
"We realized that the whole process of trying to build a little farm, a local food movement and a degree program around it would be a really rewarding thing to do," Hallett says. "Thirteen years later, that's exactly what we're doing."
Today, the Purdue Student Farm occupies 3 1/2 acres of land on the edge of campus, nestled between forest, sports fields and turfgrass. High tunnels shelter tomatoes and tongue-scorching peppers. Potatoes, onions and leafy greens grow in neat rows. Myriad trials take place at the farm, from experimenting with dried paprika to growing table grapes. A wetland draws geese, nesting killdeer and goldfinches that pick the seeds from patches of native echinacea. Students weed, trellis and harvest; classes scout for insect pests; and faculty members inspect research projects that will help inform the recommendations they pass on to Indiana specialty crop growers.
Hallett, who served as co-director of the farm, recently passed the baton to his fellow co-director Petrus Langenhoven, a specialist in horticulture and hydroponic crops, who will continue to lead the farm's education, extension and research efforts. Farm manager Chris Adair (BS '12, botany and plant pathology), one of the original undergraduate volunteers who sawed bush honeysuckle away from Maxwell Tract, supervises student workers, day-to-day operations and a community-supported agriculture (CSA) program that distributes high-quality produce to subscribers. The farm covers its overhead costs, making revenue-generating ventures like the CSA program and sales to Purdue's dining halls essential. This business side of the farm provides student salaries, fuel for trucks and tractors, and the grist for many of the farm's daily activities.
Purdue Student Farm summer intern Joe Tilstra (front) and farm manager Chris Adair keep weeds at bay.
Purdue Student Farm summer intern Joe Tilstra (front) and farm manager Chris Adair keep weeds at bay.
"We try to be as true to a real working farm as possible," Adair says, noting that the farm grows upwards of 45 varieties of different crops.
The farm runs on two main principles: Take good care of the land, and let the students direct as much as possible. In practice this means growing a diversity of crops, eschewing tilling, applying pesticides and fertilizers only when necessary, donating excess food, composting, and weaving wildlife and native plants into the landscape.
In a state where much of the agriculture residents see every day is acreage of corn and soybeans destined for livestock feed and ethanol, the student farm provides opportunities to learn specialized cultivation techniques and work in organic, regenerative and niche-market agriculture.
LEARNING IN A LIVING CLASSROOM
This approach to farming resonates with today's university students. In a 2022 McKinsey survey, 73% of Gen Z respondents ranked their generation as the most concerned about food's environmental impact. This concern draws many of the undergraduates who enroll in Purdue's SFS degree program and work on the farm, few of whom come from an agricultural background.
Adair didn't hail from a farming family either. The early days of the student farm gave him a rough-and-tumble introduction to how agriculture works — or doesn't.
"It was a lot of slapping things together, a lot of wire and duct tape," Adair says. "That was how I learned the most, just trying things and failing."
Giving student workers the same experience prepares them for the tough conditions of a farm, he says. Each student in the Small Farm Experience courses that SFS offers will put their hands to nearly every aspect of raising crops, from seed to harvest, as well as the more arduous farm chores.
"Pounding posts in the ground is not a great time, but at the end of the day, if there's something you can eat, that's well worth it," Adair says.
Wilfried Brown-Grimm, a third-year SFS student, was not deterred by the gritty nature of the work. An aspiring farmer from West Lafayette, Brown-Grimm began volunteering at the farm in high school and is now in their fifth season.
"Of course, there are days when it's 90 degrees out and you're hand-weeding onions," Brown-Grimm says. "But I immediately felt welcomed by the people who worked there. They were all open-minded and willing to take time to talk to me about things related to Purdue and the greater ideas of what we were doing at the farm."
Brown-Grimm credits their experience at the farm with shaping how they want to practice agriculture in the future: "It shows that small farmers can be self-sufficient while remaining cautious of the environment."
For Deniz Camli-Saunders, a fourth-year double major in SFS and political science, the farm provided close friendships, a reprieve from academic pressure and a practical education that brought textbook material to life. In his first week, he had to break off washing beets to flee a swarm of angry bees.
"That's part of the experience of being on an actual farm," says Camli-Saunders, who wants to work with small farms on research and policy development. "Without the student farm, I definitely would lack an understanding of the way small farms operate and how they struggle to stay afloat."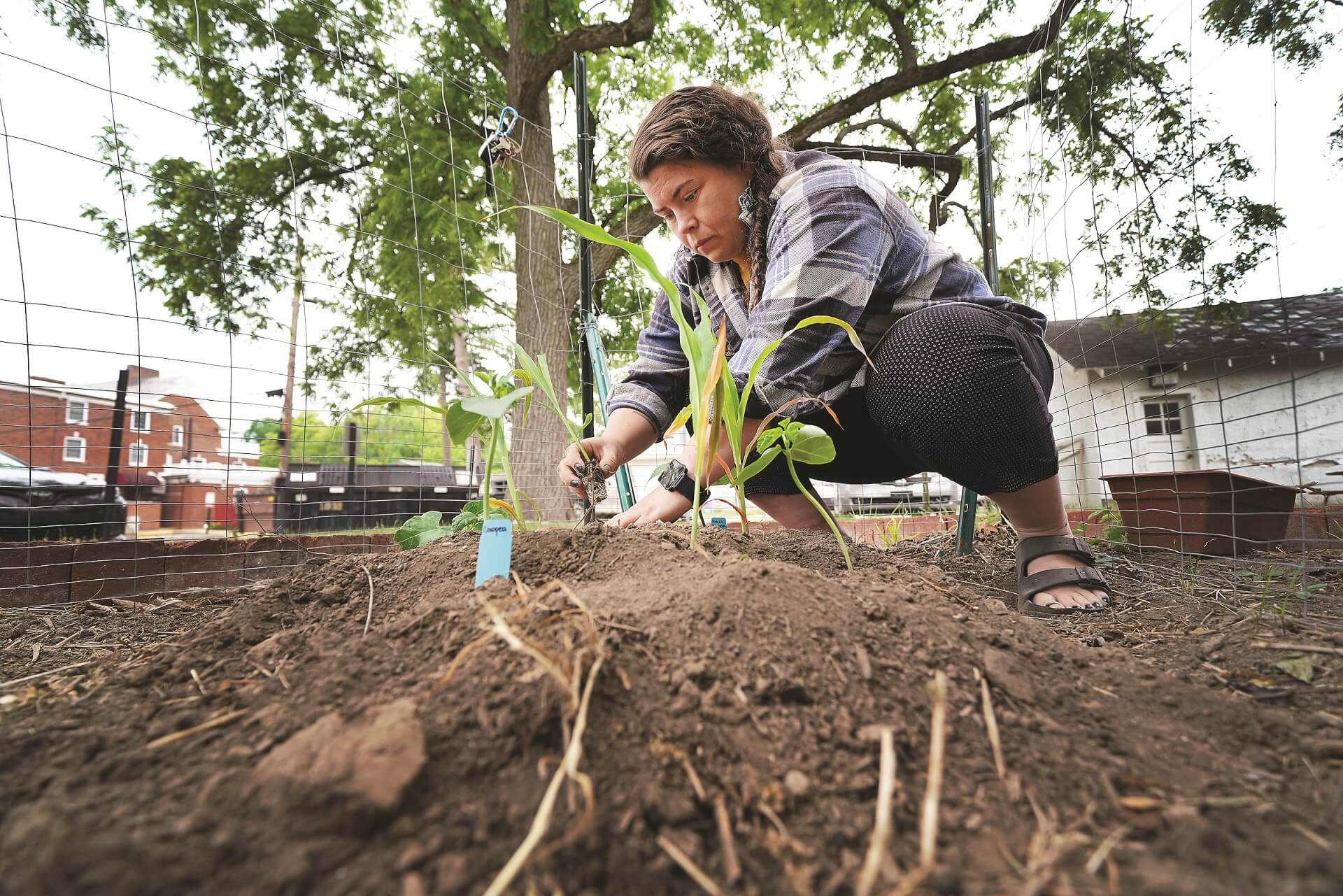 PROVIDING A TASTE OF THE culture
Since 2017 the Purdue Student Farm has partnered with the Latino Cultural Center (LCC), Asian American and Asian Resource and Cultural Center (AAARCC) and Native American Educational and Cultural Center (NAECC) to provide students with culturally significant foods that are not readily found in local supermarkets.
This year the farm is working with the LCC to source Southwestern pepper varieties found in staple Mexican dishes. Staff are helping the AAARCC seed indigo that will be dried and used as dye for cultural events. And farm manager Chris Adair helped the NAECC create a traditional Three Sisters planting of corn, beans and squash.
The partnership grew out of awareness that food provides more than physical nourishment. "It's comfort," says Adair. "To be able to work with the cultural centers and grow things that are culturally significant to them is really important. It makes Purdue feel more like home."
Hallett hopes the Purdue Student Farm offers the next generation an on-ramp to agriculture, particularly groups that have been excluded in the past. The bulk of agricultural labor in the U.S. historically has been carried out by people of color, but the voices of minorities are often missing from decision-making processes, Hallett says.
"We're all about environmental and human diversity at the student farm, showing people that farming can be done differently and by different people," he says. "If you want to change a landscape or a society, you need to show people how to do it."
SHARING THE RESEARCH RIPENING IN THE FIELD
The Purdue Student Farm also allows faculty to test their hypotheses in conditions that mirror those of small specialty crop farms across the Midwest.
Laura Ingwell, assistant professor of entomology and horticultural crops Extension entomologist, develops Integrated Pest Management recommendations for fruit and vegetable growers. Prior research on crop pests has largely been geared toward large-scale operations; the student farm offers Ingwell a living lab where she can study how pest pressures may differ on small farms.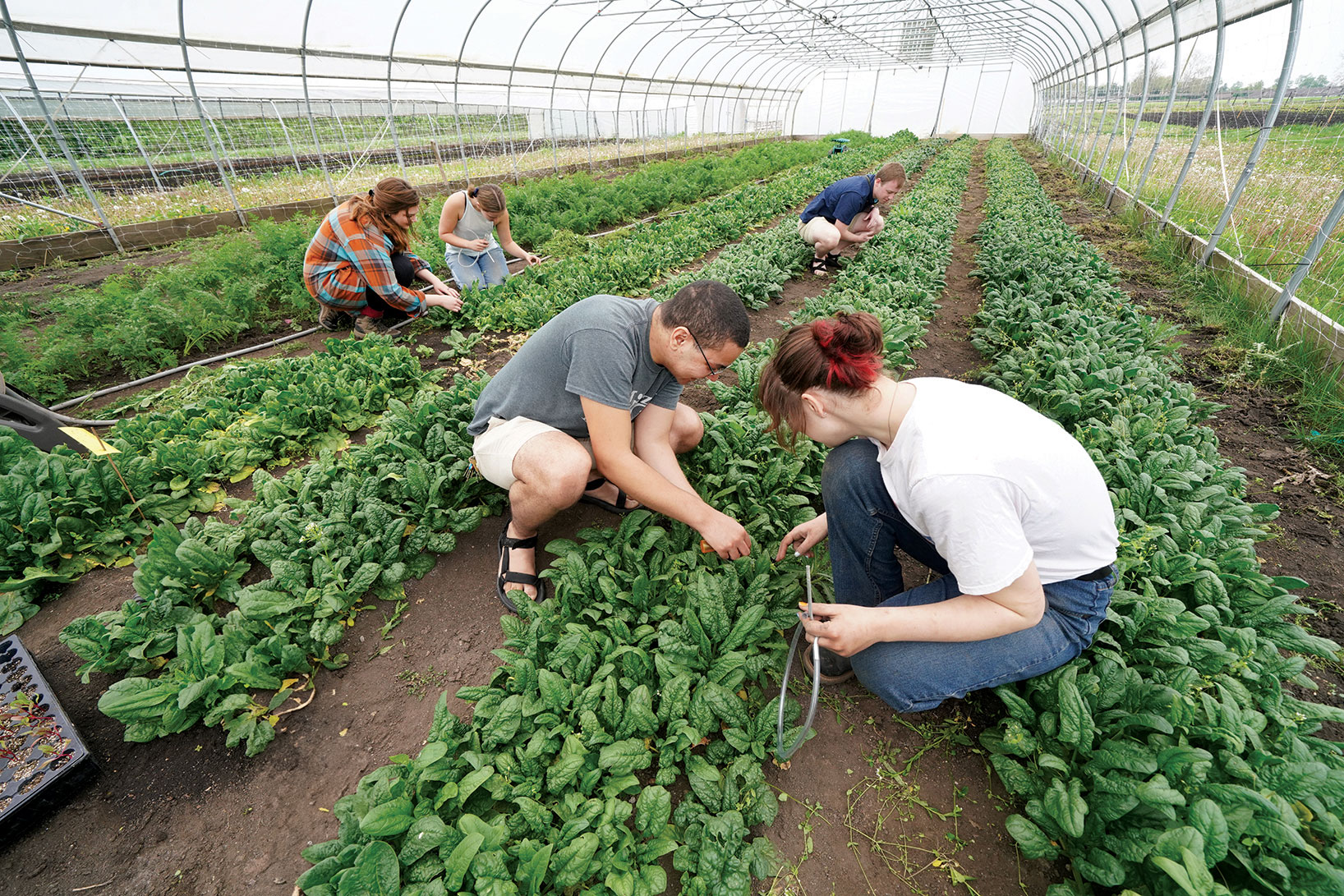 Graduate students examine spinach at an insect-collecting workshop organized by Laura Ingwell. The Purdue Student Farm offers students a chance to inventory pests and natural enemies present on a crop to develop an Integrated Pest Management plan.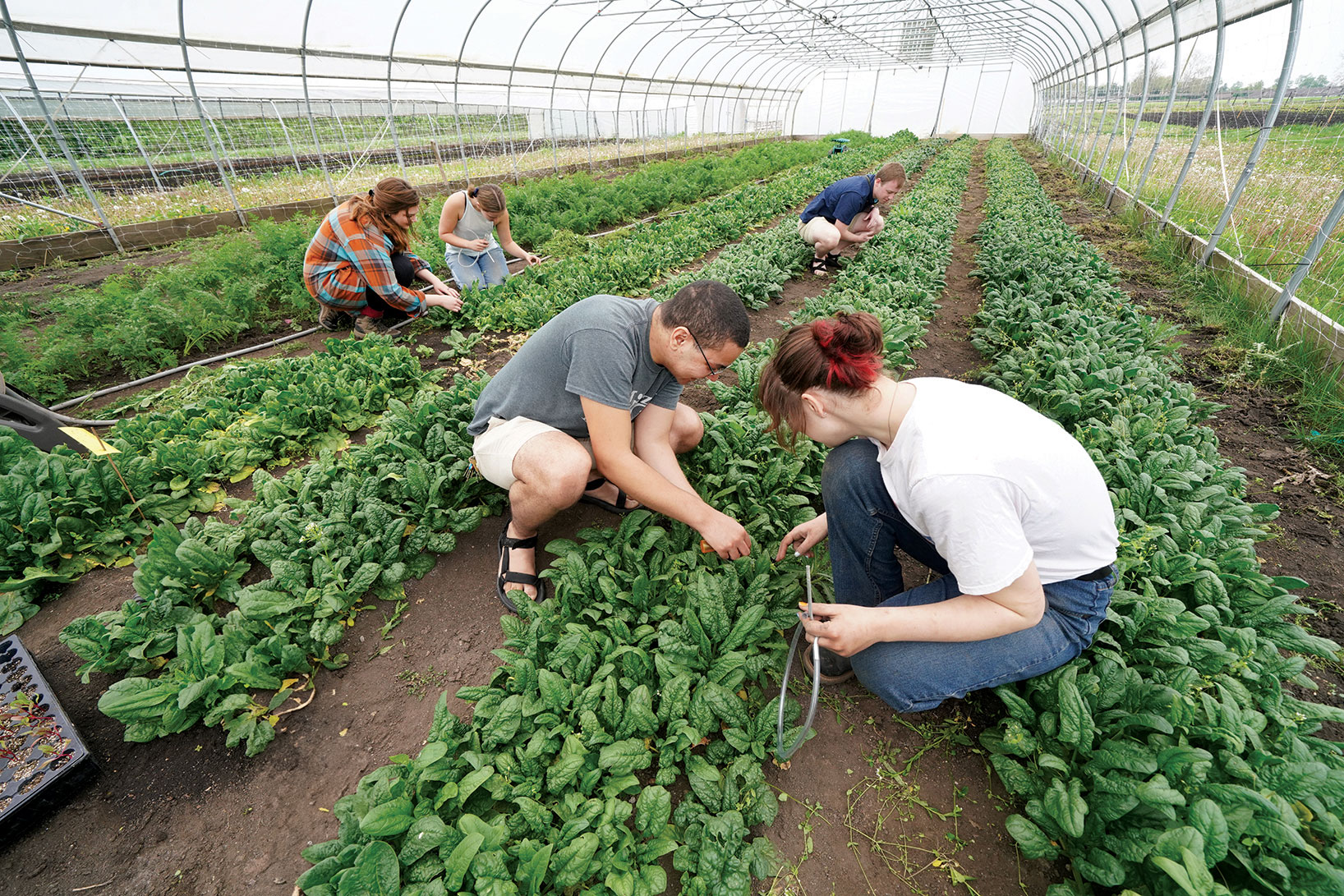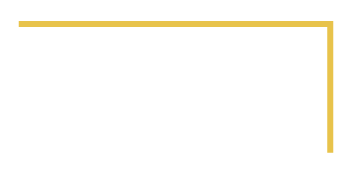 Graduate students examine spinach at an insect-collecting workshop organized by Laura Ingwell. The Purdue Student Farm offers students a chance to inventory pests and natural enemies present on a crop to develop an Integrated Pest Management plan.
"The way that they grow crops on the student farm — small scale, highly diversified and in rotation — is much more like what growers are doing," says Ingwell, who also serves on the farm's advisory board. "They're experiencing these potential pest buildups that small farms get. I can step right into that system and start evaluating different control methods under the conditions small and diversified farms experience."
Meanwhile, Langenhoven's research is helping optimize Indiana pepper production in high tunnels, and his onion trials have revealed optimal varieties for small-scale growers and home gardeners.
The student farm welcomes growers to come see crop varieties and growing techniques for themselves. Each year the farm hosts a Small Farm Education Field Day, which Langenhoven started in 2018, to provide a practical, hands-on summer field day with Extension specialists. It has attracted more than 140 farmers from around the state. After touring the farm's high tunnels, one grower realized he had been improperly trellising his tomatoes. Fixing the system boosted his production.
"The questions that come out of the field day are just phenomenal. Growers are not holding back," Langenhoven says. "As Extension specialists, we don't usually get that kind of feedback and interaction during presentations."
Student farm staff readily share why small farms are important. These aren't hobby gardens: They're small but significant bulwarks against the looming problems of food insecurity, food inequity and climate change.
According to a 2021 United Nations study, farms of less than 5 acres produce 35% of the world's food, yet occupy less than 12% of the land used for agriculture.
As grocery stores move away from city centers and out of rural areas, small farms play an important role in shoring up food equity in Indiana communities, Ingwell says.
"People are left with the dollar store, the liquor store or the corner gas station for their food if they don't have transportation and access," Ingwell says. "Small, diversified farms help fill that gap. They're the ones selling at farmers markets, through CSA programs, and to local restaurants and niche grocery stores."
Small farms can even help protect the planet. Agriculture contributes to human-driven climate change through greenhouse gases emitted by livestock and land use but also has the potential to be a part of the solution, Hallett says. No-till or low-till practices and calculated crop rotation can increase soil carbon.
According to Hallett, Langenhoven, Adair and Ingwell, the mission of the student farm is to show farmers ways to grow for the benefit of their families, communities and the Earth.
"Diversity involves adding things, not taking them away. We're not trying to remove any particular form of agriculture — we're intent on bringing new options to it," Hallett says. "The original ethic of the land-grant mission was to support the practical arts for working-class people. That's exactly what we do."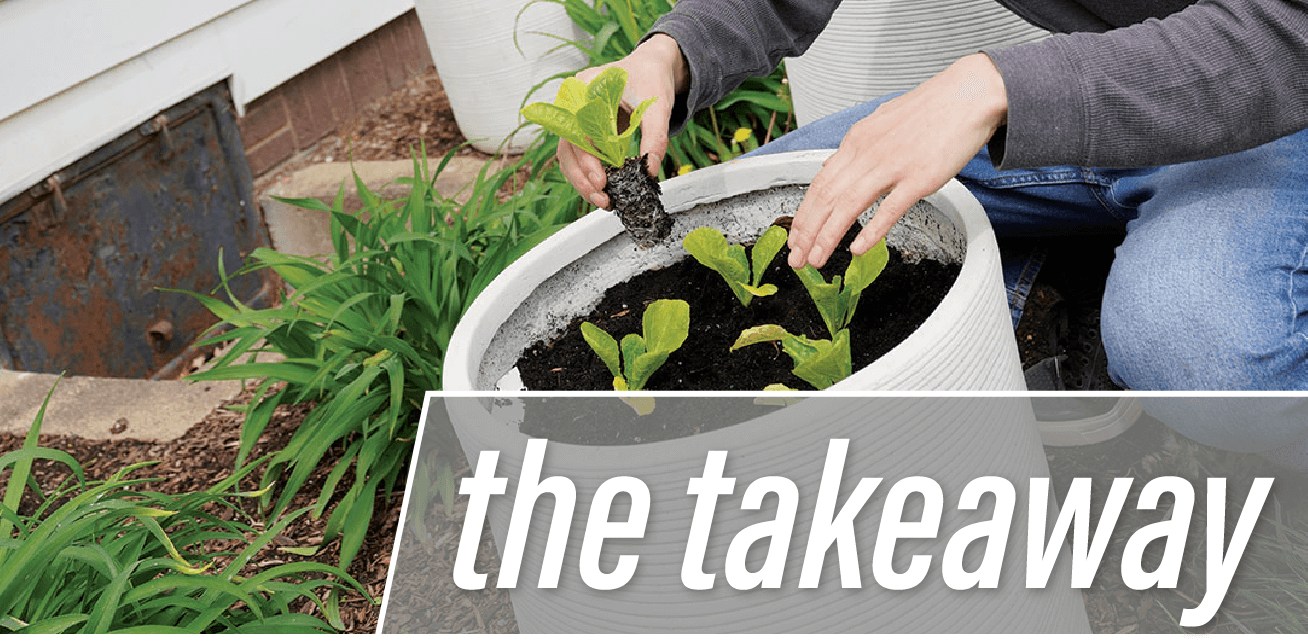 Small farms play important roles in bolstering food security and food equity.
The Purdue Student Farm is teaching new and experienced growers alike how to raise a variety of specialty crops for local communities.
Now in its 13th year, the student farm serves as a hub for research, education, Extension workshops and a CSA program that aims to hit 100 subscribers this year.
The farm is training a new, more diverse generation of farmers who can step into the boots of an aging farming population.
Agriculture has the potential to be restorative to the environment, rather than extractive. The student farm team uses sustainable, regenerative growing practices to steward the land.
The farm also works with three of Purdue's cultural centers to help produce foods and plants that are culturally significant.