picture of the week
September 27, 2021
Flower with a view
Dan Egel, Clinical Engagement Associate Professor-SWPAC, Botany and Plant Pathology, Purdue University
The cucumber beetle in this photo has attitude.   That attitude seems to be defiant of everything it views from this watermelon flower, including the photographer.  Maybe this beetle is defiant because it knows that, strictly speaking, the striped cucumber beetle, Acalymma vittatum, is a pest of watermelon plants. Early in the season, when the watermelon plant is quite small, cucumber beetles can overwhelm a plant by feeding. Later in the year, when fruit are present, cucumber beetles may feed on the rind, reducing the marketable yield.  In mid-July, however, when this photo was taken, the danger to watermelon plants from cucumber beetles is low.   Cucumber beetles may spread bacterial wilt in cucumbers and cantaloupe. However, watermelons are not a host for bacterial wilt.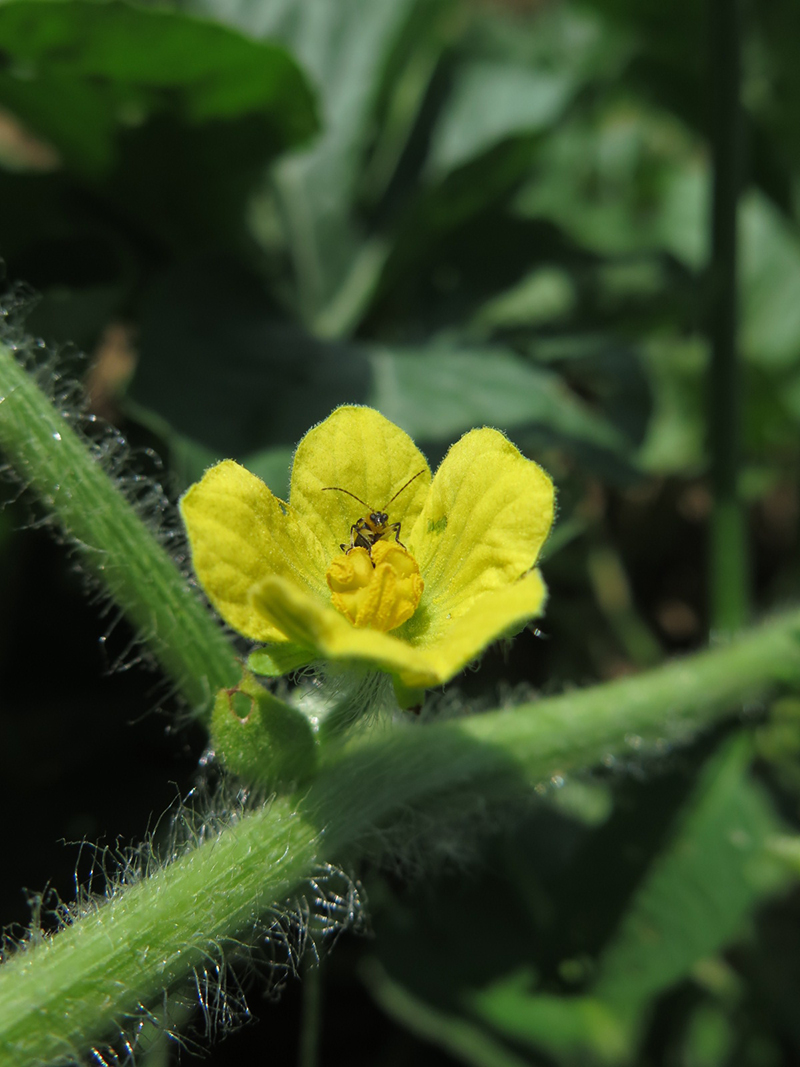 Growers are advised to scout for cucumber beetles and only apply pesticides when the numbers of beetles reach certain economic threshold numbers.  If insecticides are applied regularly without regard to the numbers of cucumber beetles present, beneficial insects may be killed in addition to cucumber beetles.  The loss of beneficial insects such as lady beetles, could mean that aphids will become a pest. 
So, maybe this cucumber beetle's assertive stance is because it has nothing to fear.  It is not harming the watermelon plant and is not worth the cost of an insecticide application. The beetle can continue to feed on the pollen from this male watermelon flower.  Note that there is a bit of feeding on a flower petal just to the right of the beetle. 
The attitude worked.  Shortly after taking this photo, I left without bothering the beetle or its view.