Education and Outreach
As data continues to become more important throughout all aspects of society, skills in digital agriculture and data science are becoming "must haves" for the next generation workforce in the agriculture, food, life and natural resource sciences. 
To reach its full potential, the success of digital agriculture is highly dependent on outreach and education. Through Extension, faculty, partnerships and other digital agriculture advocates, the impact of digital agriculture will grow as new ideas and opportunities spread.
The College of Agriculture offers multiple opportunities to gain knowledge and skills in the area of data science and digital agriculture for our undergraduate and graduate students, as well as stakeholders across the state and beyond. 
Top Story
Top Story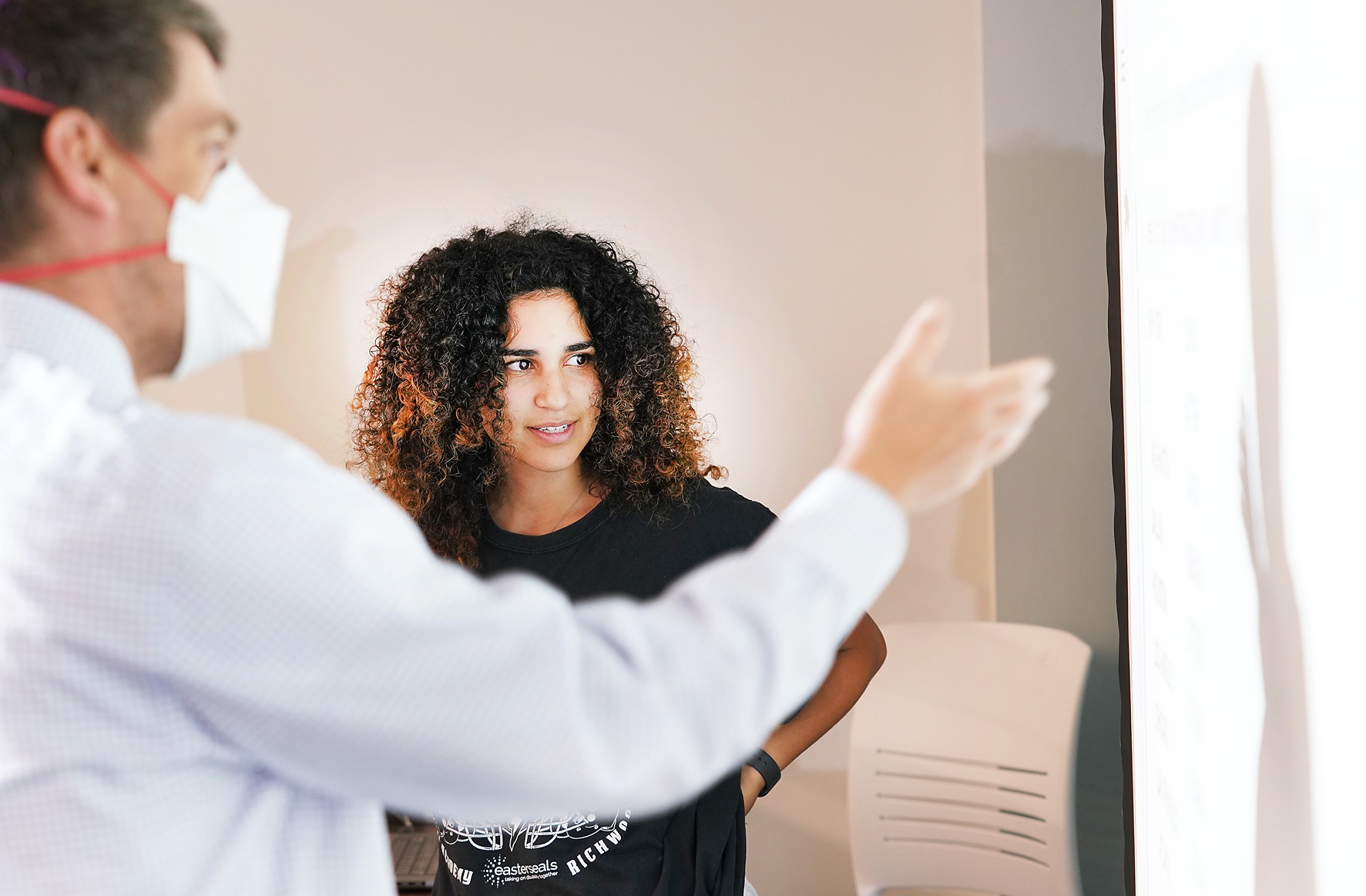 REEU summer program provides a window into agriculture
Summertime is an opportunity for undergraduate students to explore new settings and gain experience towards their prospective careers. In its fourth year, Purdue's College of Agriculture's Research and Extension Experiential Learning...
Read More
Undergraduate Education
As an undergraduate in the College of Agriculture, you can find multiple opportunities to gain knowledge and skills in the area of data science and digital agriculture, including data-focused courses within all 11 of our academic departments.
Learn More.
ABE 20500 Computations for Engineering Systems
ABE 30100 Numerical and Computational Modeling in Biological Engineering
ABE 31400 Design of Electronic Systems
ABE 46000 Sensors and Process Control
AGEC 20201 Introduction To Data Analytics For Agricultural Business
AGEC 30500 Agricultural Prices
AGEC 32100 Principles of Commodity Marketing
AGEC 35200 Quantitative Techniques for Firm Decision Making
AGEC 42100 Advanced Commodity Marketing
AGEC 45100 Applied Econometrics
AGRY 44400 Weather Analysis and Forecasting
AGRY 48500 Precision Crop Management
ANSC 31100 Animal Breeding
Application in Data Science
ASM 10500 Ag Systems Computations and Communications
AT 31900 Unmanned Aerial Systems Applications, Data, and Documentation
BTNY 30200 Plant Ecology
Data and Information Science
ENTM 24200 Introduction to Data Science
ENTM 30100 Experimentation and Analysis
ENTM 41000 Applied Insect Biology
ENTM 41001 Insects of Urban Landscapes
ENTM 41002 Insects of Agricultural Crops
FNR 21000 Natural Resource Information Management
FNR 34800 Wildlife Investigation Techniques
FNR 35500 Quantitative Methods for Resource Management
FNR 35700 Fundamental Remote Sensing
FNR 35900 Spatial Ecology and GIS
FNR 38400 Statistics for Natural Resources
FS 44400 Statistical Process Control
ILS 29500 Introduction to Data Management
PHIL 20700 Ethics for Technology, Engineering, and Design
PHIL 29000 Environmental Ethics
PHIL 29300 Ethics of Data Science
STAT 30100 Elementary Statistical Methods
Unmanned Aerial Systems Major
Unmanned Aerial Systems Minor
Graduate Education
At the graduate level, Purdue Agriculture offers a graduate certificate in Spatial Data Science that is 100% online delivery.
Learn More.
Purdue also offers a Graduate Certificate in Geospatial Information Science (GIS) through Purdue Libraries and School of Information Studies.
ABE 52500 Irrigation Management and Design
ABE 52700 Computer Models in Environmental and Natural Resources Engineering
ABE 53100 Instrumentation and Data Acquisition
ABE 65100 Environmental Informatics
AGEC 50600 Agricultural Marketing and Price Analysis
AGEC 51600 Mathematical Tools for Agricultural and Applied Economics
AGEC 55200 Introduction to Mathematical Programming
AGRY 53000 Advanced Plant Genetics
AGRY 54500 Remote Sensing of Land Resources
AGRY 60000 Genomics
AGRY 61100 Quantitative Genetics
AGRY 64100 Statistical Hydrology
ANSC 51100 Population Genetics
ASM 54000 Geographic Information System Applications
BCHM 61200 Bioinformatic Analysis of Genome Scale Data
BIOL 59500 High Performance Computing for Life Science
BTNY 53500 Plant Disease Management
ECE 57000 Artificial Intelligence
ECE 57700 Engineering Aspects of Remote Sensing
FNR 55800 Remote Sensing Analysis and Applications
HORT 55100 Plant Responses to the Environment
ILS 59500 Information Strategies for Science, Technology, and Engineering Research
MGMT 56100 Logistics
MGMT 57100 Data Mining
Professional Courses
Purdue's Agronomy E-Learning Academy offers courses delivered 100% online for agriculture professionals, including a Precision Agriculture course.
Learn More.
Extension UAV Training Program
Interested in becoming a Commercial Unmanned Aerial Vehicle (UAV) remote pilot or already flying without the required Federal Aviation Administration (FAA) Certification?
Learn More.
Digital Agriculture Curriculum
Purdue Extension's Digital Agriculture Curriculum prepares participants for future employment in agriculture through a mixture of presentations and experiential learning, with a focus on experiential learning in precision agriculture technology.
Learn More.