Bob Taylor: A legacy of extraordinary teaching, mentorship and dedication
Monday, July 16th, 2018 Brian Wallheimer
Inside and outside the classroom, Bob Taylor left an impression on tens of thousands of students in his 50 years teaching in the Department of Agricultural Economics. The mentor for many generations of Purdue students died at home Tuesday, July 3, 2018. He was 83.
Taylor, raised on a cattle farm in Lawtons, New York, came to Purdue after earning a bachelor's degree from Cornell University in 1956. At Purdue, he completed master's and doctoral degrees in agricultural economics and began a half-century career characterized by his caring approach with each student, a willingness to mentor those who needed direction both personally and professionally, and daily quizzes in the classroom that he explained were as much about evaluating his effectiveness as a teacher as the students' knowledge.
"We lost a teaching legend yesterday when … Professor Emeritus Dr. Bob Taylor passed away," Purdue Provost and former dean of the College of Agriculture Jay Akridge said via Twitter. "More than 50 years of teaching, more than 40,000 students — not an overstatement to say he had a positive impact on the life of virtually each (and) every one."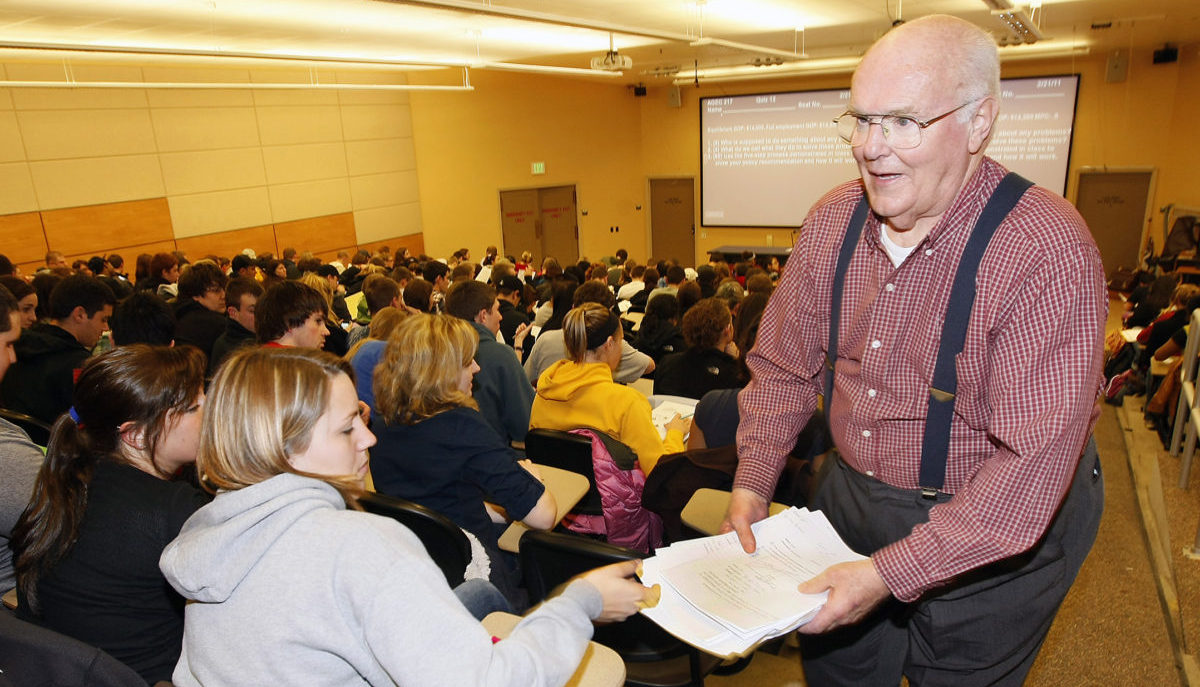 Taylor was known around campus for his trademark suspenders and the two-wheeled cart he built to haul the massive amount of paperwork that came with teaching more than 500 students per semester. His card file contained a record of every student who passed through his classes, and many who bumped into him even decades later were delighted to know that he remembered them.
"I didn't have the pleasure to work with Dr. Taylor, but he left a lasting mark on our college," said Karen Plaut, the Glenn W. Sample Dean of the College of Agriculture. "I've heard countless stories about Bob over the years, and each one reflects his extraordinary dedication to the students he taught and mentored over 50 years at Purdue. His legacy lives on in numerous ways, including through his children Cynthia, who works in Discovery Park, and his son Dan, who is a longtime employee in Agricultural and Biological Engineering where, like his father, he is known for being an amazing adviser to students."
While Taylor was considered a legend among agriculture teachers, he originally planned to become primarily an Extension farm management specialist. Teaching, however, was a role that suited him well and provided a lesson he'd pass on many times.
"My view is that most of us could do quite a wide variety of things just depending on what doors open to us," Taylor once observed. "This is the door that was opened to me, this is where I had the chance, and this is what I've done."
What Taylor did was inspire thousands, many of whom posted their condolences and memories on many online platforms.
"When anyone asked me who my favorite professor was, Dr. Taylor was at the top of the list," said Elise Brown, a 2011 agricultural communication graduate. "He was an excellent teacher with so many stories (and my dad could recall the same ones!). But more than that, he was kind."
Above: A video created to celebrate Bob Taylor's retirement