Agricultural Communication alumna honored with Purdue Rising Professionals program
The Purdue Rising Professionals program unites distinguished young Purdue alumni with current students to inspire the pursuit of the full Boilermaker experience. Created as part of the Purdue Old Masters program, the Rising Professionals program looks for individuals who have achieved early career success. Each year, a panel of student leaders at Purdue selects individuals who embody extraordinary career and life experiences, well-rounded accomplishments, and involvement during their time at Purdue.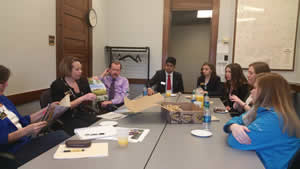 This year, Mrs. Jill (Steiner) Zeller, an Agricultural Communication and Agricultural Economics alumna, was recognized as a Rising Professional. She received her Bachelor of Science in Agricultural Communication and Agricultural Economics from Purdue in 2009. She has worked her way up through Dow AgroSciences and now is a Brand Manager. During her time at Purdue, she was a member of Purdue's Board of Trustees, Iron Key, President of Purdue Foundation Student Board, President of Glenwood Cooperative, on the Central Committee for Old Masters, an Ambassador for the College of Agriculture, and a member of Ag Council, Ag Communicators of Tomorrow, the National Agri-Marketing Association, the President's Leadership Class, and the Mortar Board Honor Society. One of her favorite Purdue memories was being present for President France Córdova's inauguration celebration.
During the Rising Professionals program, Mrs. Zeller shared stories about her professional and personal success. Through classroom talks, program panels, and various other events, she will be able to reach out to all areas of campus.
Nominate someone for the Purdue Rising Professionals program.