Congratulations 2021-2022 Townsend Outstanding Communicators
We are pleased to announce the winners of the 2021-2022 Townsend Outstanding Communicators competition.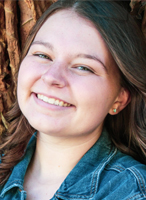 Allison Lund
Category: Writing
Entry Title: "Data on the Farm: Glue or Gold?"
Allison Lund is a junior from Cambridge, Wisconsin, who is majoring in Agricultural Communication with a minor in Crop Science.
She hopes to pursue a career in agricultural journalism after graduation.
Ella Robinson
Category: Writing
Entry Title: "The Dark Truth About Household Items on the Environment"
Ella Robinson is a senior studying Soil and Water Sciences. She grew up in Zionsville, Indiana. She describes her hometown as a suburban area sprinkled with a few farmers.

Robinson found her passion for agriculture while taking courses at Purdue. She would like to attend graduate school, and then pursue a career in outreach, extension, or education to bridge the communication gap between researchers and farmers.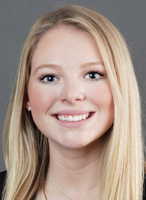 Shelby Whitaker
Category: Presentational Speaking
Entry Title: "The Importance of Agricultural Education"
Shelby Whitaker is a sophomore originally from Valparaiso, Indiana. She has a double major in Agricultural Communication and Sales and Marketing, plus a minor in Art and Design Studio.

She is interested in marketing and, after graduating, hopes to work for a large agriculture company helping design and enhance their brand image.
About the Competition
Professionals in science and agriculture must be able to write and present effectively about their disciplines with non-experts and members of the public. Why not sharpen your communication skills and perhaps win a handsome cash prize by participating in the Townsend Communication in Agriculture Competition?
A gift from the Townsend family allows the College of Agriculture to recognize undergraduate students for writing and presentational speaking. This competition is meant to be educational and fun. It's a way for you to enter your creative work in a competition that values and rewards professional communication about food, agriculture, and the environment.
Guidelines for the 2022-2023 competition will be posted here in September.
About W. Wayne Townsend
The competition is in honor of W. Wayne Townsend, who ran as the Democratic Party's candidate for Indiana governor 1984, started his leadership career at Purdue.
Townsend earned a bachelor's degree in Agricultural Economics in 1951. He served many years in the Indiana General Assembly, winning his first Indiana House seat in 1958. In 1977, he was credited with casting the tie-breaking vote in the Indiana Senate for the state to ratify the Equal Rights Amendment, which did not win enough states to be added to the U.S. Constitution. Townsend also served on the Purdue Board of Trustees for 15 years. He died in 2015.