Coming home with a wealth of experience and knowledge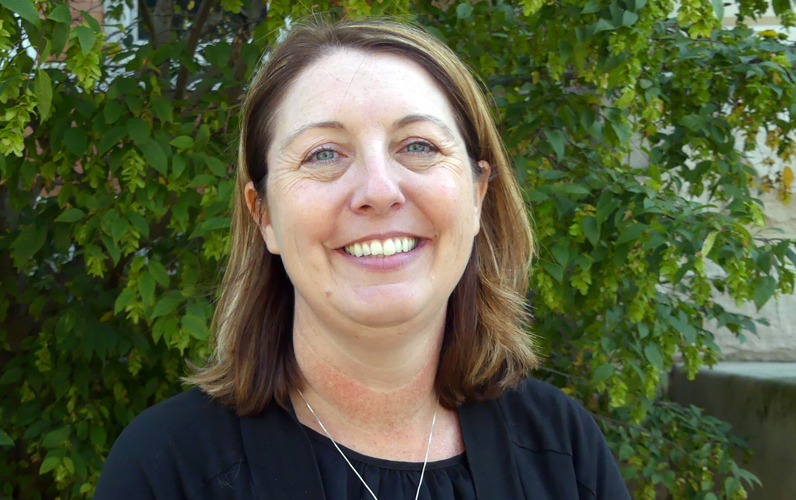 Megan Kuhn recently found herself back where she first started learning how to communicate in the agriculture industry: at Purdue. Kuhn (B.S., Agricultural Communication, 1999) thanks the facts that her husband is a native of West Lafayette and her numerous friendships for bringing her to campus for a role she finds to be both exciting and comforting.
Kuhn is Communications Specialist and Assistant to Karen Plaut, the Glenn W. Sample Dean of Agriculture. Kuhn's task is to take the science she understands and make it into fun and exciting stories. The story of her own career has taken many turns, but it has gradually brought her closer to home and Purdue. Kuhn was honored in October with a 2021 Purdue ASEC Distinguished Alumni Award for her outstanding career.
After graduating from Purdue, Kuhn embarked on her career by traveling to Iowa State University for a paid internship with agricultural information services in ISU's college of agriculture. One of the reasons she said she took the job was of her background — she was raised on a typical Midwestern farm. Kuhn said she enjoyed the work in Iowa but felt she needed to get away from Midwestern agriculture, so she took a leap of faith and went to Massachusetts to help the cranberry growers there.
During her stint helping cranberry growers, she learned a lot more than just how to be an effective communicator. She learned just how much support she had from her family.
"The cranberry industry gained no bigger advocate than my dad when he visited me and learned about how cranberries are grown," Kuhn said.
As proof, she describes a time when she came home to watch her sister's basketball game. Kuhn said her father was in the stands telling people about the cranberry industry.
While in Massachusetts, Kuhn said she also learned how to work with legislators. Unlike commodity crops like corn and soybeans, specialty crops like cranberries are grown in areas where farming is not typical — like right next to a city. That relationship left an impression on Kuhn.
"What I thought was really interesting was how involved those farmers were with their policy makers, their legislators, and I hadn't really experienced that," Kuhn said.
Despite everything she learned in Massachusetts, Kuhn longed to be closer to home.
"I am Indiana girl at heart," she said. So, she returned to Indiana to be associate editor for a regional farm newspaper in Knightstown.
But she wanted to combine what she had learned about working with legislators with her communication skills, so she accepted a new role with the Indiana Soybean Alliance (ISA). Kuhn said she applied what she learned with the Massachusetts cranberry growers to soybean growers in Indiana. One of her roles at ISA was to promote farmer involvement when interacting with legislators. And she said she enjoyed helping farmers interact with decision-makers. Kuhn also tackled a wide breadth of projects for ISA ranging from growing the membership all the way to helping launch the Glass Barn at the Indiana State Fair.
After spending the majority of her career in the public sector, Kuhn said she wanted to work in a corporate job which led her to Elanco Animal Health. Elanco allowed her to work in the corporate setting while still working with farmers. At Elanco, Kuhn traveled all over and learned how to work with all sorts of farmers ranging from beef producers in Texas to fisheries specialists in Chile.
While she really loved the job, she spent a year living apart from her husband. That led her back to Purdue where she has found herself today all thanks to her drive to keep a sense of family while having a successful career.
"Being back in the College of Agriculture is a wonderful next step in my career," Kuhn said. "I enjoy helping Dean Plaut promote the impact our faculty, staff, and students have on campus, across the state, and beyond."
2021 ASEC Distinguished Alumnus
Megan Kuhn
B.S., Agricultural Communication, 1999
Communications Specialist/Assistant to the Dean
Purdue University College of Agriculture
Megan Kuhn is the Communications Specialist for the Dean of Purdue University's College of Agriculture. With more than 20 years of experience working in agricultural communication, Kuhn has spent the majority of her career helping tell the stories of farmers from the fields of Indiana to the cranberry bogs of Massachusetts.
In 2007, she joined the Indiana Soybean Alliance as communications director before moving into the role of senior director of marketing and communications and leading the organization's communications, education, and public affairs efforts. In 2018, she took the role of digital and social media communications lead for Elanco, a global animal health company. In her role with Elanco, she worked with customers to understand the social media listening landscape, as well as guide their social media strategies. As lead of the company's global corporate digital communications, she also managed the company's online presence and worked with affiliates across the globe on their digital strategies.
After growing up on a farm in Shelbyville, Indiana, Kuhn attended Purdue University and earn a bachelor's degree in Agricultural Communication in 1999. She and her husband now live outside of West Lafayette, Indiana.