Freshman
Hannah Kerkhof
  - Agricultural Communication
"
There isn't a major better suited to my passions and interests than Agricultural Communication. I've been able to develop connections with people like me who care about sharing agriculture knowledge. Informal agriculture education is one of my focuses. I strive to find effective methods to communicate facts to consumers of agriculture products. One day, I will use the skills I have learned to share my knowledge with others.
"
Sophomore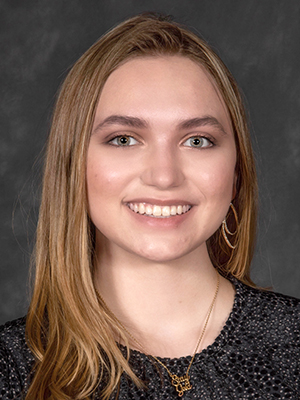 Madison Powell
  - Agricultural Education
"
Being a Purdue student means connections, opportunity, and family. My personal story is a prime example of what Agricultural Education is capable of achieving. Living in an agriculturally rich community, but lacking real experience, agricultural education provides me with the core ag literacy I need that will allow me to empower future generations to find their own passions.
"
Junior
Allison Lund
 - Agricultural Communication
"
The best part about being a Purdue student is knowing that I am receiving the best education and highest levels of support. I am confident that I will be prepared after graduation thanks to this environment. What I find fascinating about Agricultural Communication is that it encompasses all aspects of agriculture. I have found that this major allows me to learn about all areas of agriculture and find ways to share that knowledge with others.
"
Senior
Helen Eaglin
 - Agricultural Education
"
The best part of being a Purdue student is calling myself a Boilermaker. A Boilermaker is dedicated, hardworking, and will do anything to get the job done. The most fascinating thing about my major is that I get to give valuable experiences to future students. From diving deep into hands-on content, to traveling to FFA events, agricultural education changed my life. I hope I get to make that same impact on my future students.
"