Consumer Food Insights is a monthly survey of 1,200 households from across the United States, which is produced and run by the Center for Food Demand Analysis and Sustainability at Purdue University to track trends and changes in consumer food demand and other food sustainability behaviors.
Food Insecurity
of U.S. adults have trouble buying food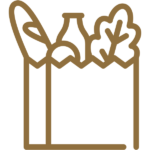 Food Spending
per week at grocery stores and restaurants
Food Satisfaction
of U.S. adults are happy with their diet

How the Cost of a Burger Stacks Up in Every State
Everybody loves a burger! They are sizzling on grills across the U.S. this National Cheeseburger Day and all year round. But those living on the coasts will pay a premium to cook their burgers at home.
Consumer Food Expenditures
This dashboard provides insight into consumer spending by year and by household income.