Consumer Food Insights is a monthly survey of 1,200 households from across the United States, which is produced and run by the Center for Food Demand Analysis and Sustainability at Purdue University to track trends and changes in consumer food demand and other food sustainability behaviors.
Food Insecurity
of U.S. adults have trouble buying food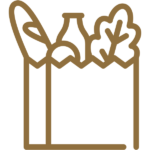 Food Spending
per week at grocery stores and restaurants
Food Satisfaction
of U.S. adults are happy with their diet
Trends in Grocery Delivery Sales
The Trends in Grocery Delivery Sales dashboard tracks sales for grocery delivery based on a sample of debit and credit card transactions. The location of the debit/credit cardholder is based on the cardholder's address in the financial institution's records.