For The Good Of The Farmer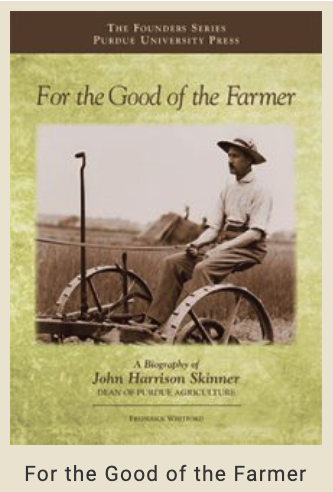 The key role that farming plays in the economy of Indiana today owes much to the work of John Harrison Skinner (1874-1942). Skinner was a pioneering educator and administrator who transformed the study of agriculture at Purdue University during the first decades of the 20th century. From humble origins, occupying one building and 150 acres at the start of his career, the agriculture program grew to spread over 10 buildings and 1,000 acres by the end of his tenure as its first dean.
While he excelled as a manager and advocate for Indiana agriculture, Skinner never lost touch with his own farming roots, taking special interest in animal husbandry. During the course of his career as dean (1907-1939), the number of livestock on Purdue farms increased fourfold, and Skinner showed his knowledge of breeding by winning many times at the International Livestock Exposition. Today, the scale of Purdue's College of Agriculture has increased to offer nearly 50 programs to hundreds of students from all over the globe. However, at its base, the agricultural program in place today remains largely as John Harrison Skinner built it, responsive to Indiana but with its focus always on scientific innovation in the larger world.
Check out what Purdue alumni from John Harrison Skinner's tenure had to say when Dr. Fred Whitford sat down to interview them.
ARTICLE: DR. WHITFORD PENS THIRD BOOK ON AGRICULTURAL HISTORY
BOOK INFORMATION
6 × 9
656 pages
ISBN 978-1-55753-643-3 (Hardback)
$49.95
OR
ISBN 978-1-61249-266-7 (E-book)
$42.99
WHERE TO PURCHASE THIS BOOK
If you have any questions, please contact Fred Whitford at fwhitford@purdue.edu or call 765-494-1284.