PLANTING THE SEEDS OF HOPE, INDIANA COUNTY EXTENSION AGENTS DURING THE GREAT DEPRESSION AND WORLD WAR II
Planting the Seeds of Hope, Indiana County Extension Agents During the Great Depression and World War II

Frederick Whitford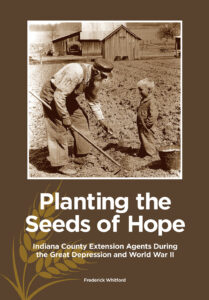 The Great Depression of the 1930s nearly brought the agricultural community to a standstill. As markets went into an economic freefall, farmers who had suffered through a post–World War I economic depression in the 1920s would now struggle to produce crops, livestock, and other commodities that could return more than the cost to produce them.
In Indiana, the county agents of the Purdue University Cooperative Extension Service saw this desperation firsthand. As they looked into the worried faces of the people they were asked to assist, the trust they had worked to build in their communities during the previous two decades would be put to the test. Throughout the painful years of the Great Depression, the county agents would stand side by side with Hoosier farmers, relying on science-based advice and proven strategies to help them produce more bushels per acre, more pigs per litter, more gallons of milk per cow, and more eggs per chicken.
Then, as the decade drew to a close, the start of World War II in Europe soon placed farmers on the frontlines at home, producing the agricultural commodities needed in the United States and in war-torn locations abroad. The federal government quickly called on county agents to push farmers to meet historic production quotas—not an easy task with farm machinery, tires, and fuel rationed, and a severe labor shortage resulting from farm workers being drafted for military service or opting for higher-paying jobs in factories.
Using the observations and reports of county agents, Planting the Seeds of Hope offers a behind-the-scenes look at what it was like to live through these historic events in rural Indiana. The agents' own words and numerous accompanying photographs provide a one-of-a-kind perspective that brings their stories and those of the agricultural community they served to life at a pivotal time in American history.
ABOUT THE AUTHOR
Frederick Whitford works for the Purdue University Cooperative Extension Service in the College of Agriculture. He has authored more than 350 research, extension, and regulatory publications, and has delivered 6,000 presentations to a wide array of audiences. Whitford has written six previous books on the history of Indiana agriculture, including Memories of Life on the Farm: Through the Lens of Pioneer Photographer J. C. Allen.
WHERE TO PURCHASE THIS BOOK
If you have any questions, please contact Fred Whitford at fwhitford@purdue.edu or call 765-494-1284.