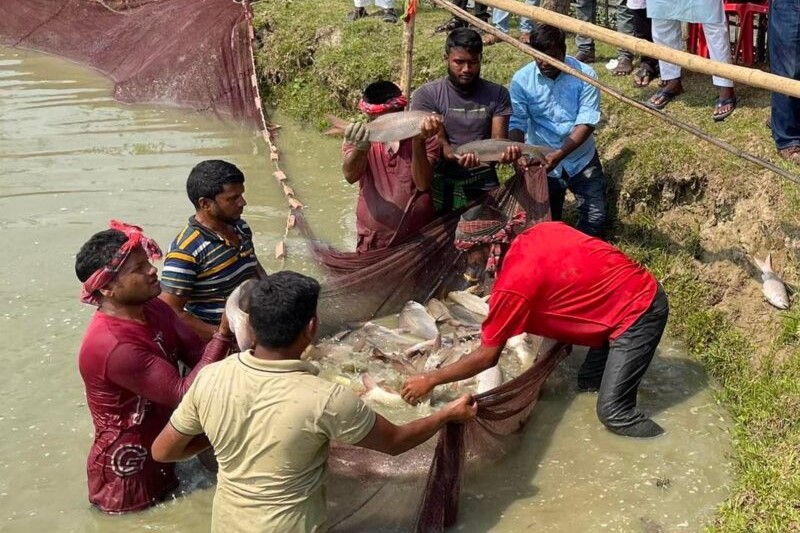 Translated and lightly edited from a story by V.C. Bakribi published on Agriview24.com.
"We all have to do our best to produce nutritious and safe food. Fish is a very nutritious food, and we get good meat from fish. The current government is also giving special importance to this issue," said Deen Mohammad Dinu, agriculturist and director of the Public Relations and Publication Department at Bangladesh Agricultural University (BAU), at a recent Feed the Future Innovation Lab for Food Safety (FSIL) outreach event. "If safe fish production increases, it will contribute to earning foreign exchange through exports. This will greatly improve the economy of the country."
Dinu was one of several dignitaries who attended the exhibition and outreach program titled "Enhancing Food Safety in the Fish and Poultry Value Chains of Bangladesh," which was held on Thursday, March 9, 2023,  at Rupali Hatchery, Muktagachha Upazila, Mymensingh.
The Bangladeshi project lead is BAU Professor of Agricultural Economics Dr. Md. Saidur Rahman. He shared that the project is being conducted over three and a half years, starting in 2021, by a team of researchers from Texas State University, BAU, and Dhaka University. Dr. Madan Mohan Dey, chair and professor in the Department of Agricultural Sciences at Texas State University, serves as the principal investigator of this project.
Dignitaries present at the event included BAU Vice-Chancellor Lutful Hasan; Dean of the Faculty of Agricultural Economics and Rural Social Sciences Khandaker Mostafizur Rahman; Dean of the Faculty of Fisheries Md. Abul Mansoor; Acting Director General of the Bangladesh Fisheries Research Institute (BFRI) Md. Anisur Rahman; and Deputy Director of the Mymensingh Fisheries Department Jahangir Alam.
Saidur Rahman shared updates on the project activities, starting from feed preparation to hatching, monitoring the growth and weight of fish over time, regular inspection of ponds, harvesting and selling fish, and future work plans. A discussion was subsequently held on the hatchery premises.
Dr. K.H.M. Nazmul Hossain, BAU professor of microbiology and hygiene, highlighted the project's analysis of contaminants and said that there is a misconception that the fish in the market is bad or the fish is contaminated and the presence of heavy metals is high. But tests for bacteria and heavy metals (arsenic, lead, cadmium, chromium) in Muktagacha market fish and fish farmed in the project's Rupali Hatchery showed that fish from both locations had lower levels of bacteria and heavy metals than the maximum acceptable levels. However, the amount of heavy metals in the project's hatchery cultured fish was lower than that of the market fish. In addition, the project is also addressing the role of women in safer fish production.
"Women have a role in all activities of fish farming, but they have no decision-making power," said Dr. Samina Luthfa, Professor in the Department of Sociology at Dhaka University. "Women have a great opportunity to contribute more to safe fisheries, but they must be given that opportunity. Women's opinion will be given importance."
More than 20 fish entrepreneurs and farmers also attended the meeting.
"In many cases, we make mistakes in selecting correct and standard fry," said fish farmer Saurabh Das. "At the end of the year, production is low in many cases. We don't really know which foods are good for fish. If someone says that this food is good or if someone sees that using a food has increased production, we use that."
"But I don't know if it is safe or not. If the relevant authorities play an important role in this matter, we will get safe fish food and fish," he said.
According to Saidur Rahman, the project's purpose is to understand current food safety knowledge among producers and consumers, especially for safe fish and chicken production, marketing and consumption, their attitude towards food safety, and the level of practicing it in real life. Accordingly, the project will offer trainings and workshops and will encourage government stakeholders to formulate effective policies for implementation of food safety practices.
In addition, the project is producing pangas, tilapia, and roe fish using safer fish feed and best management practices. Researchers will also assess consumer demand or how much consumers are willing to pay to obtain fish produced using safer management practices, compared to conventional practices, through an experimental auction process. Results will be shared with policy makers to inform actions to promote safer fish farming.
Saidur Rahman said that to achieve this objective, the researchers associated with the project have cultivated tilapia and pangas in two ponds in Phulpur, Mymensingh, and cotton fish in one pond in Muktagacha using safer management practices. The feed is prepared through a local feed manufacturing facility as per the advice of fish scientists where no antibiotics, hormones, growth promoters or any feed additives are used.
The event was organized to showcase and publicize the project's activities to individuals who can play an effective role in policy making as well as fish farmers interested in learning about safer fish production.
---