Providing timely information is essential, especially following a crisis
Denise Derrer was at home in March 2012. Like any other Friday night, she was unloading the dishwasher and cooking dinner when the phone rang. This time the call was not a drill. Derrer's counterpart from the Indiana Department of Homeland Security informed her there was a tornado outbreak near Henryville, Indiana.
"Hey, we are activating, this is bad," Derrer said as she recalled the phone call. State workers are activated to respond to emergencies when lives are in danger or damage is significant. Derrer didn't get much sleep that night because she had to be at the state joint information center in Indianapolis by 6 the next morning.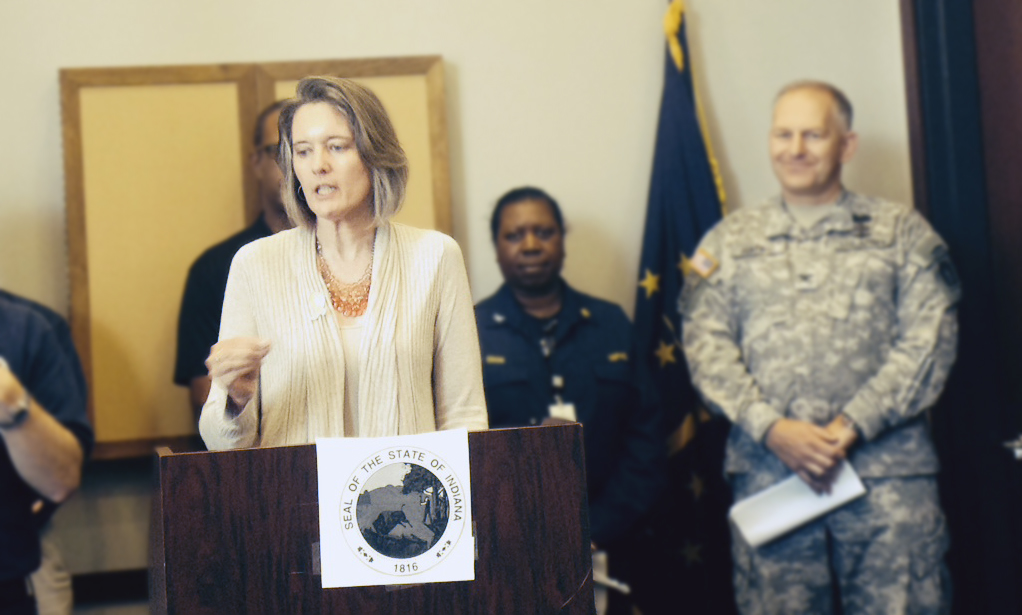 Representing the interests of children in court
By Amanda Lee Prough
Denise Derrer doesn't just help people for her career, she also helps them in her community. One way she does this is by volunteering as a court-appointed special advocate (CASA) for two girls. A CASA is assigned by a judge, and their role is to represent the interests of foster children in court proceedings.
Derrer has been ensuring that the court recognizes the girls' needs for three years.
"It's something anybody can do," Derrer said. "I kind of picked it up. Both my kids are off to college, it was kind of a way to redirect my maternal instincts."
Derrer was, and continues to serve, as the public information director for the Indiana State Board of Animal Health (BOAH). The Henryville tornado response is just one of the many crises Derrer (B.S., Agricultural Communication and Agricultural Sales and Marketing, 1990, and 2020 ASEC Distinguished Alumnus), has helped manage during her career.
After the tornado outbreak, Derrer worked 12- to 16-hour shifts for two weeks. She said she was often the first one in the room and the last one out. Derrer's long days show her dedication to her profession and, by extension, the people of Indiana.
"What I love about this job is there's enough consistency in what I do that you can really hone your skills, but there is enough variety that it keeps it interesting," Derrer said. "You never know what's going to happen one week to the next."
When she isn't responding to natural disasters and crises, Derrer's day-to-day work at BOAH is to communicate with farmers and the public about animal health and food safety programs. But when a crisis like the Henryville tornadoes strike, Derrer broadens her mission to ensure communities get the information they need to overcome disasters. She is an instructor for public information officer disaster training for the Indiana Department of Homeland Security and regularly participates in mock disaster exercises.
"What I focus on is the communications area," Derrer said. "Sometimes it can get forgotten, because we aren't pulling people out of burning buildings. But there's a lot that can be done. Effective, timely communication can make situations better or prevent them from getting worse."
Sometimes, effective communication requires her to improvise. After the Henryville tornadoes, Derrer explained that nobody had the time (or power) to turn on their TVs or receive messages via radio. With cell towers knocked out, even phones weren't reliable, so Derrer and the public affairs team devised a plan to tape newsletters to doors inside hardware stores and other local businesses.
These newsletters provided the community with information about how to obtain government assistance and much-needed supplies such as tarps, water, and food in places they would be going to buy supplies to fix their damaged homes and barns.
The team's innovative and quick thinking after Henryville caught the attention of the Federal Emergency Management Agency (FEMA). For their efforts, FEMA presented a national award to the state of Indiana for their innovative response.
Since that happened, the Henryville crisis really affected the way Derrer and her counterparts think about handling crisis situations such as floods, tornadoes, and disease.
"It's been really fulfilling," Derrer said. "There's a lot variety, I feel I've had a lot of opportunities in this job that I wouldn't have had otherwise."