2021 ASEC Distinguished Alumnus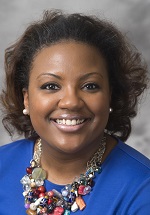 Brittini R. Brown
Building solid relationships form the foundations for mentoring
by: Cameron Matthews
When you hear a title like Assistant Vice President of Student Affairs at the University of Maryland-Baltimore County, you probably picture a formal administrator in a business suit who rarely interacts with real students. But Brittini Brown acts and looks quite different.
"I try to be approachable on Friday and Saturday nights when we have events for students," said Brown (Ph.D., Youth Development and Agricultural Education, 2016). "You can find me here walking around with my puppy in some sneakers and a UMBC T-shirt."
During these interactions, students aren't greeting a high-ranking administrator, they are just meeting an adult with a cute puppy.
"Students are like, 'Can I pet your dog?' I'm like 'You absolutely can,'" Brown said. "When I tell them who I am, they're like 'Oh man.' And I hope the connection I make is that 'Oh, she is an assistant vice president' and also 'If I have problem, I can walk into her office.'"
Brown takes pride in making students feel at home on campus and getting to know them. It's one of the reasons she was named a 2021 Purdue ASEC Distinguished Alumnus in October. Brown is always eager to share examples of times she helped students succeed. Like the time a student said that the UMBC events helped him feel like he was part of the UMBC family.
"I remember him saying that and getting chills," Brown said. "That is what we do in the division of student affairs, but that is what we should doing in all departments and colleges."
For Brown, the work is all about the students and making them feel comfortable. But she never takes credit for the work herself. Brown insisted that helping students is a group accomplishment, not her own.
One of those accomplishments is UMBC's development program, STRiVE. During a retreat, Brown said students spent time in pods, which allowed her to foster strong relationships with students. They got to know her as someone other than "Dr. Brown."
"I'm a girl from a really small, tiny town in Arkansas who has had some great mentors along the way, some great opportunities along the way, and had some people really pour into me, which has helped me get to where I am today," Brown said.
And she shared those insights with her students. While Brown guides college students, she did not begin her educational journey with that goal.
She enrolled at University of Arkansas at Pine Bluff (UAPB) with the goal of becoming a medical doctor. It did not take her long to realize that she wanted to help students after seeing some of her mentors and professors.
"I watched them totally reshape students by tapping into their potential and coaching them," Brown said.
Those students were completely transformed, and Brown said she wanted to be someone who could mentor students like that. After earning a master's degree, she began working for the USDA. She became director for the USDA 1890 National Scholars Program. The program awards scholarships to students to attend an 1890 Historically Black Land-Grant University. Brown said the program helped her be able to attend UAPB.
But Brown never lost sight of her end goal, so she came to Purdue University for a doctorate in youth development and agricultural education. This, she said, allowed her to finally reach her goal of being able to mentor students and make sure they feel at home during the higher education process all while maintain ties to agriculture which she loves.
2021 ASEC Distinguished Alumnus Brittini R. Brown
Ph.D., Youth Development and Agricultural Education, 2016
University of Maryland, Baltimore County
Dr. Brittini R. Brown is the Assistant Vice President for Student Affairs at the University of Maryland, Baltimore County. In this role, she provides leadership and guidance to multiple areas, including Campus Life, the Center for Democracy and Civic Life, Off-Campus Student Services, Assessment and Research, and Student Affairs Technology. Dr. Brown also serves as a member of the Dean's Advisory Council for Purdue Agriculture and as a Center Affiliate for the Center for Minority Serving Institutions at Rutgers University.
Prior to joining UMBC, Dr. Brown was the Coordinator for Strategic Planning, Partnership, and Development for Mentoring@Purdue. She also has prior experience with the U.S. Department of Agriculture, serving as a program analyst for the Food Safety and Inspection Service as well as the Interim Director for the USDA/1890 National Program.
Dr. Brown's work has been featured in MSIs Unplugged, Diverse Issues in Higher Education, and the American Council on Education Blog. She has also presented her research at national conferences hosted by the American Educational Research Association, the Association for the Study of Higher Education, the American College Health Association, NASPA, and many others. Her areas of expertise and interest include Student Life and Engagement, Student Affairs Assessment, Mentoring and STEM Identity, and Student Retention and Graduation.
Brown is a native of Augusta, Arkansas, and a proud graduate of the University of Arkansas at Pine Bluff, where she earned her bachelor of science degree in Regulatory Science with a concentration in Industrial Health and Safety. She also holds a master of science degree in Industrial and Agricultural Technology from Iowa State University. In her spare time, Brown enjoys CrossFit and her two newest hobbies: golf and gardening.