Greetings from Purdue Agricultural Sciences Education and Communication Department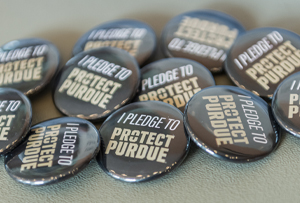 Summer 2021 COVID-19 Update
Step by step, the Purdue University community continues to move toward a greater sense of normalcy in delivering on its mission of learning, research, and student-faculty engagement during the COVID-19 pandemic.

It is hard to believe, but even during this crazy year of COVID, on Saturday May 15, a total of 5,504 Purdue undergraduate, professional and MS candidates became alumni in an outdoor commencement ceremony in Ross-Ade Stadium. As Purdue is now in summer session (with no study abroad), we continue to follow Protect Purdue protocols which are driven by the Indiana COVID-19 dashboard and map. Currently, individuals are not required to wear masks when outdoors on campus.
Until a greater share of the campus community is vaccinated against COVID-19 and has documentation of their vaccination on file with the Protect Purdue Health Center, wearing a face mask remains required indoors - including in classrooms, research and instructional laboratories, in dining halls when not eating, and the common spaces of campus buildings.
While variables associated with the COVID-19 pandemic could prompt us to modify plans, Purdue is planning on fully restoring an in-person residential experience for the fall 2021 semester, strategically re-densifying classrooms and ending routine surveillance testing requirements for the fully vaccinated. The most recent updates for summer and fall semesters are available on the Purdue COVID-19 website.
If you don't find the information you're looking for, if you have an idea you'd like to share, or you need something to help you be more productive at home, please contact us, I am very proud of our department (students, faculty, staff, and alumni) and of the work we are doing to support each other in any way possible. Take good care of your mental health and well-being as well as your physical well-being.
Stay safe and healthy, Mark Russell, Department Head.