Kriebel Herbarium Statistics
Botanical Collection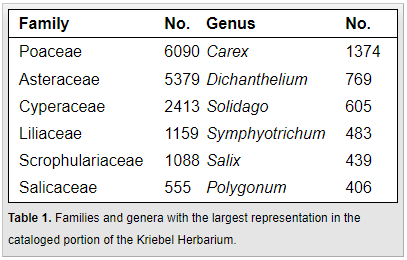 To date, more than 25% of the botanical holdings of the Kriebel Herbarium has been databased. This includes 4365 species from 1053 genera and 170 families of algae, ferns and higher plants.
Algae and Bryophytes
Over 1,300 specimens of bryophytes in the collection have been cataloged. The algae and lichen collection is made up of a few hundred specimens.
Vascular Plants
A total of 398 isotype specimens of vascular plants from the PUL were recently cataloged and imaged in 2012 as part of the Global Plants Initiative (more information here). These type specimens were part of the Eli Lilly & Co. pharmaceutical collection donated to Purdue University. There are approximately 70,000 vascular plant specimens in the PUL, and roughly half the collection is from the Great Lakes regions of the United States (i.e., Illinois, Indiana, Michigan, Minnesota, New York, Ohio, Pennsylvania, Wisconsin) and Canada (Ontario).
Collection date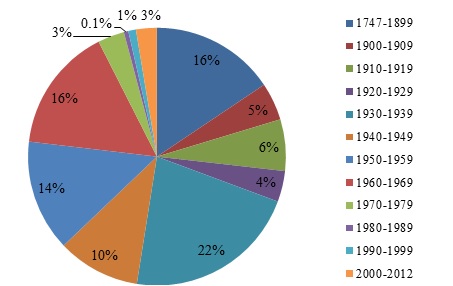 A large number of the PUL botanical specimens were collected in the 19th and 20th centuries. Based on the existing documentation about the herbarium, the majority of specimens were collected from 1930–1969 with very little activity post-1970. Information about the age of the specimens in the cataloged portion of the collection is shown in Figure 1.
Fungi
As Joseph C. Arthur wished that the holdings of the Arthur Fungarium (PUR) be restricted in perpetuity to the rust fungi, specimens of all other species of fungi are kept in the PUL. Of the approximately 2,500 cataloged fungi in the PUL, there are 1163 species distributed across 433 genera. The PUL also houses approximately 25,000 exssicati specimens.