Welcome to the graduate program information page for the Department of Horticulture and Landscape Architecture at Purdue University!
Our graduate program offers thesis-based Doctor of Philosophy (Ph.D.), Master of Science (M.S.) and Landscape Systems and Design Master of Science (M.S.) degrees. Reflecting the research interests of our faculty, graduate students in our program engage in projects that explore fundamental concepts of plant biology, applied aspects of horticulture, and landscape management. The research program in Purdue HLA is internationally recognized for its discoveries, extraordinary publication and extramural funding records, and the strong involvement of its excellent faculty in graduate student mentoring. Areas of concentration include plant molecular genetics and epigenetics, plant physiology and stress biology, plant genetics and breeding, plant cellular and developmental biology, sustainable production horticulture, bioenergy, contained environment growing, floriculture, weed science, turf management, horticultural marketing, landscape management, and horticultural social sciences.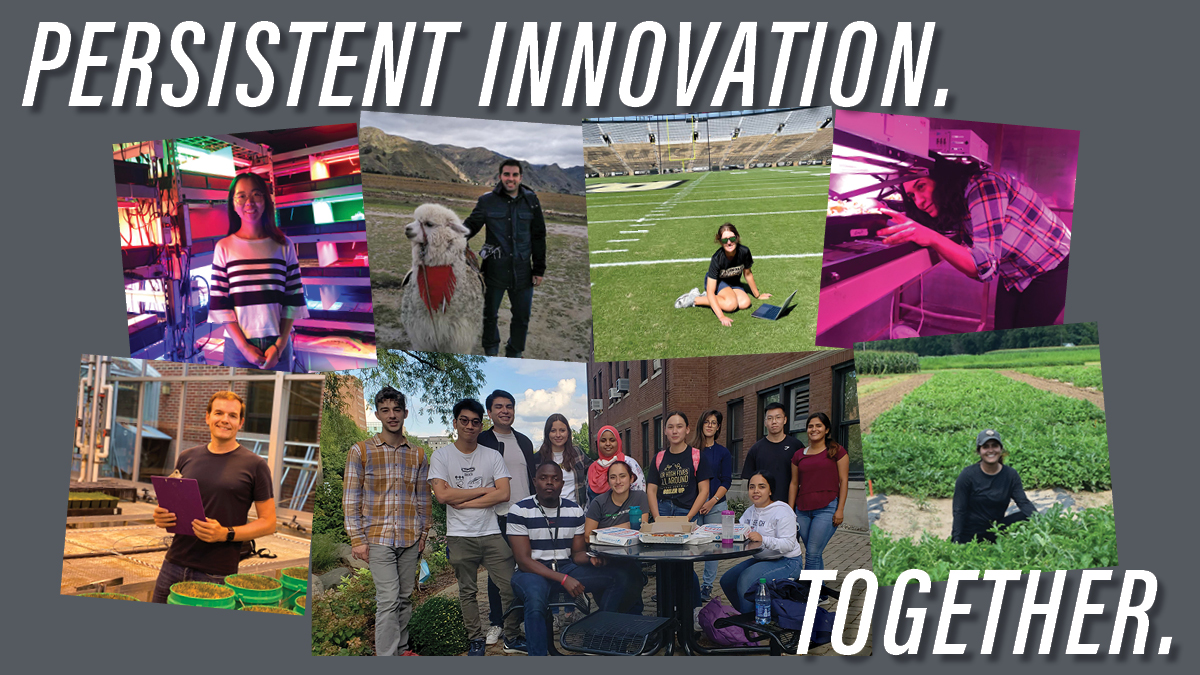 Our goal is to prepare students through scholarly study and research experiences for professional careers in basic and applied plant science, with an emphasis on improving food, fiber, fuel, ornamental crops, and landscape management. We value diversity in our graduate program, and we recognize that diversity fosters creativity, drives scholarly dialogue, and enriches all activities in our department. We also recognize the unique needs and ambitions of our students. We are therefore committed to supporting the whole graduate education experience to create an environment that promotes student success and well-being. The personal, professional, and career development of each student is the central focus of our training and mentoring. We have implemented a holistic admissions process and we intentionally look to identify opportunities, programs, and initiatives that support students. Students participate in designing their thesis research and in the implementation of their course curriculum with plans of study tailored around each student's needs, interests, and future career goals. HLA graduate students are encouraged to participate in a wide range of professional development offerings at Purdue and to be involved with departmental, college, and university-level organizations. HLA has a vibrant and welcoming graduate student association which provides incoming students an opportunity to connect with peers. Students are also able to expand their professional networks outside the university through interactions with seminar speakers, research collaborators, and colleagues at professional society meetings. We actively celebrate and promote the scholarly achievements of our students through a variety of platforms to increase their visibility in the department, university, and larger scientific community.
Faculty in the program conduct extramurally-funded research on such topics as:
Controlled environment agriculture
Horticultural Economics and Marketing
Specialty crop production
Landscape Systems and Design
Plant breeding and genome engineering
Plant secondary metabolism
Improvement of postharvest fruit quality
Plant mineral nutrition
Mineral nutrient utilization from cellular to global scales
Postharvest physiology
Plant cell cycle regulation
Plant epigenetics
Plant interactions with soil microbial communities
Regulation of plant architecture and reproduction
Sustainable biofuel production
Turf grass science
Stress tolerance in crop plants
Water utilization and stress responses
Weed science in specialty crops and technology
Graduate Handbook - Rules and Regulations Visit Purdue
Graduate Curriculum
Students enter the graduate program with different professional objectives and varying academic backgrounds. Therefore, there are few required courses and credit requirements in our M.S. and Ph.D. degree programs. However, M.S. and Ph.D. students generally take 24 or more credit hours of coursework. Students are advised to work with the advisory committee that they select to schedule coursework that will complement their research plan. Graduate programs generally include required and elective course work and seminars, written and oral examinations, and original research guided by a major professor. Graduate student research projects are generally funded by extramural grants, which usually increase the resources available to the student researcher. Participation by graduate researchers at professional society meetings is actively encouraged and financially supported by the department.
Graduate Faculty
The Department of Horticulture and Landscape Architecture has an outstanding faculty representing a broad range of disciplines within horticulture and landscape architecture. These individuals can provide training opportunities in their areas of specialization. We recommend that potential students identify particular faculty members who share their academic interests and contact these individuals directly.
Graduate Faculty in Horticulture and Area of Specialization
Research Facilities
Modern research laboratories and state-of-the-art analytical equipment are available for graduate student research in the Department of Horticulture and Landscape Architecture, which also maintains greenhouses, controlled environment facilities, and several research farms.
Graduate students have access to one of the most extensive online libraries in the world and have access to extensive bioinformatics platforms, many of which have been developed at Purdue in collaboration with members of the HLA Department.
Financial Aid
Most HLA graduate students receive financial support in the form of research and teaching assistantships, fellowships and/or other awards covering living expenses while working on their degree. These assistantships are like fellowships in that students are paid to pursue their own research projects. The assistantship provides a base salary for each fiscal year period, along with a remission of all but a portion of fees, $298.00 for fall/spring per semester and $149.00 summer session. Research assistantships may be sponsored by grants or by the department. We try to provide all graduate students with the opportunity to be a Teaching Assistant for at least one semester; students selected to be Teaching Assistants will be provided a teaching assistantship for that semester at the same rate of pay as the research assistantship.
Application Procedures
Admission criteria and selection for fellowships and assistantships is based upon several criteria. These include: the student's academic background, grade point average, letters of recommendation, relevant experience, a written statement by the applicant, answers to department-specific questions, and the availability of a major adviser in an applicant's interest area.
Applicants whose native language is not English must take the TOEFL, even if they are already in the United States when they apply. Purdue University Graduate School applicants who take the TOEFL IBT must achieve the following minimum test scores: reading 19; listening 14; speaking 18 and writing 18. As an alternative to the TOEFL, the Graduate School accepts IELTS scores of 6.5 or higher.
Students who are interested in being considered for Purdue University-wide fellowships should apply by December 1st for summer or fall admission. Applications for the HLA Graduate Program are otherwise accepted and reviewed year round with support from any member of the graduate faculty. To obtain instructions on how to apply to this program, please go to the Graduate School Application.
Contact Information
Jamie Moffatt, graduate program coordinator
Purdue University
625 Agriculture Mall Dr.
West Lafayette, IN 47907-2010
765-494-1301
(phone)
765-494-0391 (fax)
jmoffat@purdue.edu
Prof. Cary Mitchell, graduate program chair
Purdue University
625 Agriculture Mall Dr.
West Lafayette, IN 47907-2010
765-494-1347
cmitchel@purdue.edu
Dr. Josh Widhalm, graduate program chair
Purdue University
625 Agriculture Mall Dr.
West Lafayette, IN 47907-2010
765-496-3891
jwidhalm@purdue.edu
Related Web Sites
Living in Lafayette - West Lafayette
The home of Purdue University is Indiana's Lafayette-West Lafayette area. Conveniently located one hour northwest of Indianapolis and two hours southeast of Chicago, Lafayette-West Lafayette offers a small-town atmosphere with convenient and easy access to major metropolitan cities.
Purdue University
Purdue University was founded in 1869 as a land grant institution. Today, Purdue University is one of the 25 largest universities in the nation and includes four campuses across the State of Indiana.
On the West Lafayette campus, the University offers over 160 graduate programs with more than 600 research and study areas organized in 12 colleges and schools within the Graduate School. Approximately 46,000 students are enrolled at the West Lafayette campus, including over 10,000 graduate and professional students. In 2021, the College of Agriculture ranked as the #7 Agriculture program in the U.S.