William H. Daniel Turfgrass Research and Diagnostic Center
About the Center
Welcome to the W.H. Daniel Turf Research and Diagnostic Center. The mission of the Daniel Turf Center is to serve as a hub for turfgrass research, education, and public outreach. 
The center was named to honor the lasting legacy of William H. Daniel, who was heavily involved in all aspects of turf education and research as Purdue's first turf professor and was honored by scientific societies, foundations, associations, and the Governor of Indiana for his career efforts. 
As headquarters for one of the top turf science programs in the country, the Daniel Turf Center serves as a hub for turf research, education, and public outreach. This facility is home to an interdisciplinary team of scientists and educators who conduct over 100 experiments annually while also training over 4,000 practitioners to foster sustainability within the turf science industry. 
There are many social, economic, and environmental benefits from turf. These benefits are increased through proper use and timing of cultural, biological, and chemical inputs to maintain high quality turf. The Purdue Turf Program leads research and extension projects centered around these best management practices. Projects at this farm focus on turf species and cultivar studies, management trials involving pesticide and biopesticide applications, nutrient cycling and management, drought survival, as well as weed, insect, and disease biology and control. The interdisciplinary collaboration of faculty within the turf program is what helps them more effectively serve the public and the turfgrass industry at large. A principal goal of our multidisciplinary program is to enhance the sustainability of managed turfgrass ecosystems. We develop novel strategies to maintain resilient turf to provide functional, social, and aesthetic benefits while also reducing the environmental footprint from inputs. 
This facility, which is financially supported in part by the Midwest Regional Turf Foundation (MRTF), has provided the Purdue Turf Program an opportunity to expand its national and international  research, Extension, and teaching impact.
Visitors to the facility will see 100's of turfgrass varieties of at least 10 different species and research plots managed as golf course putting greens, fairways, lawns, and sports fields. Guided tours can be scheduled via appointment through the Horticulture and Landscape Architecture Department.
Visit http://turf.purdue.edu​ for more information about our Turf Management and Science​ program.
W. H. DANIEL TURFGRASS RESEARCH & DIAGNOSTIC CENTER EXPANSION PROJECT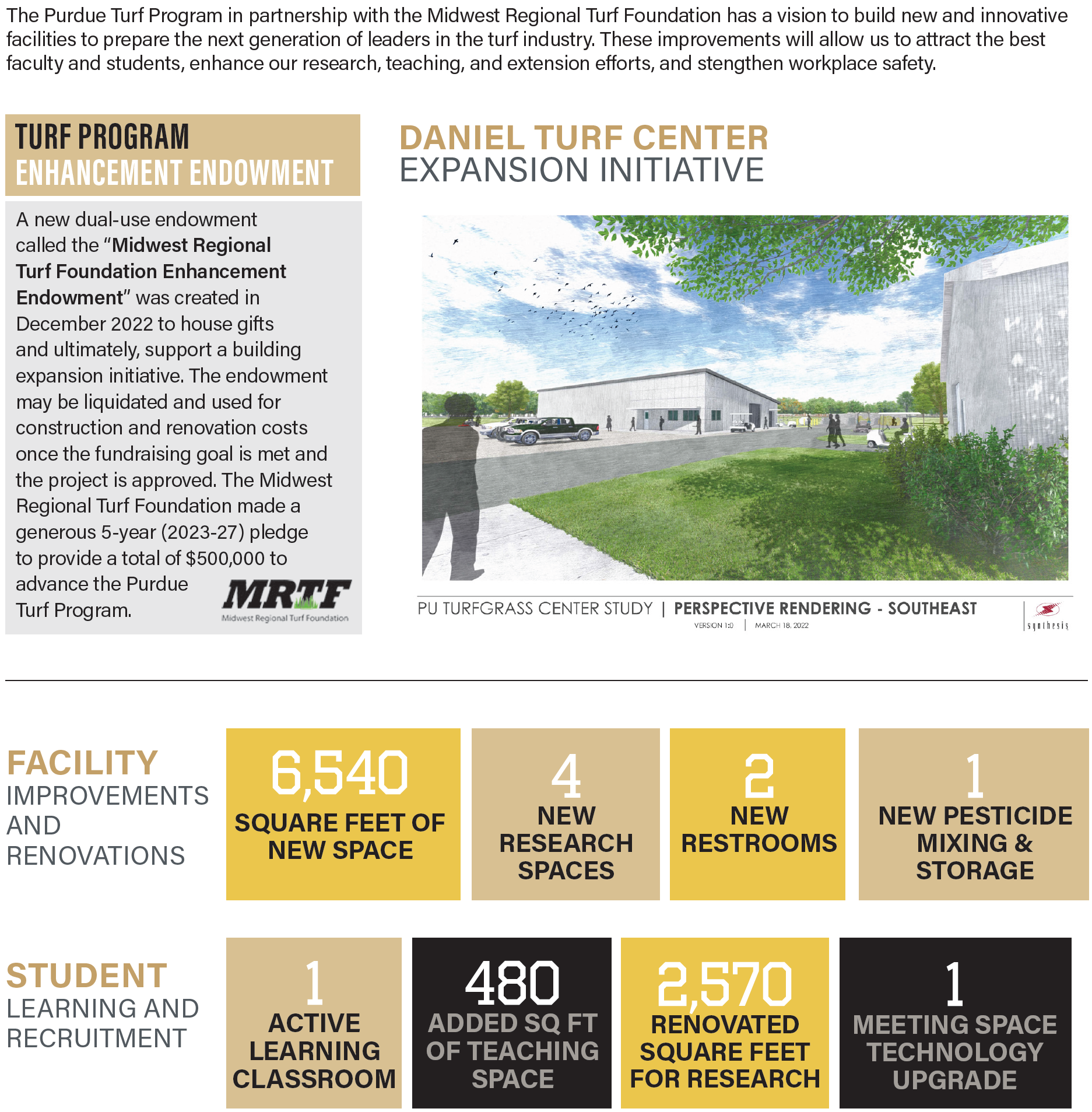 Visit MRTF for more information about the Daniel Turf Center Expansion Initiative.