Jules Janick Horticulture Garden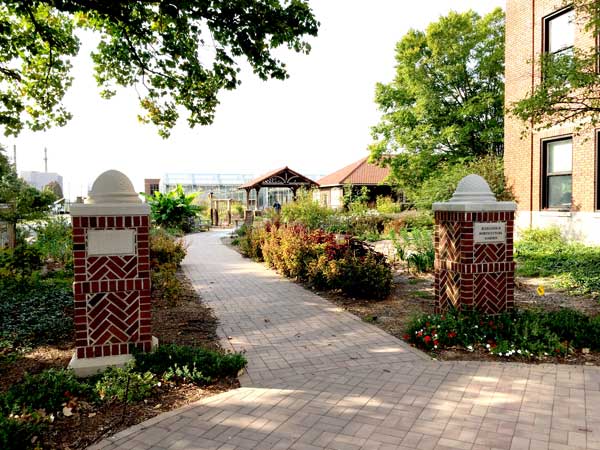 On August 23, 2019, following an extensive re-construction of walkways, seating, boundary screens and plant collection, the teaching garden of the Department of Horticulture and Landscape Architecture was dedicated as the Jules Janick Horticulture Garden. Dr. Janick, one of the longest-tenured faculty members at Purdue, was the lead donor for the garden project. Other major contributors were the Amy P. Goldman Foundation, Wild Birds Unlimited, Belgard, Perennials Plus, Robert & Joan Lohrey, SiteOne, Rain Bird, Listerman & Assoc., Spence Nursery and Rose Pest Solutions. Numerous alumni and faculty, both emeritas and current, donated benches.
The central structural element of the garden, the E.C. Stevenson Pavilion, a gift from family and friends of Dr. Stevenson, was retained and enhanced with new casual seating. The pavilion is dedicated to the memory of the Head of the Horticulture Department from 1958-1967. During his tenure "Steve" took the department to new heights of recognition and oversaw the formation of the Landscape Architecture Program. Coincidentally, Dr. Stevenson was Dr. Janick's major professor for his PhD degree research.
Established in 1982, the Jules Janick Horticulture Garden is one of the most visually appealing landscapes on campus. Located along Marstellar
Street, adjacent to the Horticulture Building, the garden is home to hundreds of ornamental plants. In its re-incarnation as the Janick Garden, the plant collection has a heavy emphasis on herbaceous perennials, with just enough annuals to provide growing season-long color and woody plants to provide "strong bones." In its role as a horticultural teaching laboratory, this half acre living classroom maximizes plant diversity and offers learning opportunities for students from many other programs such as botany, plant pathology, entomology, veterinary medicine, and even the visual arts. Different types of soil and many small microclimates provide the garden with an ability to nurture and grow plants otherwise not found in the area. Visitors will be impressed by the tranquility and ever-changing hue of the flowers and plants each time they stroll through the garden. The public is always welcome in the Janick Garden. The benches scattered throughout the garden and the pavilion chairs can seat over 50 people. The Stevenson Pavilion (20 chairs, 4 tables) may only be reserved by Purdue University groups for official activities.