11th
 

Annual Martin Luther King Jr. Diversity Awareness Week
Exploring Environmental Justice | January 17-21, 2022
All events will be
virtual from 12:00-1:00pm
, except for the Day of Service.  
This year the College of Agriculture and College of Health and Human Sciences are partnering with the
LTHC Homeless Services
 If you choose to donate to the LTHC Homeless Services, please write "MLK Jr. Week" in the comments.   
Share these events with anyone who may be interested by using purdue.ag/mlk and #PurdueAgMLK #PurdueHHSMLK 


Contact Carmen Morrow
morrow23@purdue.edu
 if you require accommodations to attend any of the events.
Events
Monday, January 17:  MLK Day of Service 
Annual Day of Service for Purdue students, faculty and staff to connect with the community and provide support to new and ongoing service projects.  
Environmental Justice Kick-off Keynote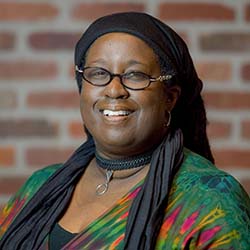 This MLK Jr. Week kick-off keynote features Jacqueline Patterson, the Founder and Executive Director of the Chisholm Legacy Project: A Resource Hub for Black Frontline Climate Justice Leadership.   Most recently, Jacqueline Patterson, MSW, MPH, served for 11 years as the Senior Director of Environmental and Climate Justice at the NAACP. Patterson has worked on gender justice, racial justice, economic justice, and environmental justice, with organizations including Center on Budget and Policy Priorities, IMA World Health, United for a Fair Economy, ActionAid, Health GAP, and the organization she co-founded, Women of Color United.  She serves on the Boards of Directors for the Institute of the Black World, the American Society of Adaptation Professionals, Greenpeace, National Black Workers Center Project, Bill Anderson Fund and the Advisory Boards for the Center for Earth Ethics and the Hive Fund.
Abstract: The climate crisis is a threat multiplier for racial justice and racial injustice is a threat multiplier for the climate crisis. Though we increasingly see the effects of the climate crisis creeping across society, the most damning evidence is purposefully hidden in the neighborhoods, backyards, and bodies of Black people worldwide. Climate change cannot be combatted without addressing the issue of racial justice and civil rights. We can only honor and uphold Dr. Martin Luther King's legacy by creating a society that is regenerative and cooperative, and thus protective of our earth and her inhabitants. Only then can we truly declare "liberty and justice for all."
Environmental Justice and Public Health
This event features a presentation on the topic of environmental justice and public health by Ellen Wells, Associate Professor of Environmental & Occupational Health Sciences in Purdue's College of Health and Human Sciences.  
Climate Justice Issues in the Midwest
Does climate change have its worst effects on already vulnerable populations? How can we protect these populations as society and our climate continue to change?  Come hear a cross-section of perspectives on climate justice issues affecting urban and rural communities, Midwestern and international communities, acting through local and large-scale systems.  Join us to think about how we can address these challenges before they get worse.
This event will have a faculty panel discussion led by 
Dr. Brady Hardiman (Professor, FNR) with panelists Dr. Mayra Rodríguez-González (recent FNR PhD graduate, currently a postdoctoral fellow at the University of Vermont), Dr. Ben Rachunok (recent ME PhD graduate, currently a postdoc at Stanford), and Savannah Schulze (PhD candidate, Anthropology). This panel was 
organized by Jeff Dukes, 
P
rofessor of Forestry and Natural Resources & Biological Sciences, Director of Purdue Climate Change Research Center, and Belcher Chair for Environmental Sustainability.
Friday, January 21: Community Partnerships working towards Environmental Justice
This event will have a panel of local leaders from community centers explain their center and how it relates to health, education, and well being in cases in which resources are limited.  The panel will be moderated by Becca Nixon,  a post-doctoral research with Zhao Ma, a professor of natural resource social science in the Department of Forestry and Natural Resources.
Panel will include representatives from: