Inez Z. Ponce de Leon, (Ph.D., Focus on Science and Risk Communication, 2011) is an associate professor at the Department of Communication at the Ateneo de Manila University in Quezon City, Philippines.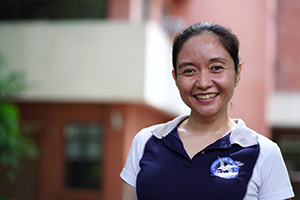 She specializes in science and risk communication and teaches courses in qualitative communication research methods, undergraduate thesis, and science and risk communication. Her research centers around the public understanding of risk, community responses to natural hazards, climate change communication, and constructs of nationalism in online discourse. Her research has won awards, including the Avellana Professorial Chair for Communication and the School of Social Science's Outstanding Scholarly Work Award. Her students also have won national awards for their work in journalism research and projects.
Dr. Ponce de Leon is a consultant on agricultural biotechnology communication, a public speaker for topics such as science communication and research-based communication work, and a resource person for journalists working on science, agriculture, and natural hazard stories. She also is a weekly columnist for the Philippine Daily Inquirer, the Philippines most-widely circulated English-language newspaper.