The Complete Book Of Pesticide Management
An exhaustive, definitive guide to the past, present and future of pesticide management.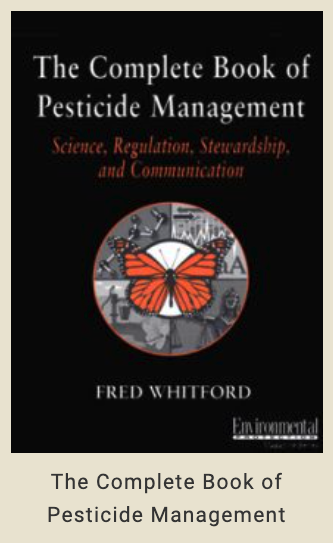 Pesticides provide myriad benefits but present a variety of risks. However, with definitive policies and requirements for pesticide review before a product enters the marketplace, clear and precise labeling and good consumer education, pesticides can play an important role in maintaining the quality of life we enjoy. "The Complete Book of Pesticide Management" describes the step-by-step process by which industry and the U.S. Environmental Protection Agency reach a consensus on the relative risk that pesticides pose to people, wildlife and water.
While most books only skim the risk assessment process or are too technical for practical application, "The Complete Book of Pesticide Management" is technically sound yet easy to understand. Fred Whitford's authoritative text links scientific information developed from pesticide testing programs with the safety and precautionary language commonly found on product labels. It describes how to communicate pesticide benefits and risks to the public and provides information on how to select pesticides and protect the professionals handling these chemicals. Risk assessment and risk communication are emphasized throughout.
CONTENTS INCLUDE:
The Evolution of Pesticide Regulations: The Shift from Benefits to Risks
Epidemiology: Validating Human Risk Assessments
Pesticide Labels: The Convergence of Science, Public Policy and User Responsibility
Environmental Site Assessments: Managing the Facility Against Contamination
Planning for Emergencies: Preventing and Reacting to Emergencies in the Workplace
Educating the Community and the Workforce About Hazardous Chemicals
Engineers, scientists, toxicologists, industrial hygienists and Extension and commercial application industry professionals, as well as students of these fields, will find "The Complete Book of Pesticide Management" to be an indispensable resource.
WHERE TO PURCHASE THIS BOOK
If you have any questions, please contact Fred Whitford at fwhitford@purdue.edu or call 765-494-1284.