​Animal Sciences Peer Advisors
Who are we? A group of upperclassmen Animal Sciences students who want to help YOU navigate your transition to Purdue!
Who's eligible to meet with peer advisors? Any student majoring in Animal Sciences can meet with a peer advisor, but our program focuses primarily on helping students transition to life at Purdue. For example, peer advisors can help in areas such as study skills, time management, organization, getting involved, and more.
Program Mission: Through collaboration with students, faculty, staff, departments, and administration, the mission of the Animal Sciences Peer Advising program is to connect students to campus resources that will promote academic success, personal and career development, and will enrich their undergraduate education at Purdue.
3 Ways to Connect With Us: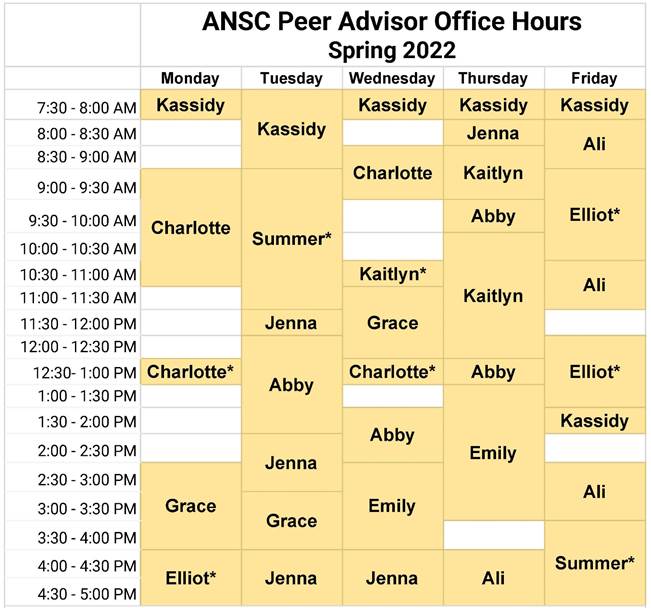 Meet the Peer Advisors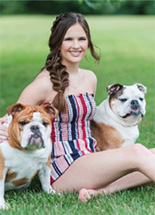 Abby
Class of 2024
Advice to Students:
 Make sure you allow yourself time to take care of yourself. As a previous freshman, I know how time consuming and stressful school is, but taking care of your mental and physical health is very important.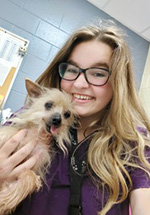 Alli
Class of 2023
Advice to Students:
 Leave plenty of time in your schedule so you'll still have time for hobbies, a social life, or a nap 😊
Charlotte
Class of 2022
Advice to Students:
 Attend a club fair or search on Boilerlink to find clubs that interest you and attend numerous call outs, then pick 1-3 clubs you really enjoyed and stick with them!
Elliot
Class of 2022
Advice to Students:
 Use college not only to grow yourself as a student and a future college graduate, but also as a person, both in your interests and in your approach to life. College helped me develop from a high school kid to an adult, and I think it's important to approach college not as a continuation of high school, but rather as the beginning of your adult life.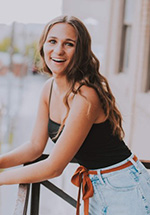 Emily
Class of 2024
Advice to Students:
 Always make time for yourself in your schedule. Find something you love to do that will help you destress throughout busy weeks.
Grace
Class of 2023
Advice to Students: Be open to any new opportunity and challenge that comes your way. You never know when what seems like a detour may be the path you were meant to take all along.
Jenna
Class of 2024
Advice to Students:
 Push yourselves outside of your comfort zones and join an activity that you previously would have never joined. If does work out great, but if it's not a good fit for you, it is okay and you can try something else.
Kaitlyn
Class of 2022
Advice to Students:
 Try studying in different locations around campus! Purdue has lots of wonderful study spots and sometimes a change of location can make you more productive.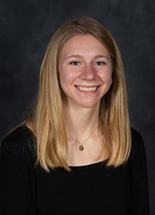 Kassidy
Class of 2023
Advice to Students:
 Come to Purdue with an open mind. There are so many opportunities here on campus to learn about areas you already are familiar with and so much more. Don't be afraid to put yourself out there and try something new!
Summer
Class of 2023
Advice to Students:
 Do not be afraid to ask for help. Ask questions and understand the material before you start falling behind in your classes. No one will think of you any different for getting help.
CONNECT WITH US
There are 3 ways to connect with us -