Graduate Spotlight: -- Bryanna Nelson
THE STUDENT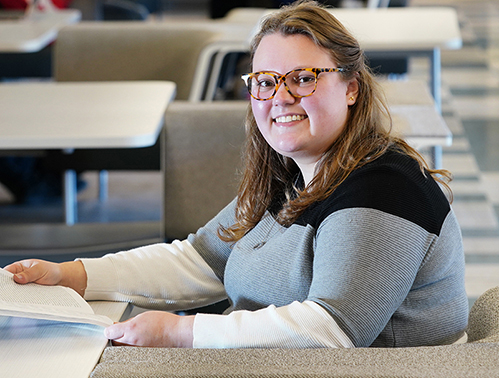 Growing up in Chicago City, Minnesota, Bryanna Nelson had too much enthusiasm for too many things to narrow her academic focus. She loved school and learning, and being outdoors. In a high school agriculture class, Nelson discovered a field "that took all my personal interests and combined them into one." The realization took her to the University of Wisconsin-River Falls, where she earned a BS in Agricultural Education. As a McNair Scholar, the first-generation college student was part of a federal initiative to increase attainment of PhD degrees by students from underrepresented segments of society. She applied to several graduate programs but after a campus tour, "I knew Purdue would be my new home," she says. "I felt like I belonged here. It was how much people seemed to genuinely care about where I was going." After earning an MS in Agricultural Sciences Education and Communication (ASEC) in May 2020, Nelson began doctoral work with Hui-Hui Wang, assistant professor of ASEC. "I intended to do both degrees from the start," Nelson says. "My advisor and the colleagues I work with are irreplaceable." Nelson is a graduate research assistant on a USDA-NIFA Agriculture and Food Research Initiative, Professional Development for Agricultural Literacy grant. Wang and Neil Knobloch, professor of ASEC, co-direct the project, Industry-driven Integrated STEM and Systems Approach to Innovative Incubation (IN-VISION).
THE RESEARCH
Nelson's research brings together interdisciplinary STEM teacher teams to work collaboratively on challenges in food science and safety, agricultural robotics or hydroponics. She studies six high schools - two each in the southern, central and northern regions of Indiana - that vary in urban and rural settings and in the composition of the STEM teams. Combining the STEM disciplines and agriculture simulates private industry, Nelson notes. "Our goal is to have them learn these real-world challenges in a holistic and real-world way. They showcase their projects at the end of the year, and it's been exciting to see how hard they've worked."
OPPORTUNITIES
Nelson values the connections she has made with fellow graduate students and faculty by serving as her department's graduate student representative, and she also participates in the Mentoring@Purdue program. "My advisor has supported me in any endeavor that I wanted to do," she says - from workshops and conferences, to learning to develop and write a national competitive grant.
FUTURE PLANS
With two to two-and-a-half years of doctoral study ahead, Nelson's plans remain fluid. However, she sees herself doing social science research in academia or with a governmental agency. "I'm interested in how people interact with the environment around them," she explains. In her spare time, Nelson coaxes an impressive tomato harvest from her container garden. She still likes hiking and spending time outside, but enjoys it now with new companion - a miniature poodle named Eddy.