International Opportunities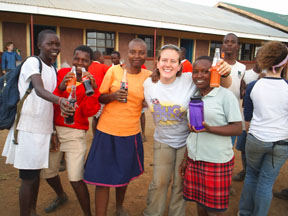 Study abroad can be of any length, and with proper advanced planning, will not interfere with graduation goals. Students can study abroad for one week (spring break), one month (Maymester), a summer, a semester or an entire academic year. Students often start out with a shorter experience for their first time abroad, then move on to a longer experience later. Command of a foreign language is not required; many programs are offered in English. Depending on the type of program, financial aid and scholarships are often available. Many semester programs abroad cost the same or less than a student would spend studying in residence at Purdue. Study abroad is one way students can satisfy the nine-credit international understanding requirement. Students considering a study abroad experience should consult with their advisor early in their program of study.
Biochemistry students have the opportunity to participate in a summer research exchange program with Heinrich Heine University in Dusseldorf, Germany.

Biochemistry senior Alexis Zobel describes her study abroad experiences in this YouTube video. 
The Biochemistry Department encourages all students to explore opportunities for study, work and volunteerism abroad.​ 
Students have opportunities to participate in many types of volunteer programs in other countries. Some student organizations do medical and other humanitarian missions abroad. Some examples of groups that Biochemistry students have been involved with are listed below.