Spatial data analysis lab

The Spatial Data Analysis Laboratory (FORS 206) is to promote applications of Geographic Information Systems (GIS), Global Positioning Systems (GPS), Remote Sensing, and Modeling/Computer Simulations in sustainable management of natural resources.
Graduate students and other researchers from the department share this lab to accomplish their research projects while sharing spatial experience and expertise. This lab also functions as a supporting source for other people who want to use spatial technology in their research, teaching, and outreach activities.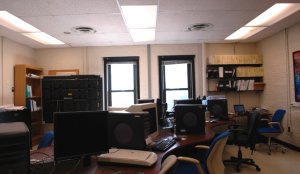 The Spatial Lab is equipped with six PC workstations. There are varied sizes of monitors for examining different remote sensing data. In addition to some traditional equipment, such as digitizer tablet and optical scanner, the spatial lab keeps upgrading frequently used equipment, such as color laser printer and Inkjet plotter, Some other equipment includes handhold GPS, differential GPS, laser hypsometers, laser rangefinders, and optical stereoscopes.
To assist spatial education and training, the department has furnished a spatial teaching lab (PFEN 212) equipped with 16 PC workstations, color laser printer and Inkjet plotter. All these computers are networked and have direct access to ArcGIS, Erdas Imagine, ENVI, and MultiSpec. The Spatial Lab is neighbored with the Human-Environment Modeling and Analysis Lab. Students and researchers from the two labs can freely access to each other's facilities through a gateway between the labs.
---
Research faculty
additional lab information
---
Lab Manager & More About Our Research