Cunningham Forest
Acquired by Purdue FNR in 1936, the Cunningham family wished for the property to be used for "research, demonstration, and experimental work in the fields of Forestry and Horticulture". The property served as the primary teaching, extension, and research forest for FNR until the 1958 purchase of Shidler Forest (Martell forest) and Baker Tract (PWA). The southern 40 acres were dominated by oaks (mostly white and bur) while the north forty was row cropped. FNR quickly reforested the north creating the close to 30 acres of pine forest unique in the area.
---
Property Statistics
Acquisition date: 1936
Total acres: 80
Water feature: small pond and county ditch running through south 40 acres
FNR staff/students live in the house on the property.
---
Unique Features
Large old white oak and bur oaks.
Pine stands of various species and densities.
Unique species planted between original hardwoods and "north field"
Paw paw grows very dense in portions of the woods.
Tornado in 1953 flattened portions of southwest hardwoods.
---
Management Plan
---
Historic Plot Information and Reports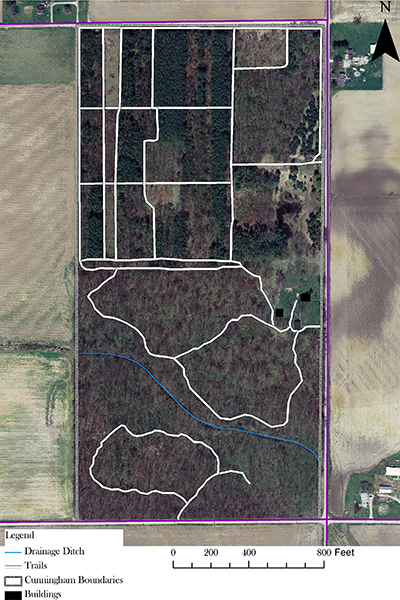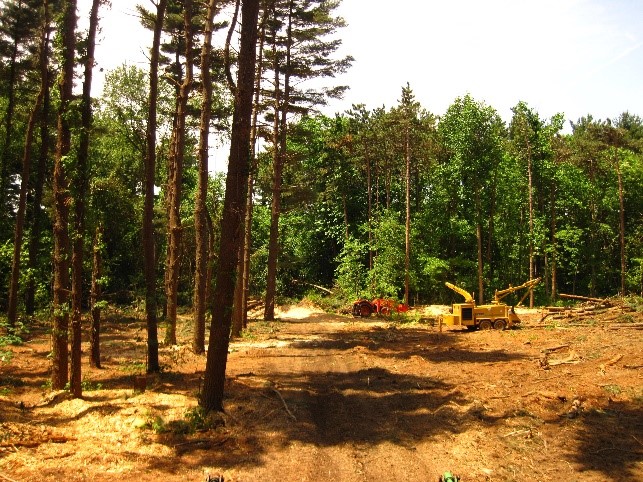 ---
Research
Recent research includes:
Dr. Catherine Searle, Department of Biology: Distribution of amphibians and reptile populations across IN and prevalence of the pathogen chytrid fungus, Batrachochytrium dendrobatidis.
Dr. Matthew Ginzel, Department of Entomology: Insect trap studies focused on ambrosia and long-horned beetles.
Dr. Douglass Jacobs, FNR: Conversion of pines to native hardwoods.
---
Recent Extension Events
Farlee: Wednesday in the Wild: Forest management, plantations, and wildlife.
Farlee: Forest landowner event to learn about forest management and invasive species.
Farlee: Natural Resources Teacher Institutes 5 year Reunion-tour of property.
Location used for IN Division of Forestry - FNR landowner video footage.
---
Visitors
Please contact manager prior to visiting the property
No collecting of plant materials
MAPS, PROPERTY MANAGER & MORE ABOUT OUR RESEARCH