McCormick Woods

McCormick Woods, located on the edge of campus, provides a field instructional laboratory and recreation area. Small scale research from different departments occasionally occur there. The forest is aesthetically pleasing with the towering oaks and walnuts with shade tolerate species like sugar maple dominating the understory.
Acquisition date: 1947
---
Property Features
38 acres of mature central hardwoods
Small stream on eastern extent lending to a little topography
Water ditch cutting property roughly in half
Trail system covering 2.9 miles
Total acres: 40


---
Unique Features
Pockets of "wet" woods where Swamp White oak and button Bush grow.
Spicebush also dominates in the wetter sections.
Examples of large, forest grown oaks and walnuts.
---
Research
Forest Dynamics over Time
Soundscape sound recorder
Beetle Surveys
FNR managers: Dr. Pijanowski & Dr. Holland
---
Trails
2.9 miles of trails are maintained by the Hoosier Mountain Bik Association (HMBA) who work closely with FNR staff to ensure trails have good upkeep. Trails consist of an outer loop and 2 inner loops. See MAP for details. These trails are heavily used by both walkers, runners, and bikers.
---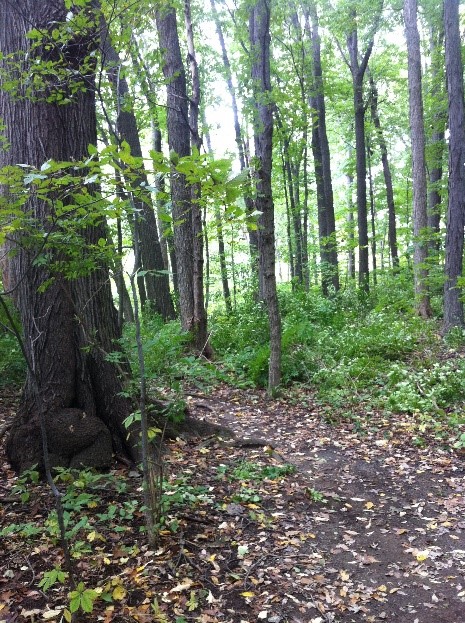 Visiting the Property
Parking on the northside only. Limited space available.
To maintain trails and future public access:
Open all year to foot traffic
No motor vehicles
No horses
Dogs must be on a leash at all times
Carry out any trash
Bikers rules and conditions:
Helmets required
No riding Nov.1 to Mar.31
No riding when trails are wet
No constructing jumps
Stay on established trails
Please inform management of trees across trail.
---
Invasive Plant Species
Non-native invasive plant species such as bush honeysuckle, privet, and multiflora rose have been invading our forests at alarming rates causing suppression or loss of native species and reduce forest regeneration. Purdue students are helping remove these plants in this forest allowing native species to populate the forest floor.
For more info on invasive plant: EDDmapS
Thanks to the Purdue student chapters:
Society of American Foresters
American Fisheries Society
The Wildlife Society
Funding provided by Department of Forestry and Natural Resources.
Maps, PROPERTY Manager & MORE ABOUT OUR RESEARCH