Directory
Office of Academic Programs Leadership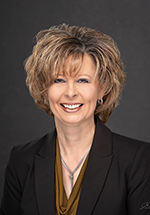 Dr. Christine A. Wilson
Senior Associate Dean / Director of Academic Programs
765.494.8472
Dr. Christine Wilson earned her B.S., M.S., and Ph.D. from Kansas State University studying Agricultural Economics, and has since gained a national reputation for her commitment to students, teaching and advising. Dr. Wilson's teaching career has included classes in agricultural finance, agribusiness risk management, small business operations, marketing, policy analysis and more. She began as Associate Dean and Director of Academic Programs for Purdue Agriculture in February 2020, and was promoted to Senior Associate Dean in 2023, when she took on the initiative of growing and promoting Ag Online programs. Responsible for undergraduate academic programs, Dr. Wilson enjoys the challenge of collaborating with faculty, staff, and leaders among the college, university, and student population to work towards the common goal of affording students the resources and opportunities they need to be successful in Purdue Agriculture and beyond.
When Dr. Wilson is away from the office, she can typically be found in her West Lafayette home in the company of her dogs or taking a road trip to Kansas to visit friends and family.
Dr. John Lumkes
Assistant Dean & Associate Director of OAP/ Professor of ABE
765.494.8472
Education: B.S.E Calvin University, M.S.E. University of MI-Ann Arbor, Ph.D. University of WI-Madison.
John promotes excellence in teaching and mentoring through the support and leadership of college level and national level teaching related awards programs, offering workshops and support for teacher development, support of the role of teaching in promotion and tenure, and involvement on university level committees. He teaches capstone courses in ABE department and leads multiple international experiences for students.
When John isn't at work you can probably find him on the pickleball courts, up in the air flying his plane or paramotor, or taking pictures.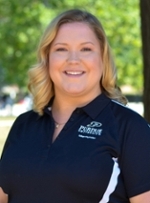 Hope Heathcote
Executive Assistant
765.494.8472
Hope Heathcote earned her B.A. in 2015 from Purdue University, where she studied professional writing. She came to Purdue Agriculture in 2018 where she discovered a newfound passion working "behind the scenes" in higher education, offering her creative and strategic planning skills to execute ideas and solutions whenever they are needed.
A Lafayette native, Hope can often be sighted enjoying local music and arts festivals when she's not at home with her cat, Pickles and dog, Peach. She enjoys performing music, sewing, and relishing her husband's exceptional cooking. 
Academic Advising and Curriculum Initiatives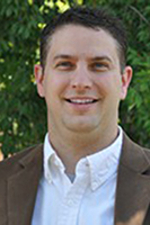 Tim Kerr
Senior Assistant Director
765.494.8481
Tim Kerr has been in the Office of Academic Programs since 2008. In his current role as Senior Assistant Director, he oversees every function of the academic advising experience and guides the college's team of professional and faculty advisors. Tim works with the faculty to oversee and implement the curricula for the College. Tim currently teaches AGR 10100, Introduction to the College of Agriculture and Purdue University. Through the years, he co-led study abroad trips to Ireland, served on numerous associate dean, assistant director, and advisor search committees, served as Chair of PACADA (Purdue Academic Advising Association), sits on the College of Agriculture Curriculum Student Relations Committee, and served in numerous other college and university committees during his career. Tim earned his Bachelor's degree from the University of Notre Dame and his Master's from Purdue University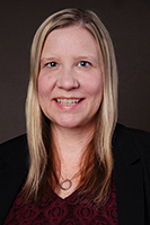 Dr. Alyssa Powers
Retention Specialist / Pre-Vet Advisor
765.494.8481
Education: Ph.D. Indiana University; M.A. Bowling Green State University; B.S. Ball State University
Alyssa Powers had worked in higher education for over a decade before coming to the Office of Academic Programs in 2021. In her current role, Alyssa enjoys helping students from all majors in the College of Agriculture achieve academic success. She also advises pre-veterinary medicine students who have not yet selected a major. Alyssa has conducted research on developing a successful college student identity as a first-generation college student as well as student mental health. Previously, she was an environmental education promoter on the east coast, west coast, and in Central America (through the Peace Corps). One piece of advice she gives students is, "Don't be afraid to ask for help—there are a lot of people here to support you!"
Karlton Morrell
Senior Administrative Assistant for Curriculum & Retention
765.494.8481
Karlton Morrell joined the Office of Academic Programs in the fall of 2023 as the Senior Administrative Assistant for Curriculum & Retention. He earned an Associate's Degree of Science from Indiana Wesleyan University studying music. Karlton has served in various administrative and management roles during his career. He is excited to apply what he's learned in previous roles to support the Senior Assistant Director and Retention Specialist/Pre-Vet Advisor. In Karlton's free time, he enjoys concerts, singing, watching movies and spending time with loved ones. 
Career Services and College of Agriculture Scholarships
Lela Mixon
Assistant Director for Career Services / Scholarship Coordinator
765.494.8470
Lela Mixon joined the College of Agriculture in 2021 after serving as the Associate Director for Exploratory Studies at Purdue for four years. In her current role, she collaborates with department coordinators in the college and university colleagues to plan career fairs and lead scholarship awards. Lela has served in various leadership roles in advising and career services during her career. In every role, she has consistently demonstrated a commitment to empowering students through service and education. Lela earned both her M.A. and B.S. from Ball State University.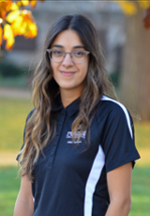 Jannet McCutchan
Senior Administrative Assistant for Career Services, Scholarships, and Program Data
765.494.4873
Jannet McCutchan joined the Office of Academic Programs in the fall of 2022 as the Senior Administrative Assistant for Career Services, Scholarships, and Program Data. She earned her Bachelor of Science from Purdue University studying Wildlife. She has held administrative positions in the local animal welfare industry where she grew her organizational and project management skills. She is excited to apply her knowledge to support students as they develop their academic and professional careers. In her free time Jannet enjoys creating art, exploring nature, and spending time with her family and small zoo of pets.
Transformational Experiences and Academic Excellence (CATE)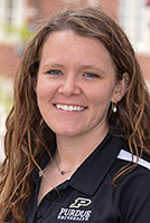 Elizabeth Byers
Assistant Director for Academic Excellence and Transformational Education
765.494.8470
Education: B.S. University of Wisconsin-River Falls; M.S.Ed. University of Wisconsin-LaCrosse
Elizabeth works with undergraduate students in achieving their professional and personal dreams by participating in programs revolving around academic excellence, leadership, issues engagement, and undergraduate research. Additionally, she coordinates the Dean's Scholars program for the College and she serves as the co-advisor of the Ag Council. She encourages students to try something new and to not be scared to fail. Sometimes the biggest growth happens when you don't succeed at first.
When Elizabeth isn't at work you can find her hanging out with her Brown Swiss dairy cows or two cats. She loves to travel to new places, run, play board games, eat queso, and chill around a bonfire. 
Chloe Benson
Administrative Assistant for Academic Excellence, Transformational Education, Transfer and Pathway Programs
765.494.8141
Chloe is the Administrative Assistant to Elizabeth Byers-Doten and Rusty Nelson, and is a recent graduate with experience in higher-ed technology services and fine arts. She graduated from Baylor University in May 2022 with a Bachelor of Art in Studio Art and completed honors college curriculum as a part of the Baylor Interdisciplinary Core. In undergrad, her honors work focused on the significance of rhetoric in political discourse and social movements, and her studio courses spanned from painting and metalsmithing to fiber arts and photography. A native Texan who loves all things collegiate, she came to Purdue to assist in increasing student program engagement and communications with students. In Chloe's free time, she enjoys finding new trails to walk, going to Goodwill, watching TV dramas, and painting.
College of Agriculture Recruitment & Outreach